Guest Post
5 Therapeutic Art Ideas from BetterHelp
No matter what, it's important to have tools to self-soothe and cope. Here are five art project ideas you can do at home that are used by Art therapist.
Are you stressed out? If so, it makes sense. Now, more than ever, life feels uncertain. Your ways of coping or getting support might look different than they used to. It could be that you used to unwind by going out with friends, taking a class, going rock climbing, or something else that's now far less carefree than it used to be. Today you will get to know about 5 Therapeutic Art Project Ideas to Self-Soothe Yourself in this article.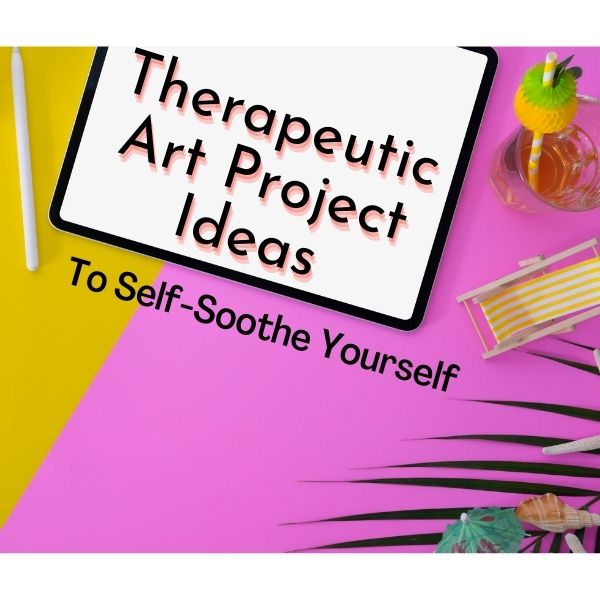 Having the support we need is vital to our well being, and creativity, of course, is an excellent outlet that's shown to support mental and emotional health. This adjustment isn't easy. It's filled with grief, trauma, mourning, fear, and hyper vigilance that we aren't used to. It could be that you're going through something that has nothing to do with COVID-19, too, on top of everything else.
5 Therapeutic Art Project Ideas to Self-Soothe Yourself
No matter what, it's important to have tools to self-soothe and cope. Here are five art project ideas you can do at home that are used by real art therapists along with alternate exercises to use if you've already completed one of these projects and aren't sure what to create next:
1. Create An Empowering Self-Portrait
This is a common art therapy exercise. It doesn't need to be a realistic self-portrait in terms of matching your physical appearance; not at all. One of the most empowering routes to take when creating a self-portrait is to depict who you are on the inside. You might make a picture of your face by forming a face-shaped collage of things you like and surround it with sayings or photos that bring you joy.
You could also paint yourself in bright colors, swirls, and glitter – anything that really says "you." Think of your good traits. We all have them, so don't stop until you think of one. Challenge any initial reactions to shut your good traits down or focus on the negative and choose what you do like about yourself. Are you empathetic? Eclectic and unique? Loving? Kind? Creative? Vibrant? Think about it and find the colors, photos, patterns, or items that remind you of those traits and go ham on your canvas or paper!
Alternate exercise: Decorate a picture frame. Often, you can find cheap frames and art supplies at the dollar store if you don't have any.
2. Paint Your Emotions
This is another wildly common art therapy exercise. You might be wondering how on earth to go about painting a feeling but trust me, it's possible. There are a couple of ways you can do this. First, you can grab colors that symbolize your emotion. For example, if you are heated or angry, you might grab red, orange, and yellow paint – fiery colors! Then, slam the paint on the canvas wherever you want.
You can create an abstract piece using the colors and take out your anger on the art. Another way you can do this is by painting a picture that depicts how you feel. For example, if you feel lost, you might paint a spooky forest that one could get lost in.
3. Make A Gratitude Piece
Gratitude is an important part of our emotional well being. Note that making a point to be grateful doesn't negate any of your battles. There's good and bad in life. Rather than seeing things in black and white, we can recognize that all of our experiences are valid. When you're feeling something, it's healthy to sit in it so that you can process your emotions. But, when you are in a spot where you want to think about all the things that you're grateful for, or when you're down and want to focus on all the people and things that you do have, you can make a gratitude peace.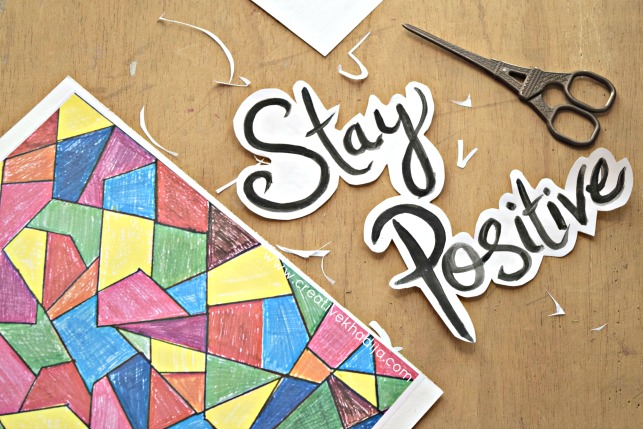 You can express your gratitude on a piece of paper or canvas through words or images. Really, you can use any medium you'd like for this exercise. Get creative with it. You can even use photos, such as photos of your family.
Alternate exercise: Create a photo album! Print out family photos and decorate the outside of the album. A scrapbook works, too!
4. Design A Collage
Collages are fun and relatively low pressure. You might make a collage that doubles as a vision board and expresses what you want in the future. After all, it's fun to dream, especially when you are stressed out. For example, you might make a collage of what you would like for a new home, or what you want a future vacation to look like. You might even just make a collage of pictures that make you feel good.
Another idea is to make a collage of things that you feel express your identity and inner self. For example, if you like soccer or you might include a soccer ball, or if you like music, you might choose pictures of musical instruments or musicians for part of the collage. It can be a bunch of different items that you like or that make you happy. You can even do a themed collage, like a collage of calming things you'd find outdoors.
Alternate exercise: Sit outside to draw or, if you're able, take a mindful walk and try to find flowers to press or a stone to paint.
5. Choose A Mantra And Depict It Through Art
Do you have a mantra? If not, you can choose one that you like or find helpful. Many people have mantras that they find effective either in certain circumstances or have general mantras for their daily life. For example, you might pick something simple like, "it'll all be okay," or you might prefer something more unique to you, such as, "I am autonomous, strong, and safe." You can also choose a general message that you like or that expresses the way you see the world, such as "we are all beautiful." Once you find a statement that brings you peace or that you're drawn to, you can write it down on a piece of paper and decorate the paper around it. There are many art project ideas you can get benefit from.
You can even utilize cool lettering that'll make the piece pop by trying your hand at cursive, making bubble letters, cutting letters out of magazine pictures, or by using a stencil. You might use watercolors around the letters, or you might color patterns around it. This is an easy art project that you can frame and keep on your wall or fridge. That way, you can look at the mantra or saying you chose whenever you need it.
Having a mantra can be very grounding and self-soothing, and it's common to have more than one. They're great to use when you're practicing positive self-talk, trying to ground yourself, or when you're moving through a tough time.
Alternate exercise: Make nothing in particular. Just enjoy yourself! It can also be freeing to sit down with your medium of choice and let yourself create with no pressure. You don't need to set out to paint or draw anything in particular, and it doesn't have to be perfect. Sometimes, doodles, abstract pieces, or adult coloring books are all that you need because they let you zone out, focus on the project, and relax.
How Art Project Ideas Helps
Taking the time to de-stress is crucial. Stress impacts not only our mental and emotional health, but our physical health, too. It can be incredibly detrimental to the body, so it's crucial to reduce stress where you can. Research shows that art is helpful for stress reduction and reducing the symptoms of certain conditions. Of course, reducing stress is often easier said than done. Though at-home exercises are great for relaxation and emotional processing, there's no replacement for talking with a professional. Some Art Project Ideas can definitely help an individual.
Get Support online!
It is essential to have coping skills, such as art, that you can use at home when you're overriding urges to use maladaptive coping mechanisms, need to self-soothe, want to express yourself, or aren't sure how to unwind. However, it's not always enough. Sometimes, we need someone to talk to.
In addition to giving you someone to talk to, a therapist or counselor will help you to build your toolbox of coping skills, change thought patterns that aren't serving you, improve your interpersonal relationships, and more. The help of a professional is incredibly beneficial because you get to talk to a third-party who won't spread your information and will keep everything that you say private.
Additionally, they have professional insight and can help you when you're feeling stuck. If you would like to give therapy a try, you can start online counseling using a website like BetterHelp. BetterHelp has licensed professional counselors and therapists that are here to support you. When you use BetterHelp, you'll be paired with a provider that meets your needs. Even better, online therapy is often more affordable than traditional in-person therapy. If you aren't sure, click here to read reviews and learn more.
About the Author of this guest post : Marie Miguel has been a writing and research expert for nearly a decade, covering a variety of health- related topics. Currently, she is contributing to the expansion and growth of a free online mental health resource with BetterHelp. With an interest and dedication to addressing stigmas associated with mental health, she continues to specifically target subjects related to anxiety and depression
Disclaimer – This is a sponsored post & may contain paid links. Thank you for your support.