I am sharing a simple ribbon
necklace tutorial
..its something recycled as well…i was having a ribbon in my laces box and then some beads were also dropping whenever i open my little fabricated case..well i was going to try this finally…But i cant take its final picture,(the ribbon knots on both sides),i am busy right now but i will try soon to post it again…
Ribbon Beaded Necklace tutorial
Lets see the tutorial…just follow the steps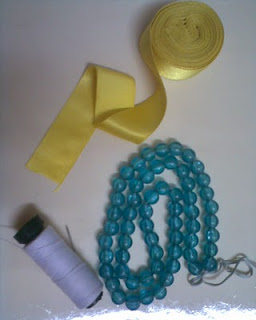 You will need to have a ribbon, some beads & a needle & thread.
Make a strong knot on both sides..add the beads with ribbon.
Make a knot of ribbon
It can also be used as a wrist accessory!…
I hope it will be easy tutorial for you…if some queries then you can write to me as well..
Thanks
Khadija