I made a headband for my niece, I always like making beautiful things for my little niece..she is a sweety,sometimes she request me for little things which she usually like. her choice about colors selection is always good.
Headband For My Niece
A few days back I restyle a
headband
for her..as every little girl she likes pink & purple most..today i will show you the embellishment of a headband..
Have a look…
You will need a simple headband,some colorful beads & glue/hot glue..thats it..
paste the beads in the holes & its done…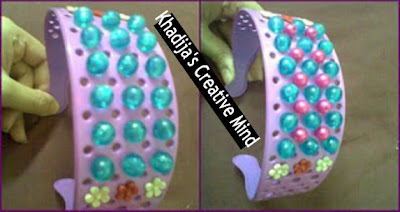 I have done it simply..within a few minutes…
BUT,,,,
After completing this hair band,i thought…
Anam is a naughty little girl,she will may be peeling off all the beads,
she is about 3 years old,if she will put any bead in her mouth,so it will be so dangerous…hmmm…so i peel off all beads..& make it up with another technique which is not dangerous..
i will show you another technique of Redesigning this headband in my next post…
so dont go anywhere..the next post is better then this one…I am sure…hmm
This headband is not perfect for little baby girls…but its fine for other ages…