Accessories
Cuff Creation..Another Weird or Creative..??
In My Previous Post I shared a picture..remember the Mattelic cuff??
Now i will reveal the whole thing about this interesting cuff, specially its Tutorial.. I think its necessary to show you the cuff again,
0$ ONLY !!! expensive..?? 
Well this is a Mattelic(by color only) Cuff..I make this a few days back ..& Its Price is really not more then 0$ only..want to know how..?
Cuff Creation..Another Weird or Creative
Actually Its Just a Recycling..Reuse & Restyle..Nothing else..
Do you want to make One for yourself or any other girly??
Ok move to the Tutorial now!!
Well you will need to have this material..
– TP roll card tubes,1 large size & 2 small size
– Scissor
– Glue
– Silver Paint( I use fabric paint)
Cut it first & make the shape like a cuff,  know more about its cutting & making in my Previous Cuff post
Then press the small tube a little & after pressing round tube it will be like a leave shape,then cut slim pieces as shown above
you will also need some strait strips so cut some plain strips too
Take a strip of card & roll it simply for making these swirly shapes,you can follow my Paper Quilling Tutorial, & a TP tube wall hanging tutorial for the extra instructions, hopefully these will help you in making these swirls :)
then make a zig zag with card strip,now the preparation work is over,here is the turn now!!
Paste the leave shaped cuttings as shown above in last pic
After completing the pasting, then fix the swirls around
& after that you will fix the zig zag strips in leaves :)
then simply take silver paint & brush..& start touching the embellished motives.
(Be careful)
Actually the paint was in thick form,i try to make it little liquid but due to my mistake paint get extra thin,so you can see the dots near the zigzag..oops..sorryy!!
but you must have thick paint ..that will work better!!


At the end i paint the whole cuff inside..so now its looking totally silver or Mattelic cuff..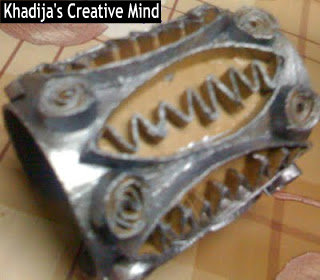 So What about it Now..is it Coool..?Weird..?Creative..??
In my opinion its mixture of all 3 above CWC :)
My upcoming week will be busy more, but i will try to keep in touch with all of you sweeties..so have a good day ahead & Enjoy Life..
PS. what about my blog header now? I design this last day :) i will appreciate your suggestions about it!!!