Hello Everybody..
I am writing this post after many days, I was much busy in my studies, today i complete my first session of teaching practice,& now i have 10 days break!! Now the EID Festival is also coming!!My 2nd session of teaching practice will start from 7th to 30th of September..then again i will face Tough study Time :) really!!
Today was rainy & then cloudy..a very nice weather & it was the last working day so we friends really enjoy our day! i take a few pics of nice weather so i will love to share!!
All above pics are taken by my phone & the location is the school where i am doing my teaching practice :)
I did a lot of work in these previous weeks..would you believe sometimes i sleep after 5am ..I sleep in early morning till 11 after spending the whole night in making of lesson plan registers,files,Charts & models..ugghh..my institute timing was 1-5pm..!
Well my today's post is just a Hello, Hi post,, not any tutorial, but i really love when i receive your mails and comments these days even i was away!! !
I open my e-mail inbox after a few days! & there i read your mails which made my day as always!!
Today i will like to show you a few of my studies based work, I always try to take pic but i was really unable to take nicer pics, i mostly work at night & the dim light is not perfect for taking pics as you know well :) & the other reason was my messy place, if i start cleaning that take much of my time so i ignore everything & just write quickly!!
I make these models on topics of Pakistan Studies book, i make lesson plans on many subjects..the person who is in this model below is our Great Leader & Founder of Pakistan, Quaid-e-Azam Muhammad Ali Jinnah !!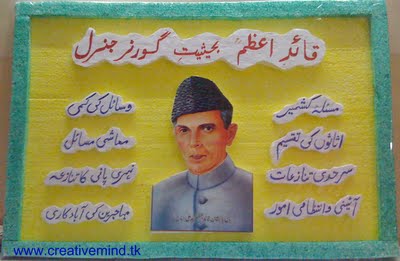 Can you guess whats the material of this embossed model?i will show you..wait..My friends who don't know Urdu language may not be able to read my models & registers!! oops my wall chart were superb but i forgot to take pics & now i have donated all models & chart to the government school..
I was going to share my school work & the making of these models but the broadband is getting bad right now!! i cant upload pics, so i will show you my efforts in a few pics..
The material of the above models are thermoplastic Packing sheet, i cut different pieces & designs with soldering iron :) my teacher told me the technique & i try to create the best..
Oh yes, i did my 1st session's final lesson smartly, without getting confused,everything was OK, i was not shy in front of class, my teachers were also cooperating so I feel i am getting more confidant, & hopefully in my 2nd final lesson which will held on 30th of September i will teach perfectly..I am really thankful to all of you dear friends who left nice suggestions for me at my previous post, these were helpful for me..so thanks again,,So sweet to have you all helping friends.. Love ~