In my previous post I share some pics of a teaching aid which i made during my teaching practice session last week..I will share the making of those models now, these are called visual aids or models but you can also say these boards :) teaching practice models making.

I were having a very busy time but I click a few pics to show you how i made these :)
Making of a Visual Aid for Students
 I take a big sheet of thermoplastic/Styrofoam packing material..then i cut it with the help of soldering iron..want to know how? but i am not having many pics, just a few are available, hopefully you will understand well !!
First of all i write all the heading points on a white paper, My topic was "1st Governor General of Pakistan Quaid-e-Azam" i cut the paper into specific required size & paste it on sheet then cut it with soldering iron :)
All pieces are ready for pasting on a full board!!
I was using a sticker chart on sheet, but you must not paste the sticker before cutting, first make a rough pattern with newspaper
After cutting piece, then paste the sticker sheet..
& its the final look :) Our Great Leader & Founder of Pakistan Quaid-e-Azam Muhammad Ali Jinnah..Such a Gentle Man!
I cut all shapes & designs according to my topic choice!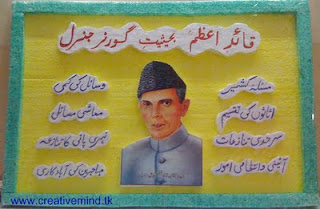 The end result of my model board is ready! i cover it with a transparent sheet, now its safe from dust :)
My 2nd topic was about Pakistani regional languages, so i share our regional dresses & culture of men on board, I draw these little guys in their regional dresses & color with markers simply..
Now the embossed look is in hand :)
oops, ignore the messy bedsheets, actually it was too late at night..about 2am..& i was preparing for tomorrow's presentation!!!
These above images are from my lesson plan registers, my handwriting was getting miserable due to over speeding :) hahaha
What i have received today!!! hmmm..
Do you know about my sweet friend Amy,oh yes the same Amy of Mod Podge Rocks blog, she sent me a pack of Mod Podge Dimensional Magic :) i am happy to receive this MAGIC..very soon i will try this & definitely i will share any tutorial with you :)
Thanks again Amy for sending me this new Mod Podge fun :) i am already enjoying your gifted starter pack & now it will be another cool addition in my crafty lab :)
 Stay tuned for more creativity & fun :)
Have a good day!