Assalam Alaikum!(peace be upon you)
Today is Eid festival here in Pakistan! I know my Arab,US & European friends have been celebrated their Eid festival yesterday(the difference is because of lunar dates & moon sight) So how was your Eid? Have you Enjoyed the Eid holiday? well my Eid day is going on wonderfully with Eating, Cooking, Enjoying with family, relatives, friends etc..!
Hajj & Eid Mubarak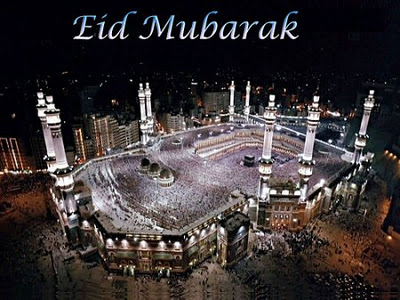 I wish everybody Enjoy Eid festival with the real meanings of sacrifice! Allah bless you all with lots of Happiness & success! Aamin.
The picture above is an original scene of Hajj Pilgrimage which held every year in Makkah(Saudi Arabia) Its a Largest Pilgrimage of the World.I Wish I can be a part of this greatest blessing! (InshaAllah in coming years)
Hajj Mubarak & Eid Mubarak to whole Muslim Ummah!
Well A family Dinner is waiting for me today :) Lots of FUN :) its evening here & I have to run for getting ready!!
p.s I have scheduled a few posts for this busy week! I hope you will enjoy!