In Previous weeks our house was messy because of whitewash,Specially my Craft room(so called) stuff was huge! I pack things with much effort & when my mother enter the room she said, why dont you throw these poor recycled stuff OUT..i was not feeling well at this suggestion but at the end when i saw things are not easy to handle, then I throw somethings OUT.In garbage..I will tell you which things I lost from my creations..but i can always see these on my blog sidebar & then a sigh of Huh..! :)
Somethings are OUT
I think I have shared this image in any previous post!
You Must believe its a Treasure!! My Textile & Fashion Designing Paper work & sketch books are so precious for me..So I always call these Treasure! But its looking like Trash! I will show you the Treasure soon!
Well I will tell you which things I have lost for-ever..
The ribbons were getting loose so they were not looking well!
TP Tube Wall Art 
I can make a new more better then this
Foil sheet Wreath
Spring Wreath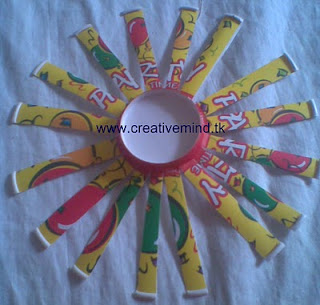 I can make more any time, its so easy!
They Break but No chick came out *(*
Fall Organizer
I have lost this most recent most useful fall organizer too :( I was in a mood of coloring these with poster paints!
Paper Chanel Bag
The Chain torn the punched spot..because i was packing things hurriedly!oops!
I have saved a few Item too..so i will re-recyle these things again! I hope You will not Mind as my Mother dont like my re-recycling idea :)
I will be back again with another cool post :)