As most of you know that I am doing my post graduation in Education subject.so Teaching Practice was a compulsory task for me in this semester,.. i was doing many interesting things for my studies, some paper work & then some other activities about school & students, well my today's post is all about sharing a few of my work, which i have done a few days back!
Have a look please,
Teaching Practice
This was my visual board for teaching Science's topic"Recycling"
now check out the How-To….
Remember my Previous Visual Boards,again i pick the same colors for its base!
First i color the base (thermopol sheet) then i paste the print outs & some hand drawings over it & cut it with cutter & soldering wire
simply paste it & the model boards are ready!
 I like painting a lot, i love colored hands during painting, i never avoid my hands from paints, so what, paint will remove..just chill :)
step by step i complete the board! then i have to make a wall chart related to the same subject!
So this was my wall chart :)
 My 2nd final lesson was on topic "Welfare State" so now i am showing the duties of a welfare state in the model below!
 & this wall chart is about welfare state duties, I pick this topic from Pak-studies book!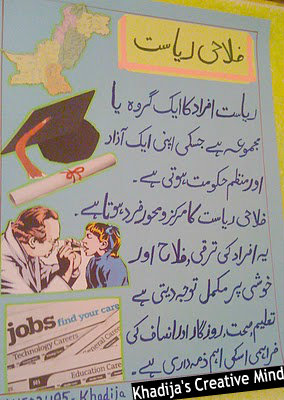 Now i will show you my final lesson :)
The remarks at the end of the lesson……………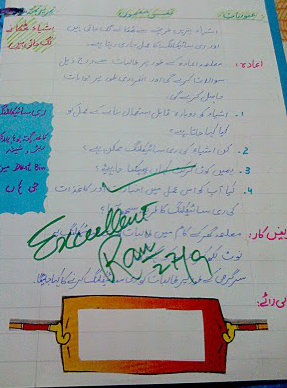 Now have a look at 2nd file;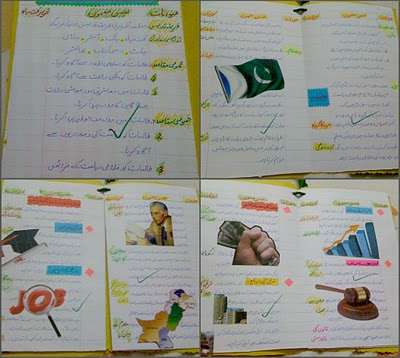 Teacher's Remarks;
You can see the both files covers in my previous post HERE
Not a single student of my class got the "Excellent" remark from teachers, mostly people have "Good & Very Good" but i was the only one enjoyed "Excellent" on my work! my friends were Really Jealous ..well what i can do now, but i also appreciate their efforts! they were also nice! no doubt :)
hey, there is another Most interesting thing about my lesson..at the end of the final lesson, my teacher announce that they will save 5 files & 5 boards for showing future-upcoming students as a model piece, my files were selected from up to 300 files of students :) yahoo *(* & the school principal said that my model boards will be placed & displayed in principal office,! this was a wonderful feeling for me when the principal ask me about it & I said happily"Of course sir, i have already gifted my previous boards to your school, so i will like to gift these again for your office"..
My result will be uploaded at the university website within a few weeks but i already know a little about my result, i am not waiting much :)
Well these were my happy moments of a nice day..i was blessed with lots of appreciation & i was successful in presentation :) Thanks God
I hope you all have a lovely successful day!