I like weaving and its different techniques,I learn weaving during my textile designing studies…A few days back I work on an easy idea of basket weave with paper tape..Then I paste this on a journal cover.its easy,and fun idea,so why not to share it's making with you?
I am having a brown paper tape roll which is helping me in making some crafty things..you can see my decoupaged plate with the same tape.Lets see what I have tried this time :) 
You will need to have
Paper strips/tape
Markers
Modpodge
Double sided tape
A journal cover
First cut some strips of paper & paste the both sides of strips on any rough paper base(I am pasting on a newspaper)
Let's warp & weft simply,Start weaving.

When you will complete weaving then paste weaved patch piece on your journal(remove newspaper sheet) 
For finishing its edges,you will need to cover with any folded paper..as a bias tape.
Now start making doodles with markers use different colors..
I draw something like henna tattoo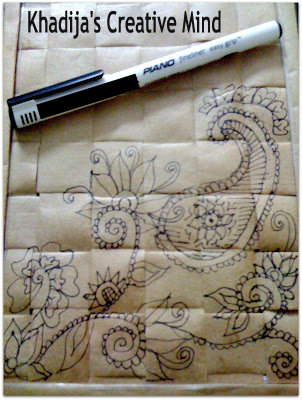 After completing the design,I apply Mod podge on it.sparkle!
You have many option otherwise..you can paste the paper on any journal cover,greeting card,at any gift box or may be for any scrapbook project :)
I hope you will understand this weave process,let me know if anything missing or confusing..feel free to ask/suggest.
Have a great day!