Decoupage
Wooden Box Design & Decoration Idea
How to design and decorate a wooden box with decoupage technique and paper doilies
Hello my dear crafty fellows! I hope you are having a great start of the week. Weather in Pakistan is getting extremely cold these days. Today is a rainy day and I am working from my cozy couch right now :) One thing I must admit, as I work from home, so such weather makes me lazy! Though I am very active on social media networks but somehow unable to publish a new post on the Creative Khadija blog. I am sharing my recent DIY today, I have already shared it's sneak peek on my Instagram @Creative_Mind_Khadija (You should follow me there right away for the regular updates) Today you will see a wooden box design and decoration idea which I recently crafted. I hope you will like it :)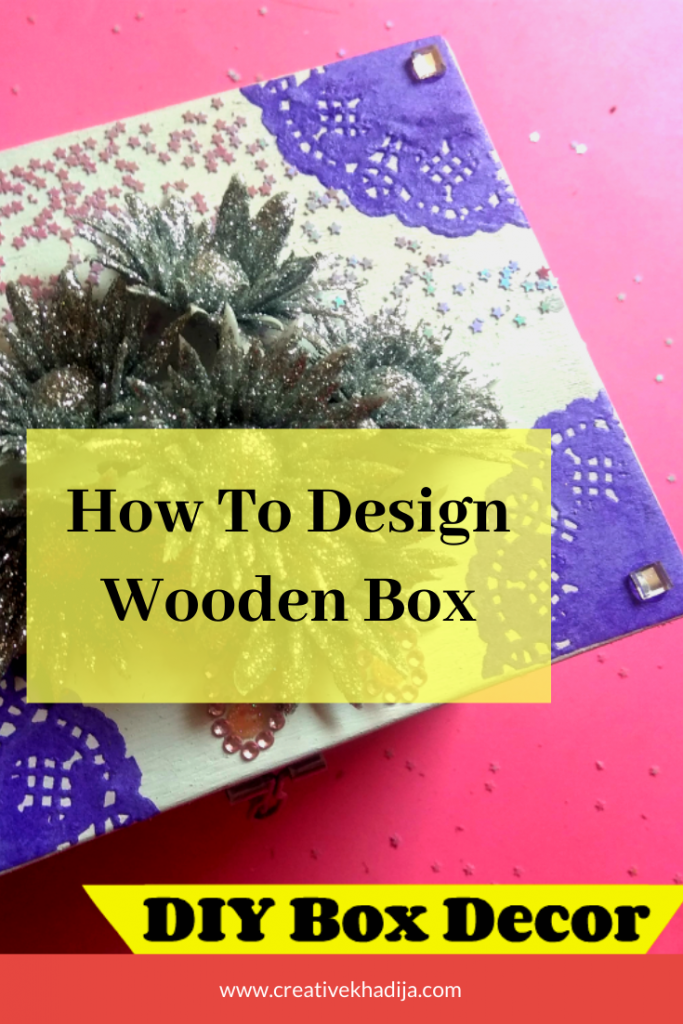 As you know I like sharing easy crafts ideas on my blog, so this is also one of them. I bought this wooden box from a craft store nearby in 100 PKR which is less than one dollar. I had many ideas in my mind about decorating this small wooden box but I ended up a minimal and easy idea of decorating this small wooden box design.
Wooden Box Design & Decoration Idea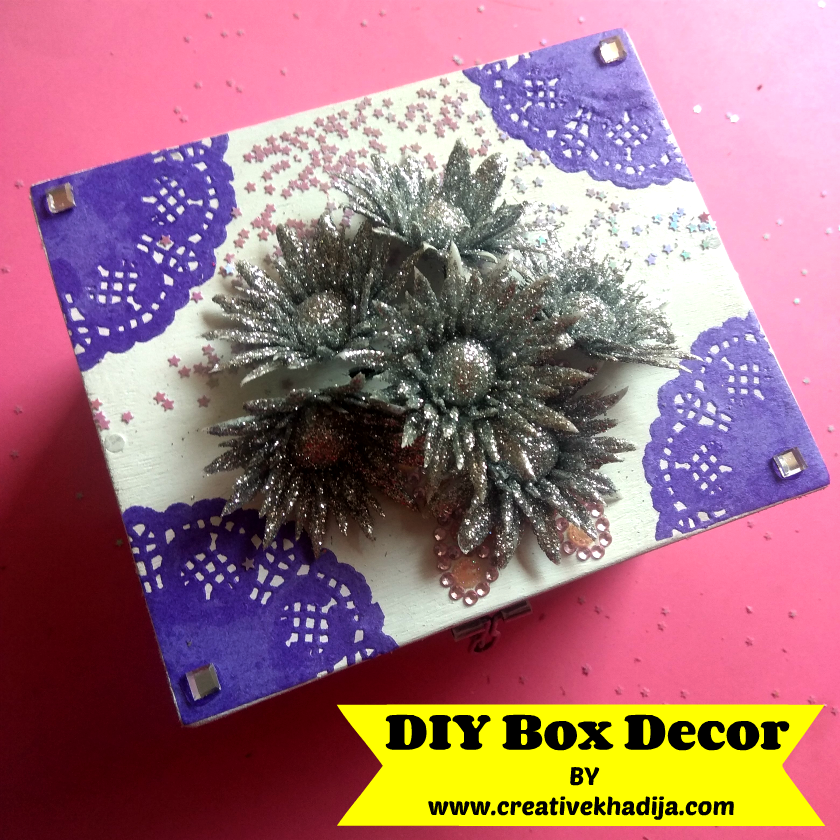 This decorated wooden box can be used as an organizer, a memory box or also can be a coin box as it has a lock hook too. I've still not decided if I am going to keep it as a jewellery organizer or the money box etc.
Let's start working on this easy craft idea of a wooden box design!

Step 1:
As the box was not finely made, so first of all I used a sand paper to make the wooden smooth and fine.
Step 2:
I used white acrylic paint to cover the box with white paint. I have applied two coats of paint here.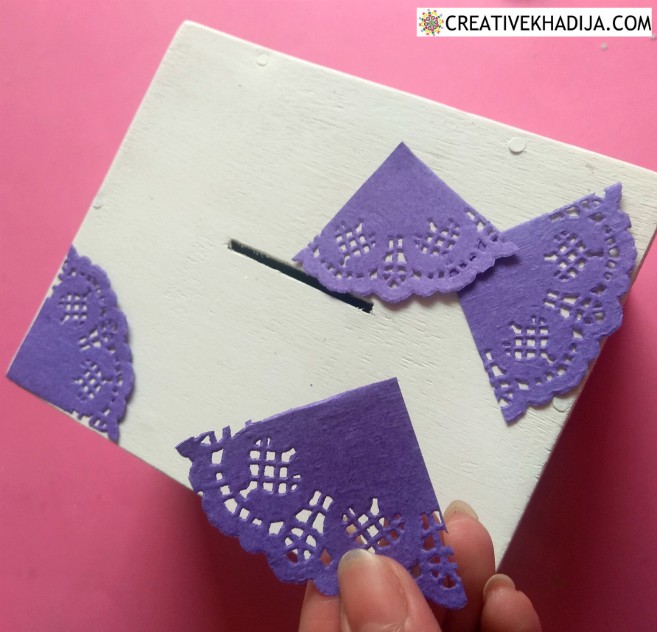 Step 3:
I cute a round paper doily into four pieces for pasting on all four sides on the top of box lid. I used Mod Podge glue for decoupaging the the paper doily on the wooden box to design it.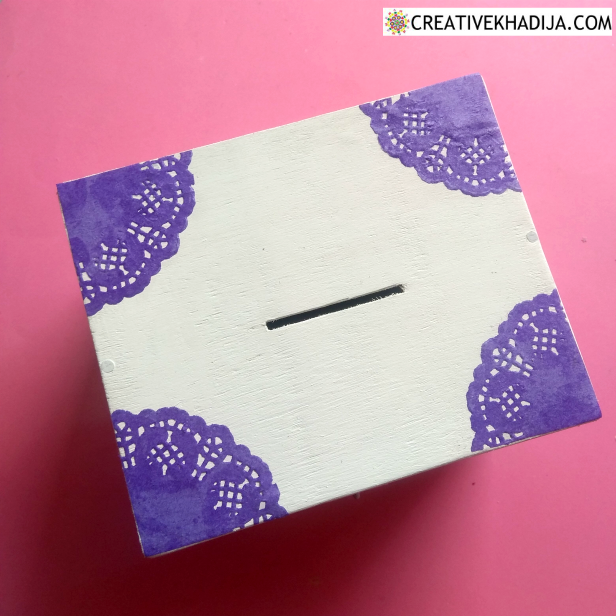 Step 4:
Coat it with glue and quickly spread mini stars confetti on it. Remove extra confetti stars once half of them at least stick on the box.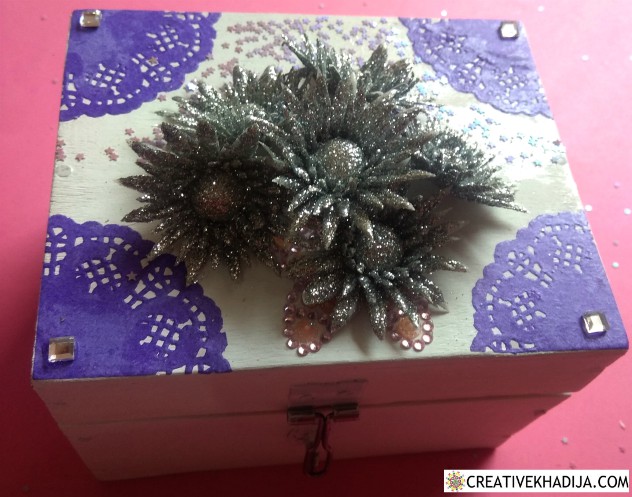 Step 5:
Then keep decorating it with mini stones & glitter flowers. I pasted a butterfly rhinestones sticker here too but that's hidden behind the glitter flowers now :)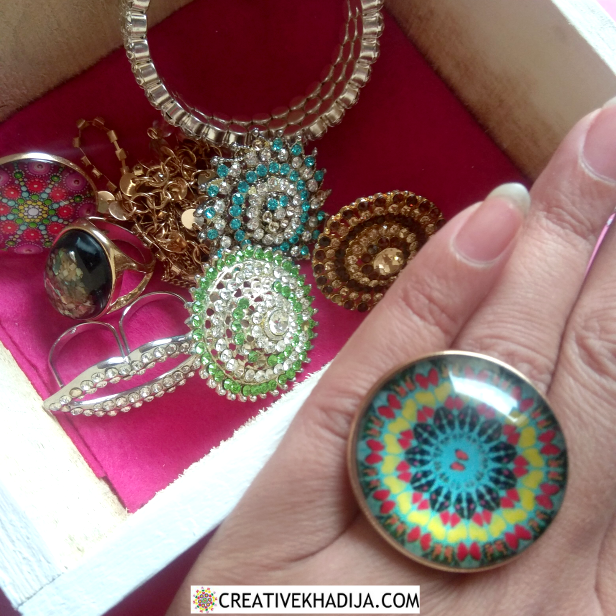 Now put your fav goodies inside the box & it is a really good organizer now :)
Oh wait, let me tell you about this big resin ring which I recently bought. It suddenly grabbed my attention because it actually looks like the logo of my blog, isn't it? these butterflies & shapes are similar to my blog logo which I have painted once on the wall of my craft studio. You can see it here.
Wooden Box Design & Decoration Idea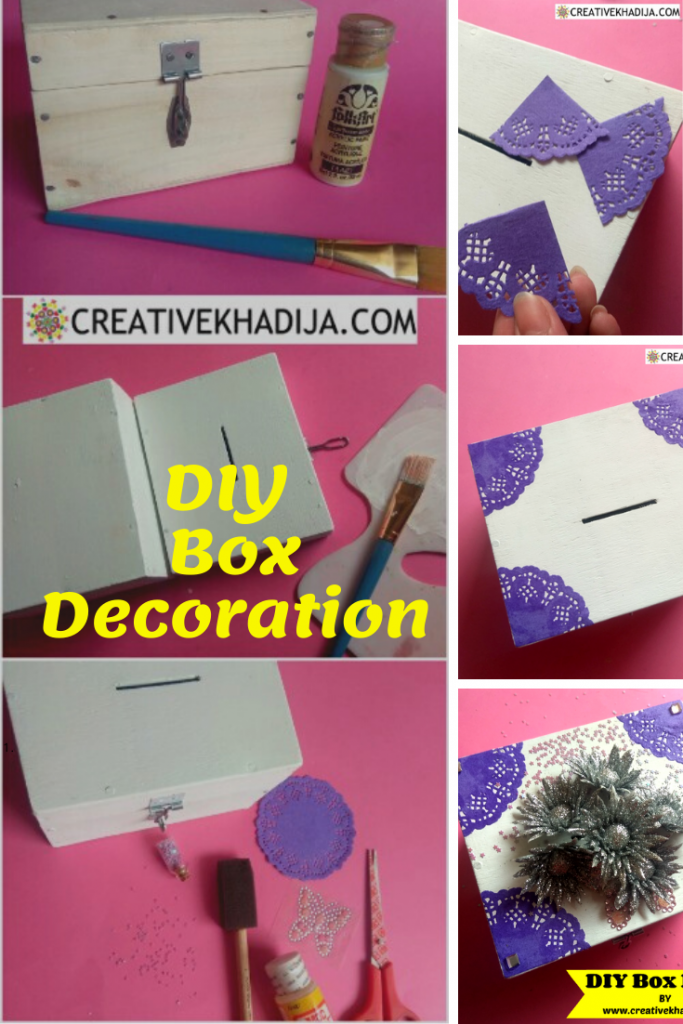 You can share this image on your Pinterest board if you are keeping any for crafts & DIYs collection.
I used to decorate and design boxes a lot, I hardly throw any such box which can be reused. You can also check my previous recycling & upcycling projects on my blog archives. I am sharing the links again so you can have a look there.
Let me know if you have tried decorating any box or jar with your unique skills. I would love to see your versions :)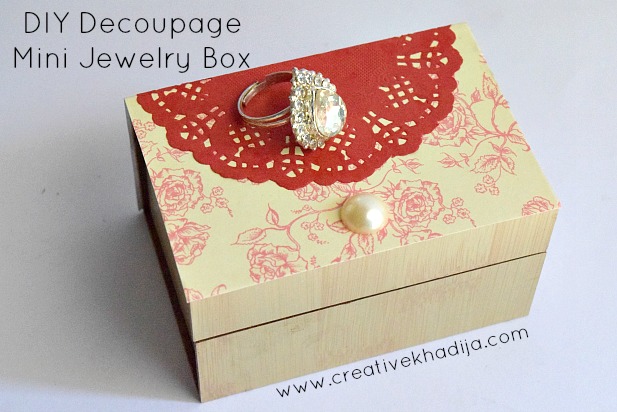 How to make jewelry storage mini box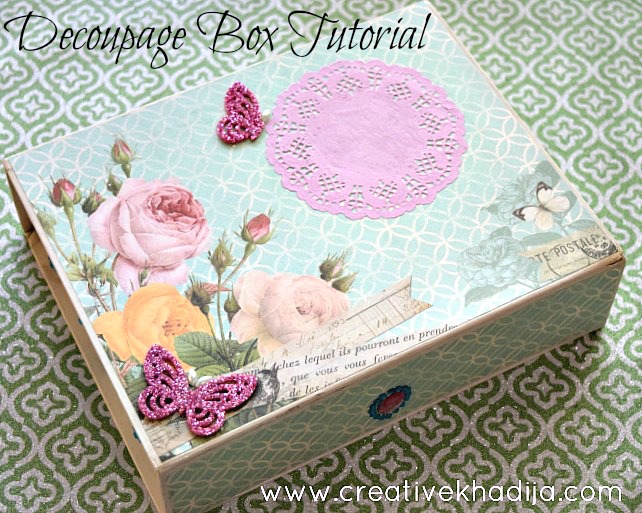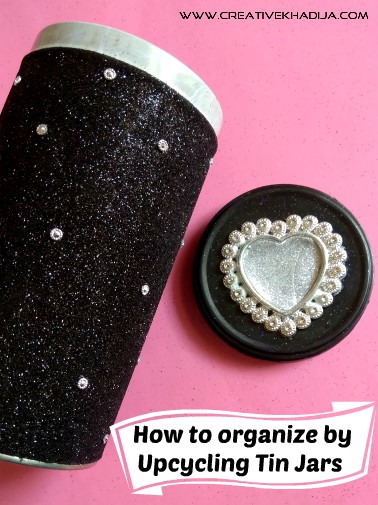 I hope you will find my ideas interesting and easy to craft. For climate change, we need to focus more or up-cycling & recycling used materials. Keep making art & have a great evening!
Happy Crafting!
Khadija