Paper decoupage is one of my favorite kind of crafting. My first ever paper decoupage was an Eye Glasses Case which turned out pretty interesting. Then I decoupage my cell phone casing. I have decoupaged many products & crafts so far. It's always fun to play with paper pieces & crafting with paper scrap or motifs. Have you ever tried decorating something with paper scrap or paper motifs? I recently decoupage a wooden corner shelf which turned out so well really.Today I am going to share that decoupaged corner shelf which I have designed with some motifs from a paper sheet which we usually use for gifts wrapping.
Have a look how I have designed this wooden corner shelf with paper pieces & mod podge. It's super easy & will hardly take your 10 minutes to transform a dull look into an attractive space. Let's have a look :
How To Decoupage Corner Shelf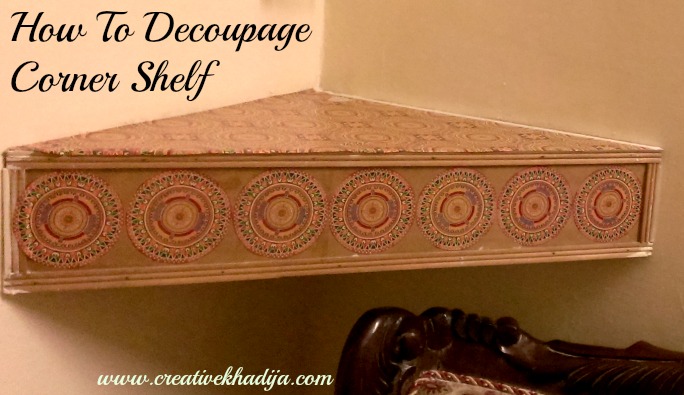 This image seems OK but if you will look at the BEFORE image, Then you will appreciate it more. Actually this wooden shelf installed in the corner of the room & then the room wall paint done. There were paint stains and spots all over this wooden corner shelf. I wanted to paint it in golden color as the curtains of this room are in golden shade. But suddenly I changed my mind & tried decoupage directly on the shelf.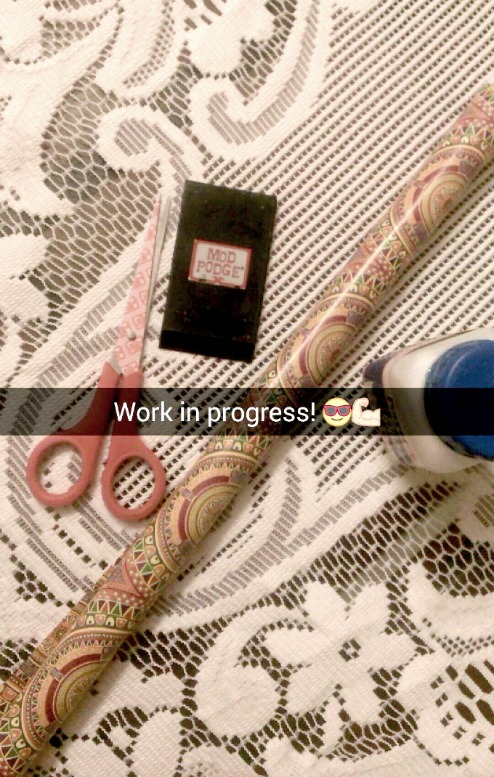 Are you following me on SnapChat? If yes, You might already know when I were doing this DIY & updating my followers step by step about the project. Anyways, You will need just a few supplies.
Paper Sheet
Scissors
Glue or mod podge
Applicator or spatula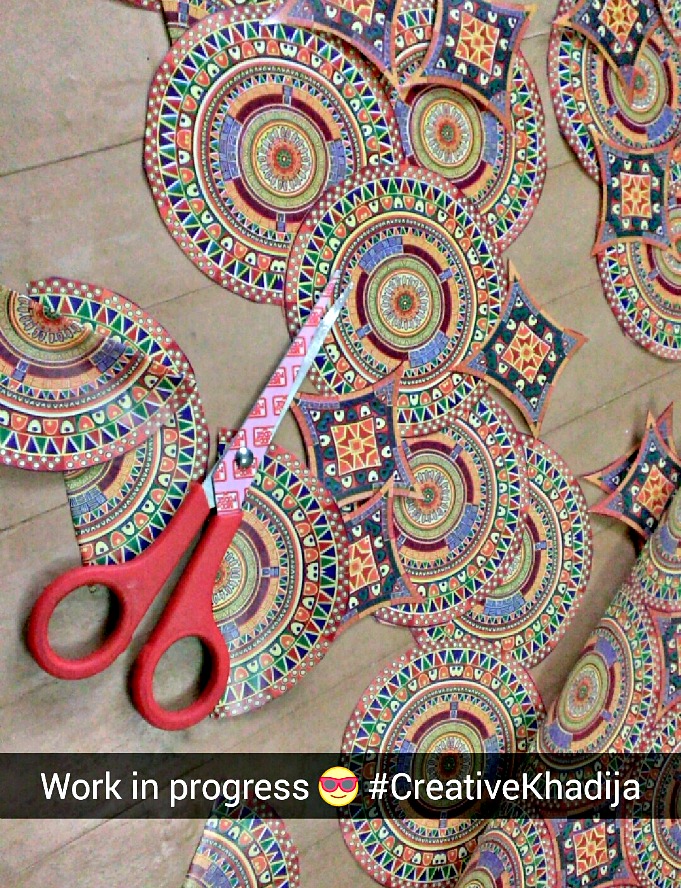 Process :
I measure the shelf space where I was going to paste the sheet. Then I cut some circle motifs from the sheet accordingly. Cutting takes hardly 10 minutes & in 5 more minutes pasting was done. This is just 15 minutes project & super easy too. All you need to do is CUT & PASTE. That's it.
I cut a triangle of paper & apply glue on the shelf surface. Paste properly & try not to make any folds. Make the surface plain. Then paste the circle motifs one by one.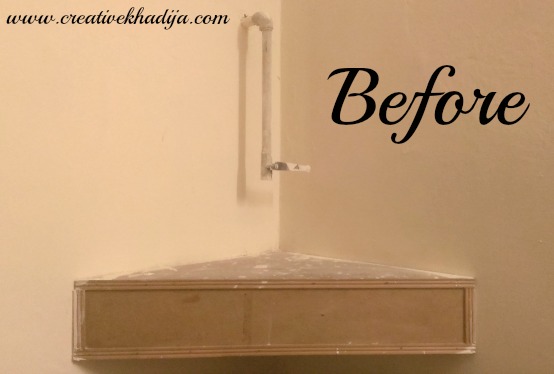 Okay so this was the before image of shelf with wall paint spots. As it was wooden surface, I was unable to remove the paint from it easily. By the way do you know any hack about removing the paint from wooden surfaces? OMG I forgot searching this hack on pinterest? Pheww.. Well I am glad to see my pinterests followers crossed 16k recently.  Thank you everyone for following me on Pinterest. Life is easy with only a few original hacks over pinterest. You can also check many useful home cleaning tips and hacks Here.
You may remember my Table decoupage DIY where I have used the same paper sheet & motifs cut outs.
I hope you will like this simple & easy idea about refurnishing an empty, dirty & boring space with decoupage fun! I am glad to see quick response of my followers on Snapchat about this decoupage project. I am sure my dear readers of the blog will also like the idea & will try! Don't forget to share with me if you have decoupaged anything recently. I would love to see your idea.
You can have a look at all of my previous Decoupaged Crafts Tutorials. I hope you will enjoy learning!
Happy Crafting!
Khadija ~