I have done another easy & fun version of Anthro's necklace..
Its making is not something like any mathematics formula :) its as easy as 1,2,3..yep..Lets see.. An easy way to make something stylish…
DIY Anthro Inspired Necklace
Isn't it..
Would you like to pay $248 ? or $2 is Ok..?
~ PROCESS ~
you will need to have..



Crystal brooches
Chain
Chain Bracelet
wire & pliers
First you will add wire in small plastic brooch & fix it on bigger one..
Brooches are ready!!
Can be used with any hairband,hair clip,handbag, clutch,waist belt,cuff or bracelet..so many other things of your own choice :)
I was searching a big chain like Anthro's but at store near my house I only found this bracelet! So I thought to add some variation now!I add a jump ring at one side & the other side is fixed with bracelet's hook..
well I fix the brooch in the chains with the help of nose pliers..
That's it..
And..
 Here it is a Coco Chanel necklace..so beautiful..I saw this after making mine..if I notice this before, I will be trying this one instead of anthro's :)
you can also change the brooch according to your dress/mood..sometimes blue..sometimes pink & sometimes both..even sometimes without any brooch too? right..?
So what do you think girls..? Is it easy for you to embellish any chain with crystal brooch..! I hope you will be able to try this EASY idea..
Here is my Previous Anthro Inspired Charm Necklace Tutorial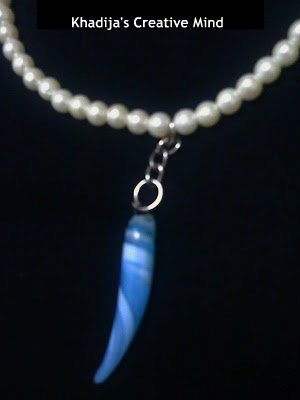 Enjoy ~