Hello friends,
Have you ever tried making Paper quilling Accessories for wearing or gifting others? well if you haven't tried yet, I will suggest you to give it a try..! I bet you will be enjoying this light weight stuff,I made these a few days back & really it was fun..nobody realize that I am wearing any paper stuff..it looks different & cool.. So here is the look at my today's fun creation..& its making is also not a difficult job..Really!
Paper Quilled Accessories
In a previous post, I share some quilling card arrangement ideas..There a flower was in a big size, so I thought to make a ring with. In Pakistan, Big metal rings are badly in fashion these days. I bought many rings & they look nice. anybody would like to see my artificial jewelry collection?? I have a BIG collection..let me know if you want to have a look..
anyways you will need to have.
Paper quilled shapes, plaid extreme glitter, rhinestones,earring backs. glue,
Simply make "S" shape and apply glitter, then fix stones, when it will get dry,you will fix the earring back pin later.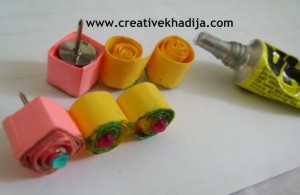 You may use any adhesive glue or hot glue..but carefully while working with paper.the shape can be disturbed otherwise.
I fix a quilled flower at a ring too..and its done.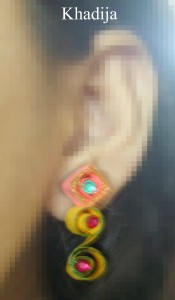 I hope you will try making this fun accessory..if you are planning any kids crafts party at school or at home while babysitting, I will suggest you to work on this idea with kids, they will be creating unique & beautiful stuff definitely.
You can also check my other Handmade Earring Tutorials.
Have a nice day!
Khadija ~