DIY
Dough Pendant Making & Mod Podge DM
Hello all,
Have you tried my recipe of homemade dough? I have shared the sneak peek of my today's post there..so now you will see how you can create a customized dough pendant & I bet you will be having fun with its making, its easy & interesting..I don't think you need to have lots of creativity or specialty for making this pendant.Have a look again..
Dough Pendant Making
As most of you friends are already familiar with the fact  about my name..my family & friends only knew my name KIRAN.because they call me by saying this..Khadija is shocking for a few people when they realize at first..hehe..but yes, my complete name is Khadija Kiran. well Today I will be designing a pendant with my name :) let's see how..
First I make a round ball of dough & press it for making a plain surface, then with the cutter blade,I write K & then trim the extra dough from sides. Again I made a ball with the dough & press it, I write the name Kiran with the blade tip. it seems carved now! I also pierce the holes with needle for fixing the jump ring.
After about 10 hours, it was dry totally & I start painting these.I use Plaid folkart paints.
First I start making outline & then some dots..when the paint was dry totally, I pour some mod podge Dimensional magic for giving it a 3D look..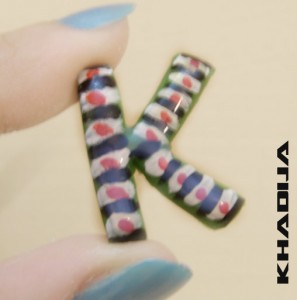 Let it dry & then you will be working next day when it will be dry totally.
And here it is..(looking lika a biscuit..cookie)the hole was blocked with DM glue but I make it again easily.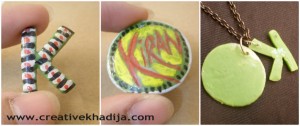 and its DONE.I add two jump-rings & join both with a black metal chain.
So Here I am..K.Kiran.. (Khadija Kiran) but for those who are not familiar with my Khadija name, Kiran is visible as well.
I hope you enjoyed the tutorial post, and now you would like to create personalized pendant gifts for your family & friends..
If you want to buy customized handmade pendants by Me ? feel free to write me your request in email & I will be making for you too. contact me at kkcreativemind @ hotmail . com
Thanks ~