DIY
Dough Flowers Basket Making part-2
Welcome to another colorful post at Creative Khadija..
Spring is in its full bloom these days, I am enjoying my time a lot..! During this month in every article at blog, I am discussing a lot about spring & happiness! isn't it..!! well I am enjoying the season & seeing cute buds of plants in my home garden ..Life is so colorful & fresh Alhamdulillah.. so why not to enjoy!! I hope you are also enjoying & having good time..
Ok ok so now back to the blog post of today.. in my  previous post I were sharing the making of dough rose & flower fillers, & Today I will be showing how to arrange dough flowers in a mini basket or any pot. its pretty simple & easy!
Lets see..
Dough Flowers Basket Making
You will may be familiar with the above image! as I have shared the sneak peek of this in my previous flower making article.. here today is the how-to now..
I did some collage of foil sheet on this mini basket. If you will remember, during summers I decoupage a jewelry box organizer, the foil sheet is the same & technique too, Check HERE
When the decoupage will be done/dry.. then start fixing the inside stuff. fill the basket with any paper or tissue.
then make a disc shape with dough..& fix it over the paper/tissue or anything which you have placed inside.
Now start fixing dry arrangement of flowers on the chocolate colored fresh dough. dry flowers will be fixing nicely on the soft fresh dough. Be sure to use any transparent glue for the perfect fix.
For making these petal fillers, use the same method of making petals which I shared previously. all you need to do is fix a drop shape with petal , glue it & dry. Its simple & easy!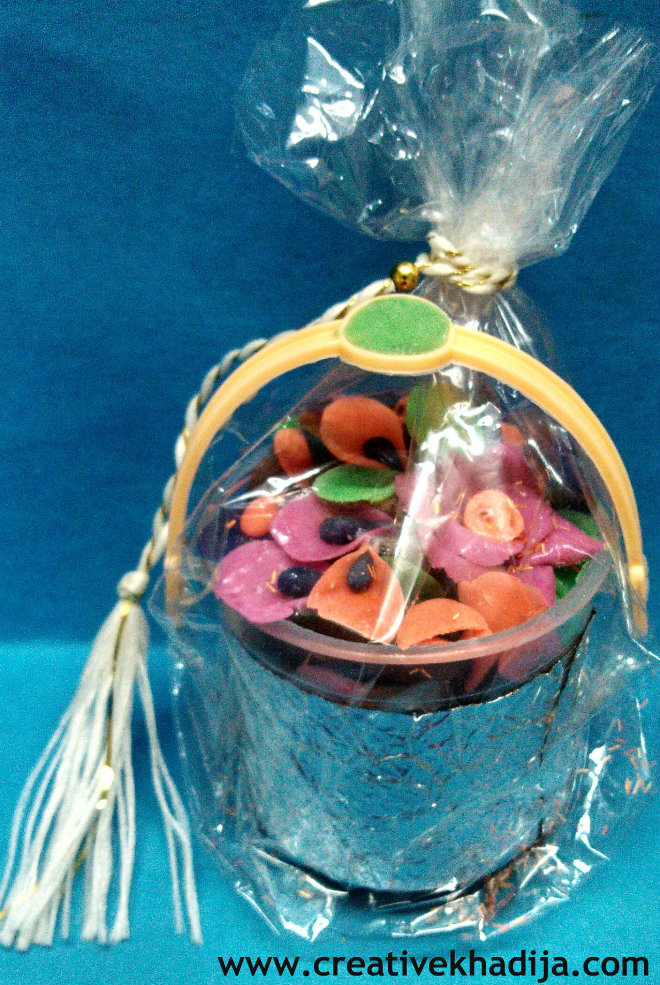 I hope you will like the post & will be trying this. isn't it a fun gift idea for spring..?well give it a try & if there is any problem you are facing, let me know.You can also check my other dough creations Here
Have a wonderful day!
Khadija ~