Crafting with paper & glue is always interesting. So many ways to decorate with paper, specially if you like paper crafts, then its fun. Card making & embellishing is enjoyable, have you ever tried any? I enjoy creating paper crafts & specially card making, I am also selling my handmade cards.
Today I will be sharing a simple & easy card making idea, kids will definitely be enjoying because its making is super easy & fun!!
Card Making & Paper Flower
Combination of yellow & turquoise with some bling of pink..
For the making of this wish card, I cut some strips of paper with paper cutter & some designed strips of card paper with designing scissors.
First I cut the card sheet & fold it as a card, then cut its sides with designing scissors, and then for the card designing I make some loops with paper strips & transparent glue, as you can see above..
Place the loops bows over each other & it will be looking like a flower. (See HERE )Then I fixed a tiny plastic flower in the middle. I did embellishment with some drop shaped rhinestones & some card paper pieces.pretty simple & easy card making is done.
I was not sure about what design I am going to create, but when I start fixing things, they look well in this position, so I paste it finally! I make some dots of golden glitter glue at sides of the turquoise squares.. and the card is DONE!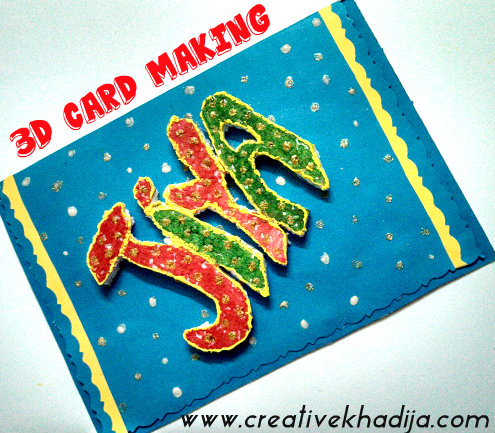 Here it is the card I have shared previously..
I will suggest you to make wish cards for your family & friends on random festivals & parties , because whenever you will be sharing your handmade stuff with your friends they will definitely be admiring & appreciating more. we can buy some beautiful & expensive cards from market but they can never be as valuable as any handmade card. And card making can be more fun if you will be creating with kids, I remember whenever my nephew & niece is visiting us, I enjoy creating paper stuff with them.. kids crafts are fun! So let's arrange a gathering with kids & make lots of stuff for giving each other.. believe me it would be great & you will be enjoying! My school going nephew & niece were visiting us last week & we were having fun crafting together..
Happy Creating..
Khadija ~