I have captured some clicks of street Graffiti Art Pakistan, I have shared some of these in my previous post! I am glad to see response by my dear readers, You people enjoyed the photos of Pakistani Street Art, So here again I am going to share some, I hope you will like this episode as well,
Street Graffiti Art Pakistan-2
haha..Don't disturb! Have fun (the typo in the corner)
Some Shadows! pretty wall art by the students of NICS (National Institute of Cultural Sciences)
This pic reminds me of a political leader.. How fun! haha
Nailed it.. haha
Cute!
The full wall was designed with the beautiful art work. how nice! these words makes me smile :)
Street Art Graffiti is pretty and colorful.
In this above graffiti you can see some random culture, landmarks & art of Pakistan. A cricket bat depicts the Nation's love for the cricket sport as well.
Friendship is everything…isn't it?
Cute cartoon friends, just like my friends..hehe
Indeed :)
Glow! Enjoy the cheers of life :)
Pakistani truck art is one of the most popular art thing these days. In Pakistan many designers and art lovers are inspired by the sharp & unique designs of truck art..Its popular here in home decorations stuff as well. Like pillows, wall arts & vases etc.You can learn more about Pakistani Truck Art HERE
Indeed.. but good friends.
Simply nice!
There we go, Riksha on roads are everywhere specially in the Punjab. I want a ride now..haha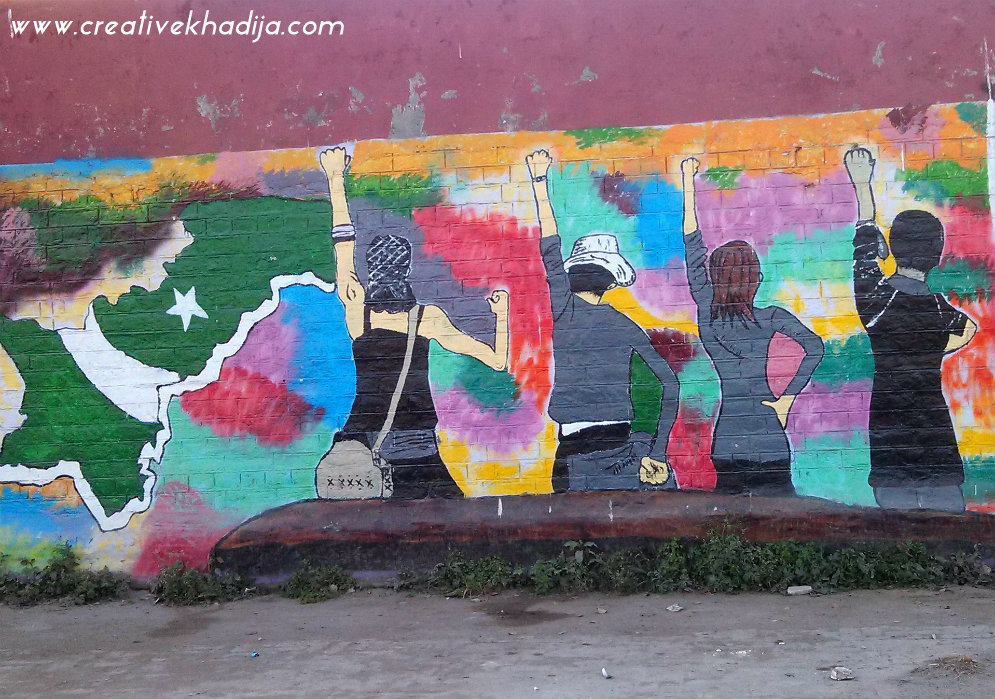 Street Graffiti Art Pakistan
Indeed, United we stand !
Beautiful designs & words arranged in a graffiti art. I enjoyed my visit there a lot. It was fun to visit the road which was designed beautifully with these colorful paintings and designs.
Let me know if you want to see my random articles other than routine work related arts & crafts. I hope you will also be having fun seeing these designs..
Here you can see some more Street Graffiti Art from my previous post.
Have a great day friends..
Khadija