My today's post is amazing.because today I will be sharing a unique Pakistani art which is mostly done by some illiterate people,who are loading truck drivers or their fellow mechanics or painters,but from the same working class.these people are 99% illiterate & &professional drivers from their forefathers , but you will definitely feel amazing after watching their creativity & art.I will try to write less today & will show you more!!
Whenever I visit Alisa Burke painted creations it always remind me About our Traditional Truck Art..have a look below & enjoy :)
Do You Know About Truck Art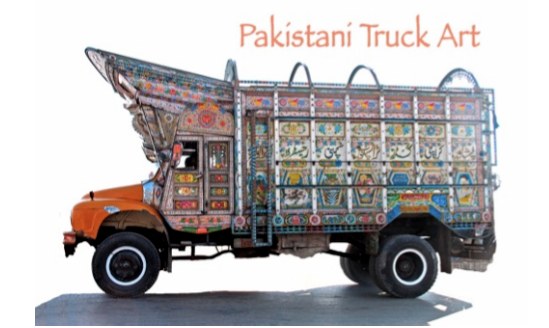 I enjoy watching these awesome motives & paintings on trucks while going on highway but last day when my car stopped at a traffic signal & i saw there was a big colorful truck..suddenly i thought to take its picture & i take just two pics & time over..traffic was in flow..oops i want to take many pics but!!!
well today i simply Google it & find lots of wonderful images about truck art,


First i will show you my own captured (just three) images
The truck was so big..i was unable to take the full picture of the whole from car window!!i wish i can but it was impossible while standing in a traffic signal :)
Now the images i am going to share below are from Google ..
Back side wooden doors & metal frame of a loading truck
The base of this peacock was a plain steel frame but with the effort of painters,now its wonderful piece of art..isn't it lovely..
they use lots of materials besides the paints,for embellishing,like colorful tapes,mirrors,shining stickers,beads,glitter & sometimes fabric cuts also..its a thick & lengthy procedure to design a truck..
Each brush stroke is done by a human,not by any machine..,not a single technology work.Would you like to see some Artists who are creating this art from a long time..so move on below :)
An old man but how creative,he is painting on a car
Every Stroke is AWESOME by these workers,they don't have professional training or education but their work is speaking about their skills!!!
Lets move to some inspirational stuff..things which are inspired by truck art!!
Some water cans..Lovely..
Refashioning an old car :)
& some designers are also inspired..
These colorful designs & motives are just amazing even on dresses..
Well my today's post is getting long,with lots of images..I am sure you will enjoy my today's colorful post.. Photo courtesy : Google.