Calligraphy
Calligraphy WallArt Making for Mother's Day
Hello everyone, I am back after a tiny break from the blog.. Life is busy these days with work & stuff. During this little break, I were working on several crafty projects, a few were for sale while others were for gifting friends.. I will try to share that work in my upcoming posts or at my social media may be! I made so many wall arts during the past weeks, but one of my favorite was freehand calligraphy lettering wall art which I make for Mother's Day specially! It's all about heartily feelings & love.. A mother is not just a person, Mother is God gifted angel who is always helping & understanding us better than anyone else.. I am not a good writer to sum up this wonderful gifted blessing of Allah Almighty in a few words of this article! I am blessed with a wonderful Mother as all of you are having, My sweet Mother is a very creative women.. So you can guess now from where I got my creative genes.. haha
Calligraphy WallArt Making for Mother's Day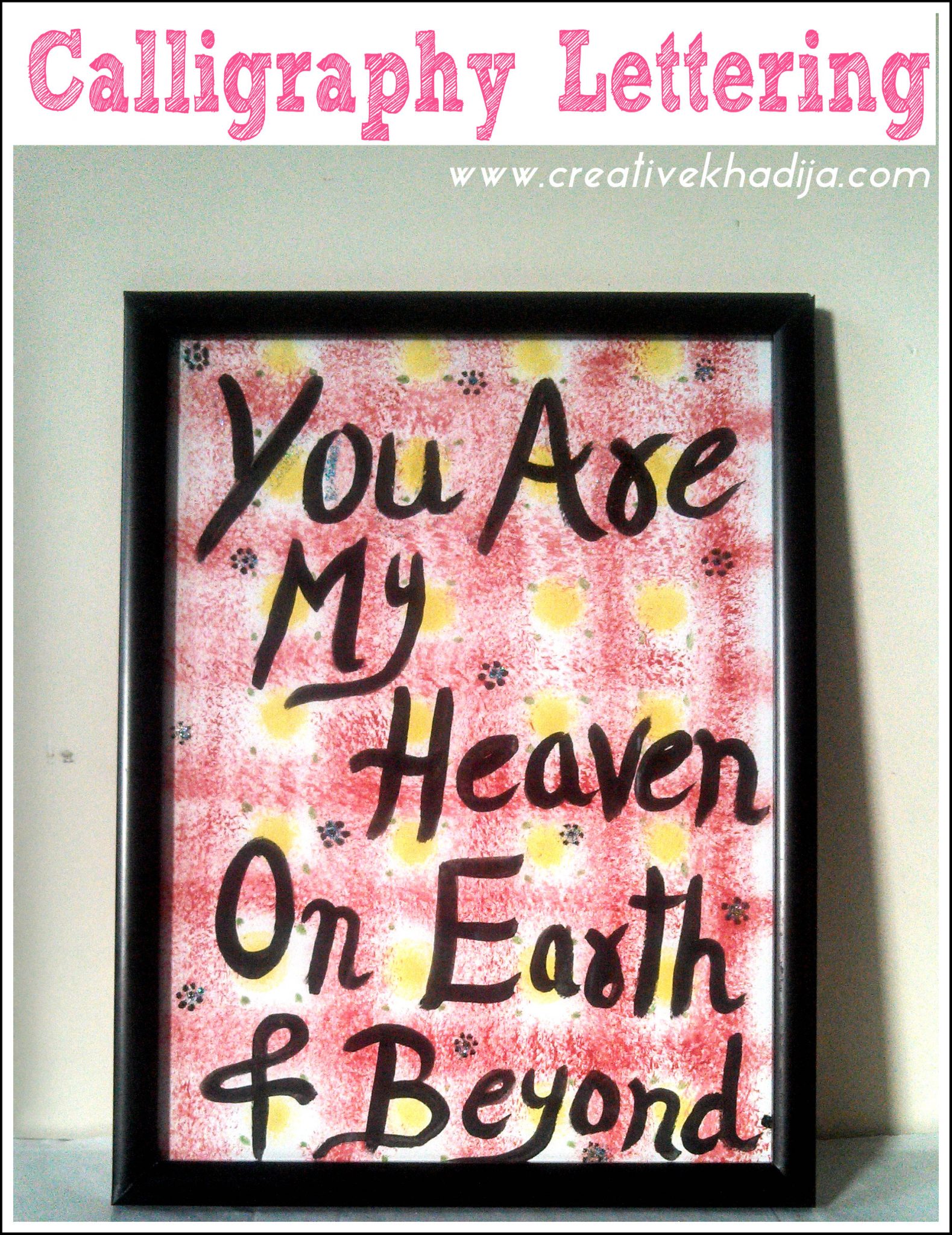 I did some freehand lettering as calligraphy, It was fun giving it a try with paint & brush. After sharing blogversary giveaway wall arts, I was getting appreciation, One of my blog reader ask me if I can make a calligraphy wall art with free hand lettering as a gift on Mothers Day.. So I was ready to give it a try for Mother's Day theme. There I share some quotes for writing on the textured painting & the selected one was my most favorite.
– My Heaven On Earth & Beyond –
If we feel like our life is pretty as heaven on Earth.. then we should not be feeling shy to accept the fact behind & giving whole credit to our sweet mothers! Alhamdulillah..
Before starting the final project, First I test my freehand lettering skills on a rough page.. after some mistakes, I learned how to do it well.. So this is how I Made it.. You will need to have some acrylic paints, a calligraphy brush or some thin stroke brushes. water & some glitter too..
I cut a thick sheet of my sketchbook, The texture of the sheet is not plain.. that's an embossed thick sheet. I use Red, Green, Yellow acrylic colors for base & Black for writing text.
I use thick dry brush texture for making a base! Then used foam brush round shape for filling the squares.
It was interesting to share the project sneak peek with the readers/followers at social media during work! everyone was guessing! but I reveal it later.. I ask them to guess the colors I am working on!
After completing the painting, I set it aside & give it time to get dry! Ahh..my tea! (after typing a long article post..I need some tea again! haha)
My customer's mother is also a teacher who is teaching from last 35 years. I feel proud to work for such wonderful people.. MashaAllah. God bless her..She is mother of all those students whom she is teaching from last 35 years. (According to Islamic point of views, a teacher is exactly respectable as a mother)
Every mother is a Heaven on Earth & beyond.. Every mother is wonderful. May God Almighty bless them always..
Here is the video about making this art.
As I have said in my last article (two weeks back), I will be sharing next article after the new blog design which is due from a few weeks but finally done, So here today my blog's new design working well. I started getting comments & emails suddenly from my dear readers as the new theme installed & started working. I am very happy to know that my new blog design is easy for my those dear fellows who were always complaining me about webpage issues related comment form etc, So it feels great to see them all back again after almost an year! Welcome back everyone! I will be posting more often now! & I hope you will be enjoying my random crafty & creative updates!
On the other hand, My small business of handmade arts & crafts work is growing & spreading Alhamdulillah, I am planning to give it some more time, But I am sure my blogging activity will not be effecting much.. I am a good time manager I guess..! Let's see..
Have a great day friends :)
p.s If you are still facing any issues with my new webpage design, feel free to drop me a line via Email or contact form! I will try my best to solve it soon :)
Khadija~