Calligraphy
How To Glass Paint- Islamic Calligraphy WallArt
Assalam Alaikum,
I am very excited to share this post Today, Its the first post on my new webpage & starting with Bismillah…the translation of this calligraphy(you can see on glass) is;
In The Name Of Allah(God), The Most Beneficent & The Most Merciful
So here my first post is starting with the Name of Allah Almighty..
I share my last tutorial post at 14 august & now its 7th September..Ooh..long time, actually I was busy during Ramadan & then Eid celebrations, that's why I was not having much time for making a tutorial post. well Now I am back :)
My Today's Tutorial post is in fact a sudden post, I made this tutorial by chance! 
one of my Instagram follower from Spain request me for making a gift for the marriage of his brother & sister in Pakistan. So I made these wall hangings as a work order. I feel so nice when they appreciate it a lot by saying that its much & more perfect as they were thinking :)
Now see how is my effort..
Glass Paint- Islamic Calligraphy
I made two wall hangings & these are big frames, I did glass paint calligraphy & glass mosaic on border..
Taking a picture of any mirror thing is not an easy job..I realize while working on this tutorial..
You will need to have;



Framed Mirror
glass paints
Led outliner
Paint brushes
For Mosaic;
Transparent Glue(modpodge/movileth German glue)
Broken glass pieces
Applicator
Rubber gloves
I choose antique frames,golden & dark brown
I use golden outliner & trace the calligraphy design on mirror with tracing sheet.
Then I apply the led & left until dry(for a few hours)
It was the first coat of red crystal line glass paint.
The First coat completed :)
First of all you will have to measure the center of the mirror,then start painting. I use marker line.
The First coat & then the second coat result.you can see the difference above!!
Here are my paintbrushes gifted by Plaid. I use one calligraphy stroke brush & one slim tip.
After Paint, mosaic work starts now!
I broke a 8mm glass piece & pick its bold pieces(be sure to wear rubber glove)
Now paste a thick layer of glue on glass as a border, start pasting glass pieces as a mosaic design!
After 24 hours the glue will be dry totally, then You will have to apply another layer of glue over glass pieces & wait a few more hours until dry. Then paint it with turquoise glass paint.
Late night I complete the work..Next morning I saw the wall hangings on my work table & I was…waooo..in fact MashaAllah..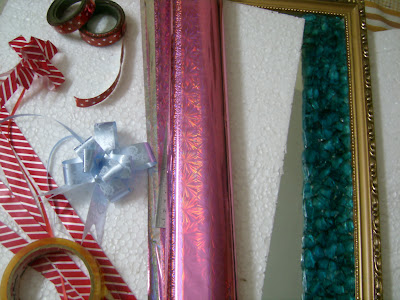 Here is the packing material & sheets with some ribbons & bows..But I forgot to take the picture of its packed look. I thought I did but when I was uploading pics from camera,there was not any gift packed image & the package was sent to them.
I hope you liked the tutorial & my work.
P.S if you want to have this glass paint for your home or gifting others, You can place your order via

Contact Form

or E-Mail (creativekhadija @ gmail.com)

Thank You