Hi Everyone,
How are you doing everyone! Did you get a chance to hear about Hiive Professional network for creative people? You might be curious about knowing further about it, I found it very interesting and helping for my creative work. Hiive is a free site from Creative Skillset through which you can connect with creative people as well as collaborate with them productively! It provides you opportunities to grow your creative skills. As it's free, So.. Yeah! you can be a part of it easily.. Ready?
Let's connect with Hiive.
If you are a part of creative industry then you have to be a part of this professional networking site. You will find it a best platform for sharing your creative skills. Although it's a new creative network yet very useful for those who wanted something useful for growing their creative work and collaborate with others who are looking for skilled people. There is a fine range of vacancies. So you can find work related to your skills.
Creative people behind the Hiive team asked me to share how I managed to maintain a balance between good life/work. Today I would like to share a few Tips regarding this. I hope you will find inspiration in it :)
How To Maintain a Good Life-Work Balance
As a multitasker sometimes I feel like I am jack of all trades and master of None..hehe! specially when sometimes there is a work load, but I tried to be a good time manager so it doesn't feel hectic.
My Tasks Everyday!
I am a busy/lazy girl loving everything I do. So below is written all what I used to do..
I am an educator who teaches arts & crafts,
I am a crafter who make & sell handmade creative art work,
I am a qualified textile designer who design home accessories & sometimes ladies dresses,
I am a painter who mostly paint wallarts for sale,
I am a freelancer who writes for others & make content for blogs,
I am a blogger who writes her blog for last five years & still passionate about sharing DIY & creative ideas on the blog.
I am a social media influencer while running 10 social networks every day!
Besides all this.. I am a cook at home who cook for 9 tummies everyday. I look after my sick mother and also baby sit for my toddler nieces sometimes.
WAIT..Read again what I wrote above? the word Lazy..would you believe I am? I don't usually but who knows! haha.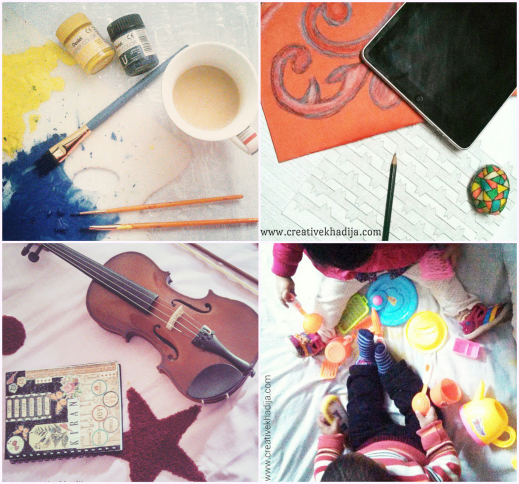 So am I a human?? or a Robot..?? haha.. Come on! not at all. I am a lucky human blessed with a creative mind who knows well how to manage all work smartly!
How I Balance between work and life..
I know this is not an easy task to manage this much load of work everyday! but the whole thing is concentration and sincerity towards your work. I simply Love my life & work. I never feel this work load is killing me or driving me crazy, I do my duties happily & with passion without any frustration.
I keep everything scheduled well, I have a planner in which I note down all the tasks of the week properly. I plan my whole week work or meetings during the weekend & then I schedule it.
I wake up early in the morning, Day light is a blessing for my blog photography. I create DIY & Tutorials once a week and almost 3,4 projects the same day. So with time I edit & draft those for sharing on the blog & social media. I am very relax in my craftroom where I work on my business & sales stuff. Sometimes deadlines by customer & brands I am working with are near but I always manage timely.
After working well on my craft work & business, I turn my online life on via my laptop & smart gadgets. I keep an eye on my affiliates & sponsors work for promoting them via my online work efforts. It takes a few hours only. I suggest you to work step by step, first finish offline duties then start working online & do it well.
I cook yummy food,(seriously its Yummy) clean my space,(when house maid is absent) while enjoying with my family specially little nieces who never leave me alone with their broken words gossips & giggles <3 The tiny toes are enough to refresh me totally by their innocent FAQs..
I keep my social media networks updated from my iPhone & iPad a couple times, it really helps me in driving blog traffic & getting followers/customers. I get most of my customers via social networks particularly from Europe, USA & Middle East. I ship worldwide :)
As I am in this business for the last many years now, So I use to keep things organized well by the grace of God Almighty. I schedule my every hour of the day! I know when I have to do my daily prayers and when I will have to turn my laptop on.
There is a partition of my day for 3 major tasks of my day. Online work/Offline work/Personal Life. I never ignore my friends whenever they need me I am always ready for help. I keep my relations important than work. I love my family & friends so they understand my routine when I am working & when I am available for hanging out with them. Life is good when you learn how to manage life smartly.
This was a random & simple article but I share my personal life routine here. I hope you enjoy my article as well as my affiliates work. I am glad they asked me this question so I share this work routine with my valued readers. I hope you will find it appropriate.
Have a great day!
Thank you.
Khadija ~
P.S This post may contain affiliates links