Decoupage
Vintage Style Planner Decoupage DIY
My love for vintage stuff is never ending, I collect antiques whenever I get a chance, like international coins & currency, mail stamps and some other random things like this. I design my business planner/dairy cover while keeping the vintage theme in my mind. So here today I am going to share a planner cover designing with some podgeable papers & scrapbook sheets which I have got from USA once.
This planner is mostly near me during most of my working day. Sometimes I am writing my business plans & schedules on it & sometimes my upcoming crafty ideas..oh yeah in a separate side, I also write some yummy recipes which I note from my favorite food blogs & TV channels as well..well this is kind of "all in one" planner.. I love holding it and making random drawings on it.
Vintage Style Planner Decoupage DIY
This planner was plain black & I was happy with its plain plastic cover sheet, my eldest brother gifted me this planner once & He suggest me to do something crafty. but its been long the diary was still plain, my bro saw this once & ask.."Hey why don't you design it, where the "Creative Mind" these days??" ahem ahem..so it was kinda teaser by him..ahan! SO I THOUGHT TO DO SOMETHING…FINALLY!! haha..
Fall is here and everyday I love seeing brown crispy dry leaves in my yard, I have saved a few pretty shapes as well, These weather changes are always interesting in their own way!I were already inspired by vintage and fall so here the theme goes for this crafty creation..Have a look what I have done & how!
A close up image.. this is SandalWood hand carved pen, also among my antique treasures! the Sandalwood fragrance is still here from years, its with me from more than 12 years back.
Here is my favorite scrapbook pages & books which are filled with pretty designs and things..Remember Amy sent these once!
My iPad and my Planner are my most helping partners. I design planner with Kiran name, You may know well who is KIRAN..? oh yeah its ME definitely! in my family nobody call me by saying Khadija..even no one is much familiar with my Khadija name, So I design it with KIRAN name. I don't wanna offend people who will may be asking whenever they will see Khadija name anywhere..haha. isn't it looking well? see the Tutorial now!
How to design and Decoupage a planner cover
You will need to have ;
Podgeable Paper/ Scrapbook papers
Mod Podge glue
Scissors & Brushes
Cut all of your favorite shapes one by one & place it over the diary & arrange.. then Re-arrange.. then again do it & see how it looks more well..and when you see it looks perfect then open the bottle of glue..(take a pic for reminder)
As my theme was fall and vintage, So I cut some birds, butterflies, flowers, and vintage keys & ruler..oh yeh my name alphabets too..(don't tease me by saying kkkk kiran now..okay?)
The most interesting and favorite thing is the words I cut from the scrapbook, Love, Family, Laugh, Happiness, Smile, Dream, Joy, Believe.. and this is how I live..My life is all about these words..
At first I apply the bigger paper sheet at front bottom, Then I set my name's cuttings..the little motifs of birds and butterflies.. These wonderful words & the message inside is so much to me..
My Life is all about these things..Love-Family-Laugh-Happiness-Dream Big-Peace. isn't it a perfect message for a perfect life?
That's it.. I paste all the cuttings and then mod podge it..it was looking fine! I also want to try glitter but that wasn't going well with this vintage look. Decoupage is the best craft for today!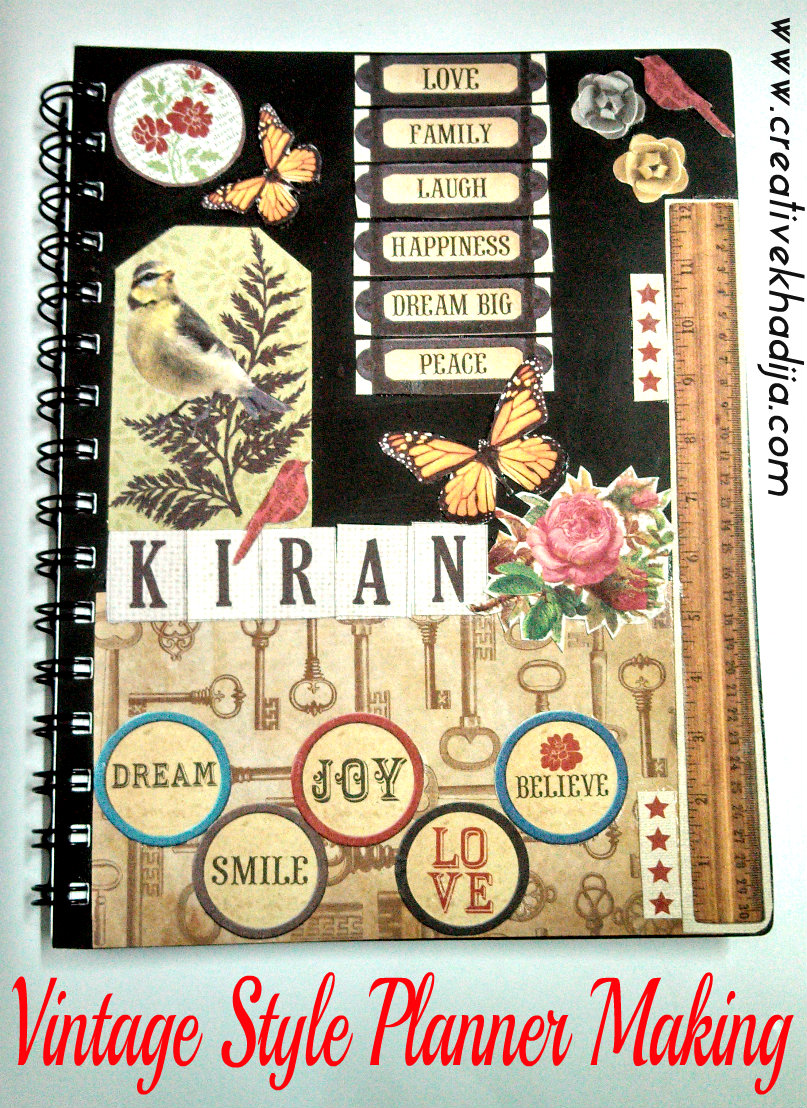 I hope you will like the way I design it.. now I enjoy more while holding this in my hand everyday.
If you want to make it more long lasting, you can also did a plastic wrap covering by electric machine, but I like my planner the way it is..whenever I touch it..it makes me feel good..the pieces of papers can may be ordinary for others but they are extraordinary for me!
The post is getting long!  Believe me I am talkative, but mostly when I am happy I talk some more. So did you got my message? see above on planner cover and adopt any 1 among all of those! I bet you will be happy to get it.
Have a Happy day!