DIY
Clay Pink Ribbon Bow on Chevron Mug
Month of October is celebrated worldwide as Breast Cancer Awareness month, I know some really brave women who are fighting against cancer & struggling hard while facing this painful journey! May Almighty give them strength to fight against cancer.
I am glad to be a part of Pink Ribbon Awareness campaign. I were invited at a campaign event at Centaurus center in my city. (I might be sharing further details later)
For showing support & sharing love for pink ribbon bow campaign! I craft a little item for my craft space this time! Remember when last year I made a pearl necklace with pink ribbon bow. So this year I thought to share something more easy!
Have a look what I have done :)
Clay Pink Ribbon Bow on Chevron Mug
I did refashion this stenciled mug for making it perfect according to Pink Ribbon bow campaign.
Once I won some polymer clay at facebook. That clay was too hard & not easy to work with, So I keep these clay bars for making anything small & easy! So it was the right time to try this clay again.. I made a Pink Bow with clay!
All you need to have is a sharp cutter, pink polymer clay & glue.
1- Shape the clay as strip, Press it & then cut it as a strip.
2- Make a bow & use glue for joining them. I put one small glitter glue drop in the middle.
Paste it on the mug & keep your mug in the microwave oven for one minute in low heat temperature. And this will fix well.
** Don't bake for more than one minute in microwave. If you will overcook, it will burn & turned into some bubbles creation.. Lol
Before baking the clay ribbon bow in microwave oven, it was soft but after placing in the microwave it turned out hard. If you dont want to keep it in the microwave, You can also boil the polymer clay but I don't enjoy this method as its long process as well as disturbing for your polymer clay crafted thing. might be breaking your craft with boiling water!
This mug is my craft space storage container actually! I keep my scissors & markers in it usually! In fact this mug is one of the most used storage container. So I decorate it with a pink ribbon bow!
These stones are also designed by me, See Tutorial HERE. And this small diary you can see here is also made by me for the same cause! It was a plain cover with one cartoon face, But I paste a sparrow bird podgeables scrapbook paper cuttings & mod podge it.I pasted a quote here, LIFE IS A JOURNEY.. !
In my next article I will be sharing the making & further details of this small diary cover decoration. I hope you will like to see it's making! So stay tuned girls!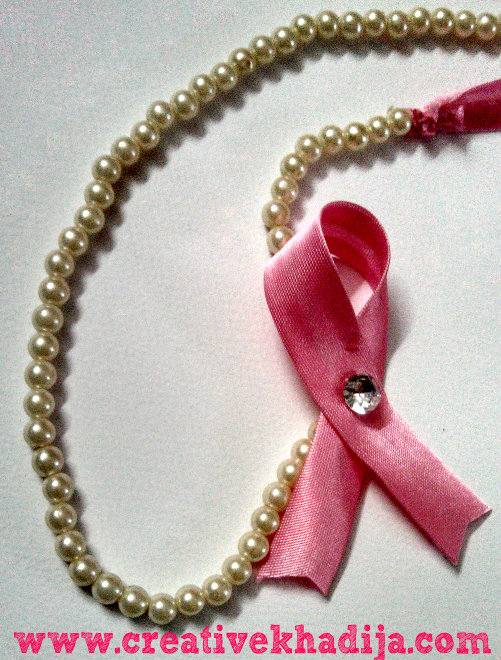 You can also enjoy this Pink Ribbon Bow Pearls Necklace Tutorial.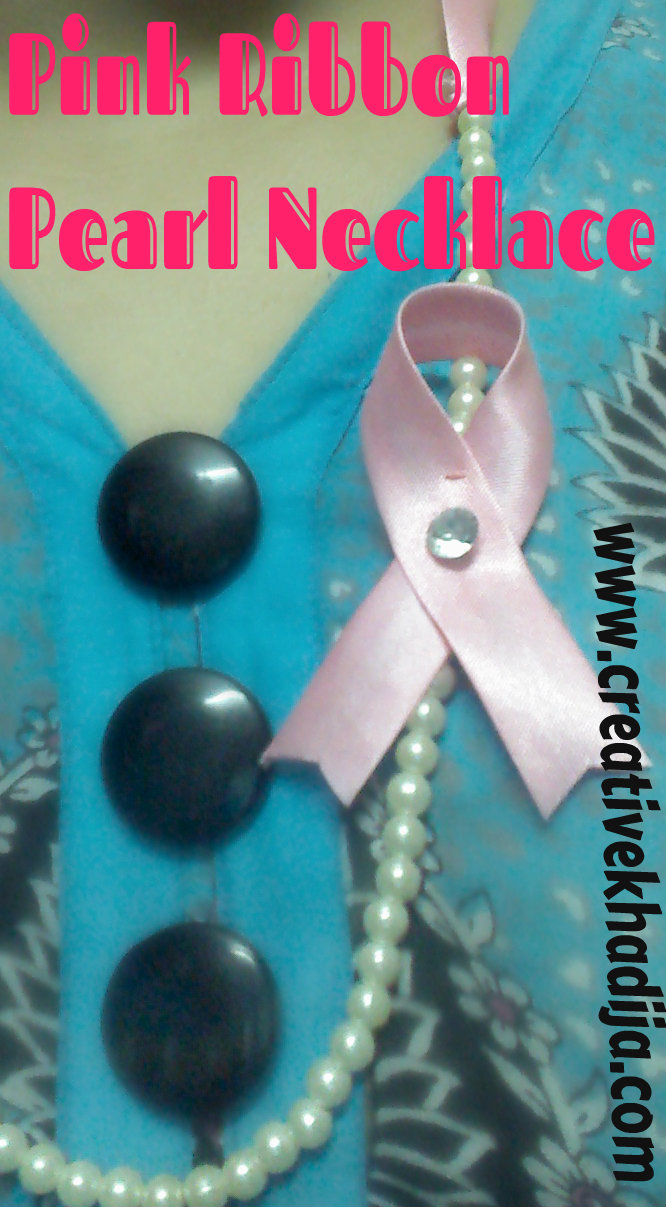 I am proud to be a women! My well wishes for all those brave women all around the world who are fighting against cancer. Be brave ladies, God chose His brave soldiers for bigger test. So be strong & don't give up. Fight against cancer & beat it. You can do it ladies.. YOU CAN..!!
Have a Good Day Everyone!
Khadija ~