In my last article, I share a glimpse of my upcoming art work, Today I will be sharing Vintage designed diary decoupage tutorial. Last year when I decoupage my planner, That was a big hit. I am glad to see that article appreciated by my wonderful readers a lot. So here today I thought to share something similar but at a very small diary!
Let's read the story below :)
Vintage Design Diary Cover DIY
Can you guess the size of this diary? I bet you can easily but only if you have checked my previous article of Clay Pink Ribbon Bow on Chevron Mug where you can see this small diary placed with a coffee mug storage container, That's pretty small but looks cute!
I were at a book stationary store where I saw a very small diary, I was not in need of diary these days as I have collected many with time & also have got some as gift. But when I saw colorful pages inside, I thought I should have this diary for making random doodles and designs on it. As it's very small so I can carry this in my clutch any time! Voila..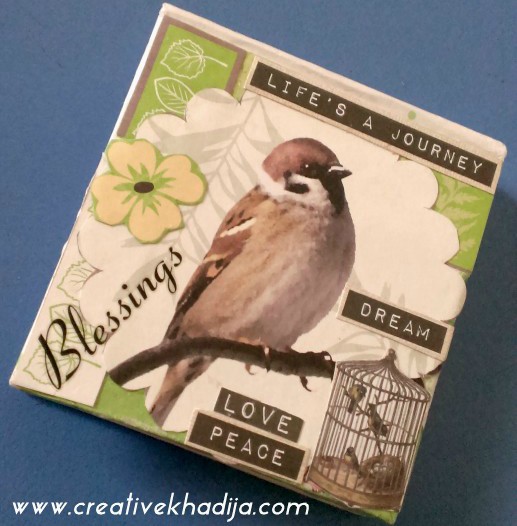 So I got it. Price of this diary is half dollar only! Cool ? Let's decorate it now!
You can imagine the size here! Even its smaller than a scissors & mod podge small glue bottle.
You will need to gather these supplies for designing this small diary!
Podgeable paper, or scrapbook paper
Scissor & sandpaper stick
And of course a diary :)
First I cut some vintage inspired motifs from the podgables collection book. This sparrow was exactly according to the size of my small diary, So I cut it along with some other motifs & a quote too! A cage as well as some leafs! Have a look..
How to decoupage diary cover :
First you will need to use sand paper on the surface of diary cover, make it dull so glue will be able to stuck with paper nicely!
Then apply a coat of mod podge glue & start fixing motifs on the surface cover.
Let it dry for a few minutes & then you can coat the surface again ( I didn't coat though )
I like the dull look more than a shiny one! So I didn't coat it in the last.
If you are going to coat it, be sure to use sand paper so it will not be sticking together with anything!
I dedicate this craft for the pink ribbon bow campaign. So here I put some messages for those who are fighting against breast cancer or any other disease.

Life is a Journey

! So don't stop Dreaming! Stay calm & peaceful & LOVE yourself first, then love everything.. Keep this message in your mind & be sure to stay positive! Be optimistic..

EVERYTHING WILL BE OKAY!! Believe me

.. So I would be more than happy if you will be considering this message during your down time!
This is the other side of the diary! I put some stickers there! COUNT YOUR BLESSINGS! I know..I know life is not easy sometime!Believe me.. I live at the same planet universe with the same hectic-weirdo-nonsense people but no problem at all.. the more you ignore this s*it..the most you will feel relax! So be happy always! God is always here watching us & seeing what's going! So have faith my friends..
I wish everyone's life stay peaceful & happy!
Life is a journey filled with many blessing! big or small.. blessings are blessings :) So don't give up friends. It's not easy to fight against any kind of disease but this too shall pass.. So be strong! be brave & fight against all things making you crazy in life.. Have a healthy life :)
Sorry if I bore you with my random ramblings related life and stuff.. I might not be as optimistic as I usually wrote & pretend..hahaha! I am too funny.. Excuse me!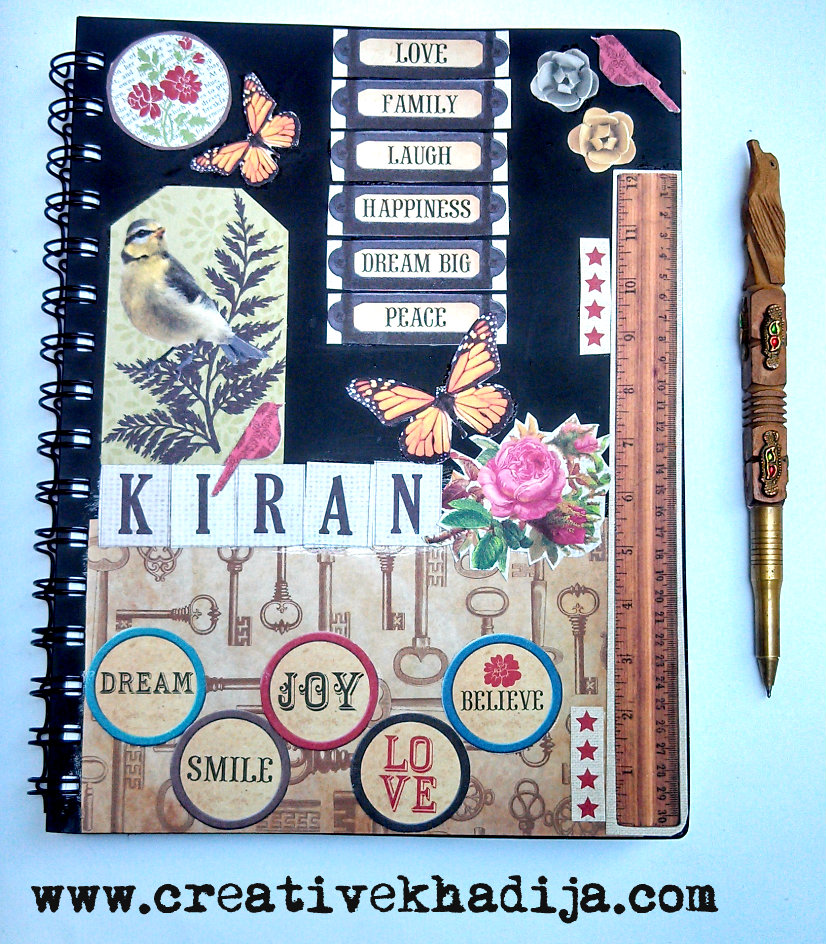 Here is my previous Planner Decoupage DIY. I hope you will like it :)
You can have a look at my all decoupaged crafts & DIY HERE
Have a great day everyone!
Khadija ~