DIY
How To Decorate an Old Table with Washi Tape
I love recycling & upcycling projects. There is always a safe side while recycling stuff, You don't need to worry about any craft fail. If the projects went trashy, No worries! It was already a trash though.. Haha! would you like to see what I have done from trash to treasure? Remember I have shared a sneak peek of my today's upcycling idea in my Corn Husk Flowers Making post. See How To Decorate an Old Table with Washi Tape. I hope you will enjoy this idea.
Let's upcycle an old table with chevron design Washi Tape
How To Decorate an Old Table with Washi Tape
I saw an old table in the store area. Suddenly there was an idea in my mind. I asked myself "Why not to reuse this table?" As I were already in need of a small table in my craftroom. So it was the perfect time to do it. So here it is what I have done!
Have a look at BEFORE image, its surface was marble designed Formica sheet but a bit chipped from the corners of the table.
For decorating this simple table, You will need a few supplies only! It will not be a time taking project as well. Hardly within half an hour this will be done easily!
You will need to have :
Brown paper tape
Mod Podge Glue
Washi Tape
Scissors
Water
Let's start working on :)
I cut some strips of paper tapes according to the size of table surface.
I coat the table surface with water & then glue & then started pasting brown paper strips on the table surface.
Here I notice it was not perfectly pasted, the lines are visible awkwardly. Right? So why not to hide these with some washi tape?
So I cover the awkward lines with colorful washi tapes of chevron design. It was super easy & quick idea.
I decoupage the table with mod podge matte then & waited until it gets dry! And it's done :)
How is it? Looking fine now?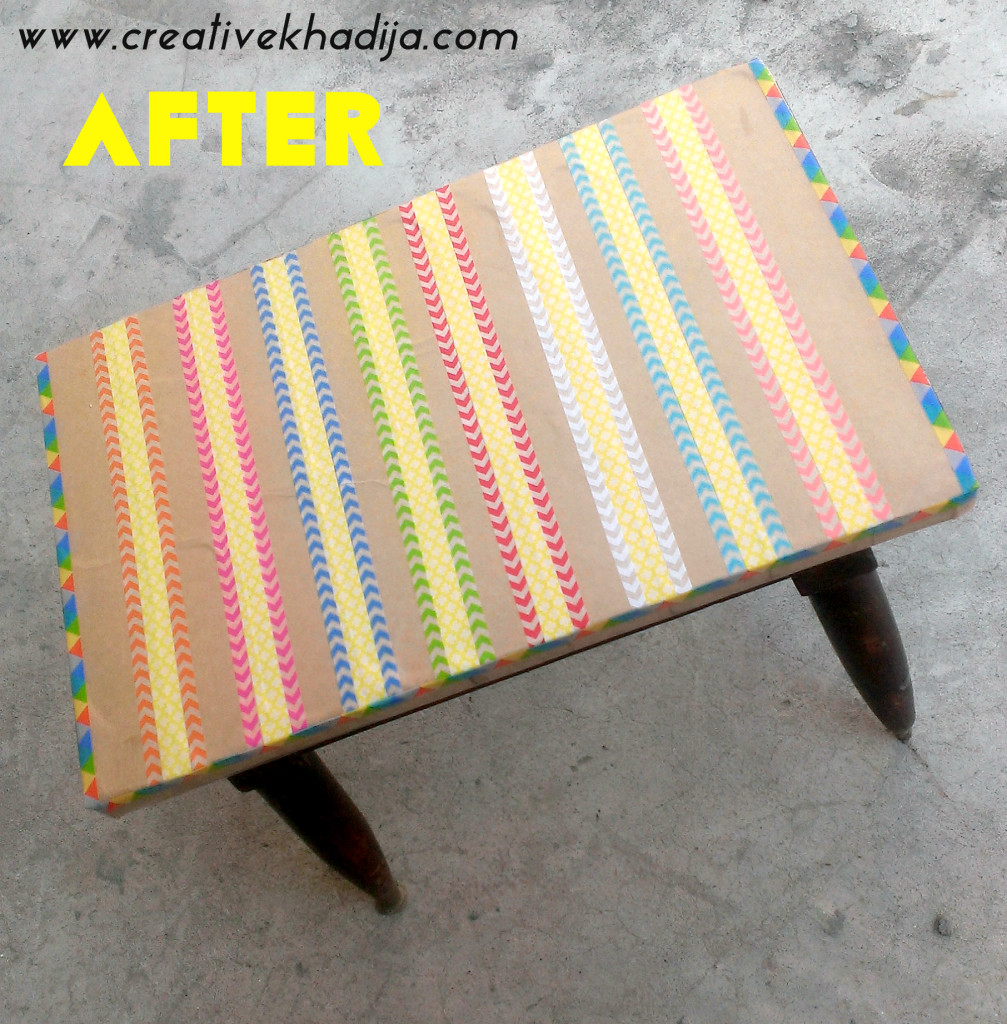 Here is the AFTER image, looks good?
It's a very old table actually, It was hard to believe for my mother if its the same table. She didn't recognize the table at her first sight. I am glad to see her response when she saw this trash item into something useful again.
This table is now going to help me for placing crafty items on it. Well this one was not a perfect click though.
I have designed a box with washi tape. It was a small gift box turned out so colorful with a little effort.
I have designed my craftroom's switch board with washi tape. Looks perfect? I love it :)
This white pretty clutch all the way from Spain is spiced up a little with beautiful washi tape from Singapore!
I wrapped some tape around broken charging cable of my iPad. This was a good idea & appreciated by my readers well :)
I design this planner with washi Tape & then did some freehand doodling around. If you want to buy a planner similar to this, You can contact me. I like to design for my customers too :)
I hope you enjoyed my Today's DIY idea, feel free to share this article at your social media with your friends. Sharing useful ideas is always fun!
Have a great day!
Thank You.
Khadija ~