DIY
DIY Wall art inspired by Peacock feathers
Today I am going to share a DIY Wall art inspired by Peacock feathers. It's designed at a wall of my craft room. You may remember my craft room wall painting which I've done last year? As there are 4 walls of my craftroom & right now 3 walls have been designed by Me (actually It's hard for me to stop my hands, haha)I have painted one wall with spring inspired wall art paint, The opposite to that wall is decorated with a heart shaped instagram polaroid prints. Now this peacock feather inspired wall is next to that polaroids decorated wall.
I did this unique wall art design almost 4 months back, I am lazy & I know it. Hehe! (Not Really, Just Kidding) Reason behind sharing this tutorial too late is scheduling mistake. I missed this article while scheduling my planner. On the other hand I changed my laptop few months back & some data was saved in my other hard drive. So this was the one unlucky project along with another wall clock DIY which missed to be published timely.
So have a look what I am going to share today!
DIY Wall art inspired by Peacock feathers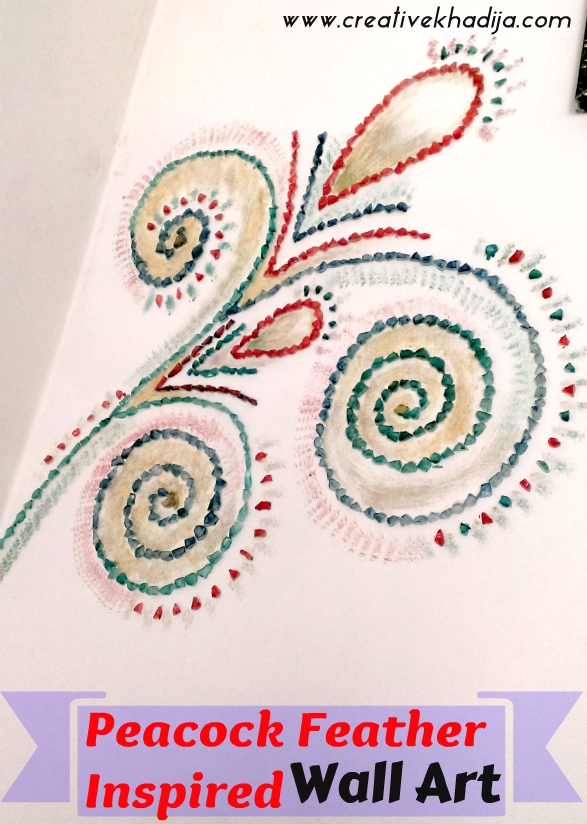 Above I said It's a unique wall art, because I've pasted broken pieces of 8mm glass on the wall & then painted these pieces. These were actually leftovers of a glass painting mosaic wall art. I had these left & thought to design another something but later I changed my mind & decorated the wall instead of making any wall frame. I have painted many wall arts but this time a wall is going to be designed by me.
DIY Wall art inspired by Peacock feathers
After pasting these small pieces of glass, I paint these with glass paint & used peacock feathers inspired colors.
Before explaining further, Better I should share step by step tutorial now.
You will need to gather these supplies :
Glass broken pieces
Glass Paints
Mod Podge
Paint Brush & Ice cream stick
You can get any other craft glue as Mod Podge is not available in Pakistan.
Get any other supplies if you want. You can use rhinestones too. I know these broken pieces of glass might not available for you. So be careful while working with mosaic glass pieces. Better get some big rhinestones. They will fix better & you don't need to paint those if you will get colorful ones. Good Idea?? I wish I brainstorm this earlier. Hahaha.
Well here it is the step by step tutorial on how to do it.
I clean the wall with foam piece & then started drawing freehand. I use pencil & eraser for drawing & removing irregular lines. Freehand work usually have blunders you know.
This is the rough pattern on the wall. This is how you will start the project.
I pour some glue on paint pallet & start fixing the pieces on the wall according to the draw lines.
This was not an easy job to do, took about two hours continuously while pasting. And I were super tired then!
Next day I started working on this project again.
Glass pieces were dry & fixed perfectly, So I start painting those. I used Green, turquoise & red glass paint colors with brush.
It was evening time, you can imagine right as the picture quality is poor!
There we Go! It's done. After painting glass pieces, Then I apply some glitter paint to fill the design. I used flat paint brush to give texture on the wall. I fill the space with red & golden Extreme glitter glue by Plaid.
Here is my inspiration, See DIY peacock feathers bottles HERE. These are placed in my mother's room now. She liked this recycling idea.
Here you can see walls of my craft room! I hope you will like to have a look at these again.
Have a look at a crafty corner of my room! I hope you will like having a look at the blog archives again.
I painted this wall of my craft room, I never had idea this design will be my logo one day! :)
Here you can see a sneak peek of my craftroom. I have changed the setting of the room now, I've posted this on the blog few month's back.
I hope you enjoyed my wall art as well as the tour to my other wall arts DIYs from archives. I am on a mission to fill my work space with loads of artistry! Let's see
Have a great Friday!
Khadija ~