DIY
How to glass paint Islamic Calligraphy art
Hey dear friends, Thanks for giving wonderful response on my previous blog post about my childhood treasure box. I was not expecting this random article will inspire so many of my readers. I got several emails & messages on my social media networks. I am glad to hear from you! I will try to share more random articles now! But now have a look at my today's article. It's one of my favorite. I have shared glass painting tutorials several times, You friends are always admiring my glass painting wall art. Recently I painted another glass paint wall art for a client. Today I will be sharing how to glass paint Islamic Calligraphy wall art. I hope you will like this one too!
How to glass paint Islamic Calligraphy art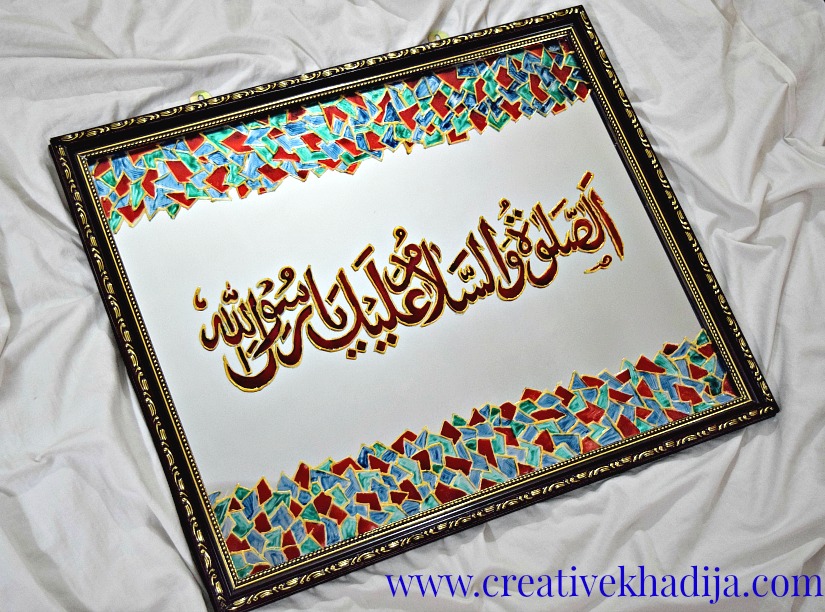 Size of this glass paint is 18″x 22″. Here I wrote an Arabic calligraphy line. These are holy words in praise of Prophet Muhammad Peace Be Upon Him. They called Darood-e-Nabwi.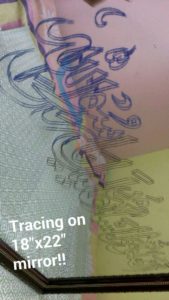 Here in my today's article, Images quality is not so perfect as these are saved from my snapchat story! If you are following me on snapchat, You might already know the day when I were making and sharing the whole process of this wall art glass paint.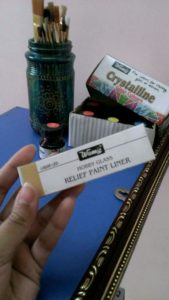 For making of this glass paint wall art, You will need to have:
Glass painting colors,
Led outliner
Paint Brushes
Tracing sheet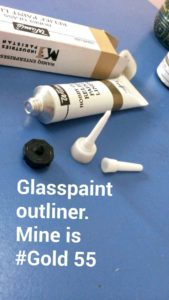 Put the nosel on tube & start applying the outliner. If you want to make a thick border you can also cut it again to make a thick line.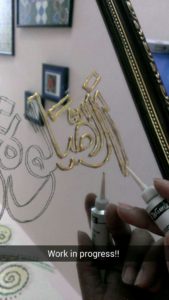 Let's start working on. Apply the outliner on the tracing lines & you will have to complete it carefully. In the end of this article you can see the video tutorial of this led outline application on mirror.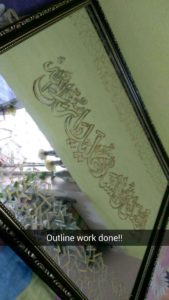 And this is how I completed the base. Wait for at least 30 minutes until it gets dry for filling the paints.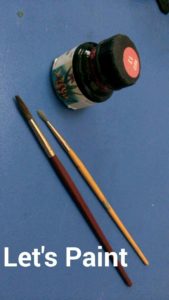 When the outline is dry then fill the color. I choose a thin tip of paint brushes.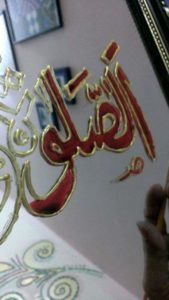 First coat is always rough, Its kind of base. Oh heyy you can see my peacock wall art of the craftroom in the mirror reflection. I tried my best to avoid reflections but it wasn't possible.
For better understanding, You can see the videos of my glass painting work. I have shared these on my instagram. Let's have a look :
Click to play these video. Move the cursor on the image & you will see play button to click!
You will hear some peacock and sparrows voices in this video.
Can you see these videos above? You can check these at my instagram, If you aren't following me on instagram, You should. Get random photography clicks & updates!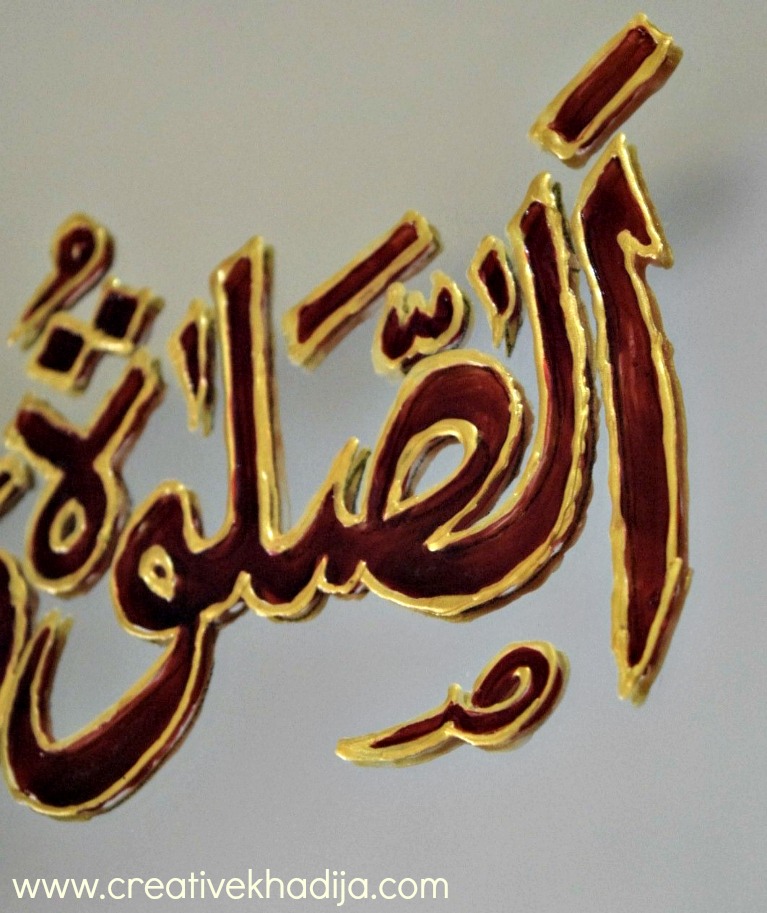 This is a click after the second coat. At some points I feel like these lines need to draw again, So I did it. Overlapping isn't good but if you work carefully then it might not be disturbing the look. So be careful while working on!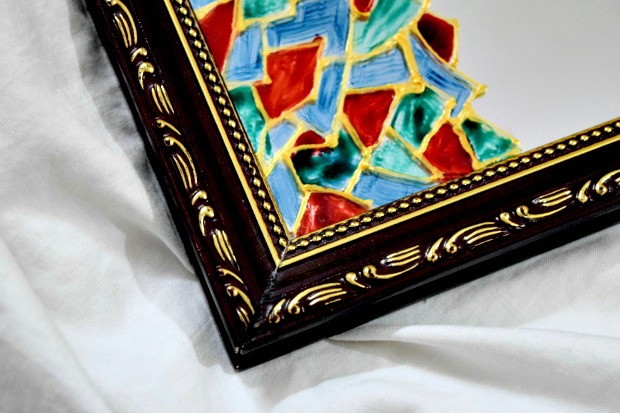 A close look of the wall art corner! I choose antique framing in chocolate & golden color design!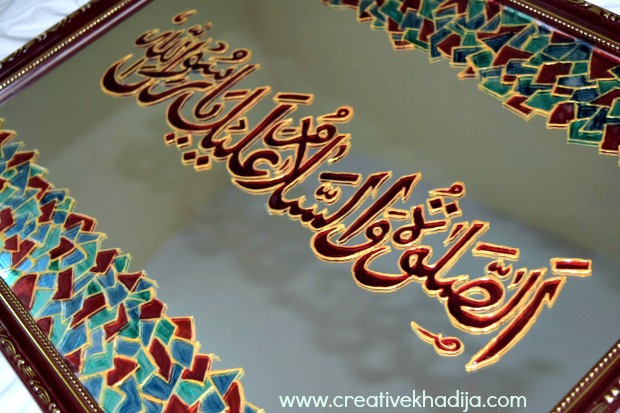 Capturing a mirror click is not easy seriously! While photographing this wall art, I capture carefully, because every time it was reflecting the other side of wall or my hands or my camera! haha. I shared that behind the scene story on my snapchat that day when I were capturing.
You Can also have a look at my other Islamic Calligraphy Glass Paint. here I am sharing my previous glasspaint wall arts, Process is almost the same but Holy verses are different.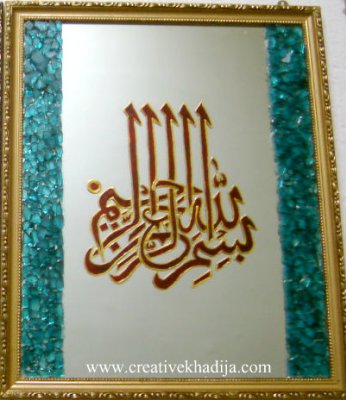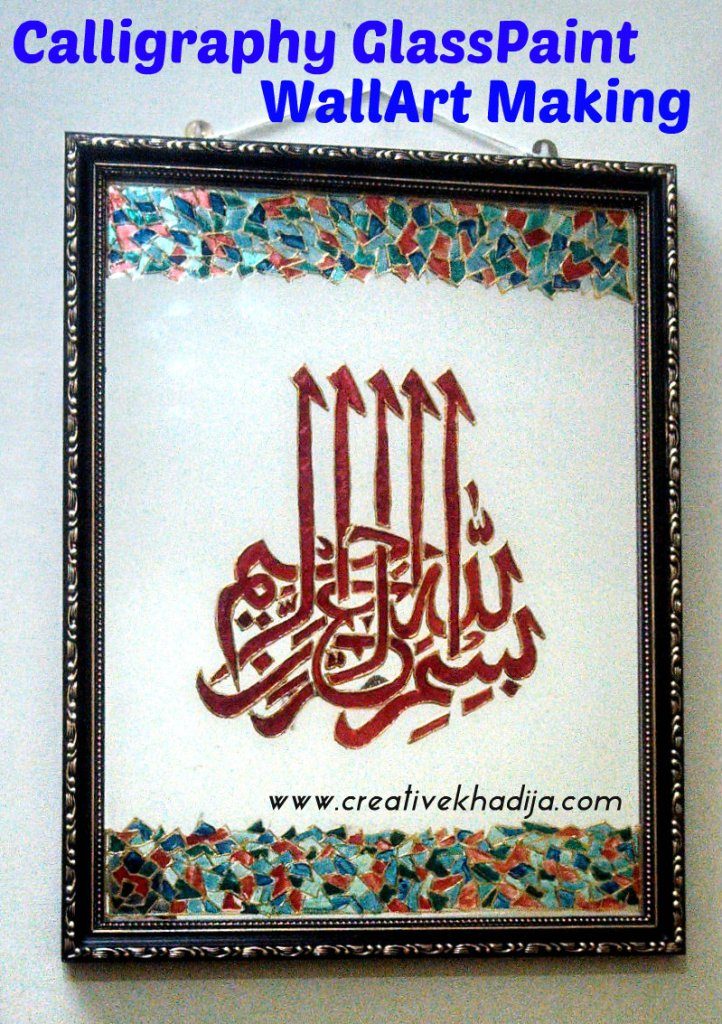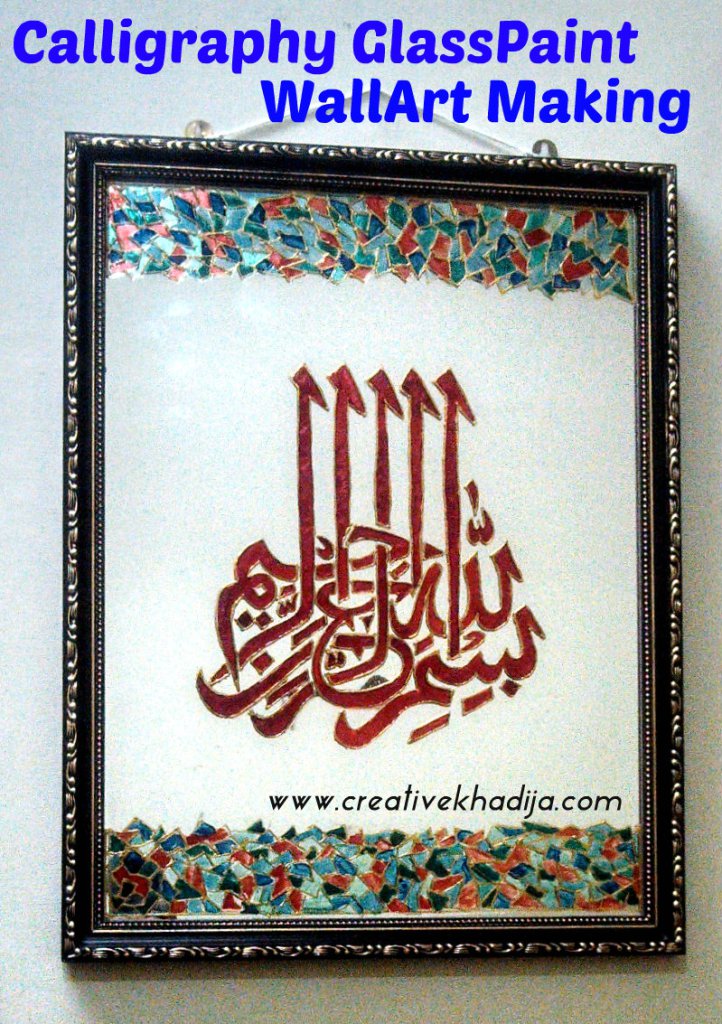 Glass Paint Calligraphy Wall Arts are perfect as gifts. I used to gift these a lot to my family & friends. Everyone appreciate it. I am glad to see my hand painted wall arts at my friends & family houses. I hope my dear readers will also like seeing these & learning how to make this. I bet you can easily make this & will enjoy it's making.
If there is any question about making glass paint art, Always feel free to ask me via commenting & by using this contact form. If you want to buy this glass paint wall art, Contact me. I would like to make one for you! I ship worldwide.
Have a great day friends.
Thank You.
Khadija ~