Events & Bloggers Meetup
How TheBodyShop is Celebrating Festive Season In Islamabad
Islamabad Bloggers Meet & Greet at The Body Shop, Centaurus Mall.
Holiday season is here & we can see a lot of brands coming up with unique campaigns, sales & special offers. Islamabad lady bloggers were invited by The Body Shop few days back at their Centaurus Mall outlet. I visited the store & was surprised to see the cute Seasonal festive setup of their store. How TheBodyShop is Celebrating Festive Season In Islamabad is an interesting initiative actually. Before I explain their campaign, First have a look at the store's festive look:
How TheBodyShop is Celebrating Festive Season In Islamabad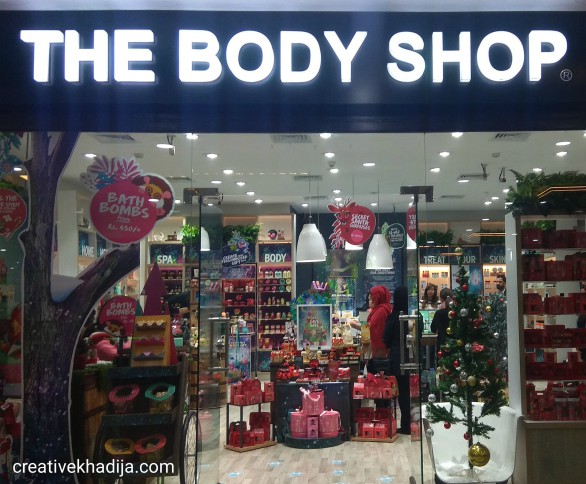 The store located in the Centaurus Mall, ground floor. I was surprised to see the setup and beautifully decorated shop with winter, festive & holidays style look. The best thing about their campaign is helping to re-wild the world by planting & foresting #enchanedbynature. On every purchase of The Body Shop products, they will be planting & will save nature & help wild life by this thoughtful campaign. Because of deforesting, environmental changes are making the situation serious. Save the nature and plant more for a green world.
Have a look at The Body Shop store tour:
TheBodyShop Bloggers Meet & Greet In Islamabad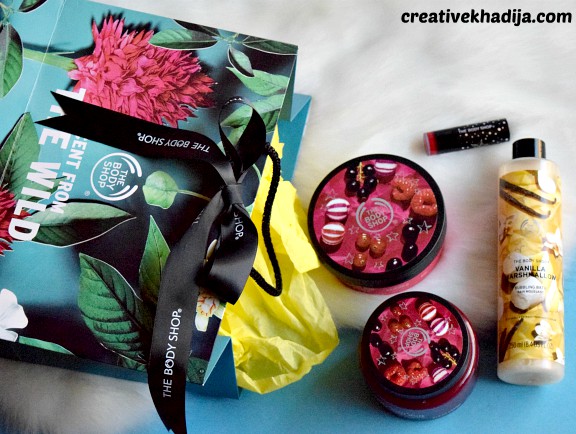 Islamabad bloggers were invited at the store to see new products. We also received an amazing goodie bag. I am using these products and they are indeed working well! To be honest, I am not a fan of berry flavored cosmetics products but while trying these both berry flavor products, I noticed great result. Essence of berries is very fine. Berry Bon Bon sugar scrub makes the skin super soft after exfoliating and cleaning the pores. It doesn't make skin dry after exfoliating as well. Though it's perfect for body & not recommended for face but using once a week on face is fine. Moisturizer result is also great. It keeps my skin super soft & hydrated for long time. I specially like the smell of vanilla marshmallow shower gel. It's fragrance makes you feel refreshing for the whole day and also makes the skin super soft & smooth. I will highly recommend it to try this bubbling bath. The lip color in the shade Flaming Horizon is now one of my favorite.
Thank you The Body Shop for inviting us bloggers & hosting a meetup & sharing with us how TheBodyShop is Celebrating Festive Season. Also the complimentary gifts are nice to try for the skin care routine this winter season. Do let me know if you want to see detailed product review of any of the product. Feel free to drop comment if you have any question or suggestion.
Have a great weekend everyone.
Khadija ~