Islamabad April 16, 2017: Islamabad's mega literature celebrations ended yesterday (Sunday) as the Fifth Islamabad Literature Festival concluded here at the Margala Hotel. The success of the event could be gauged by the large number of vibrant participants who attended on the three days.
The three-day festival was organized by Oxford University Press (OUP) while this year the event was sponsored by Pakistan Petroleum Limited (PPL), AWAAZ, Tapal, Sustainable Development Policy Institute (SDPI), Goethe Institute, Embassy of France and Embassy of Italy.
Islamabad Literature Festival 2017 Press Release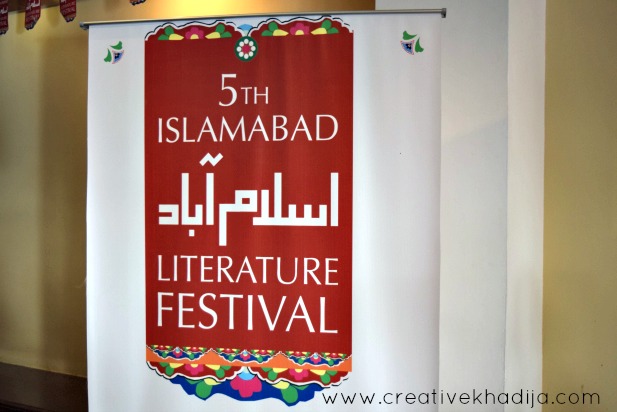 The key note speakers at the closing ceremony of the fifth Islamabad Literature Festival included famous poet Iftikhar Arif, Omar Shahid Hamid and Nafisa Shah.  The concluding address was delivered by Oxford University Press MD and founder of ILF Ameena Saiyid and Co-founder Dr. Asif Farrukhi.
While addressing the closing session, OUP MD Ameena Saiyid said that "As this festival comes to its end, I hope that, each of us will have found his or her knowledge added to, or viewpoint altered, in some way or the other. This is a unique kind of event, one that does not leave anyone unaffected". She further said that ILF will bring more and more colors in the future. This ILF has focused on Partition and Independence as this is the 70th year of Pakistan's creation. At Oxford University Press, we are celebrating this important year by publishing 70 books on Pakistan, its literature, history, culture, sports, economics and as many disciplines and subjects as we can. We call this series the Platinum Series, she added. Before I close, I need to express my thanks to the representatives of the media for their interest and enthusiasm. My thanks are due to all our partners and co-sponsors who shared in making this occasion a success.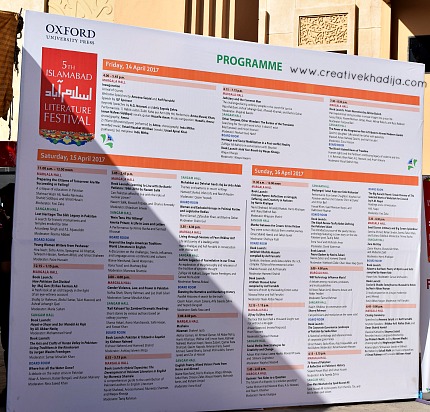 Renowned poet Iftikhar Arif praised the ILF organizers for a unique gathering of intellectuals, poets, writers and journalists under a roof to have detailed discussions on a variety of topics including literature, politics and current affairs. Literature could become the major tool to achieve positive societal changes, he further added.
Earlier yesterday, ILF started its third day with some amazing interactive sessions, dialogues and book launches. However, the last day of ILF was dominated by renowned artist Anwer Maqsood as he had a session "Uljhay Suljhay Anwar which was included the author his wife Imrana Maqsood, Hoori Noorani and Sarmad Khoosat. A house-full at the session presented a huge tribute to the living legend.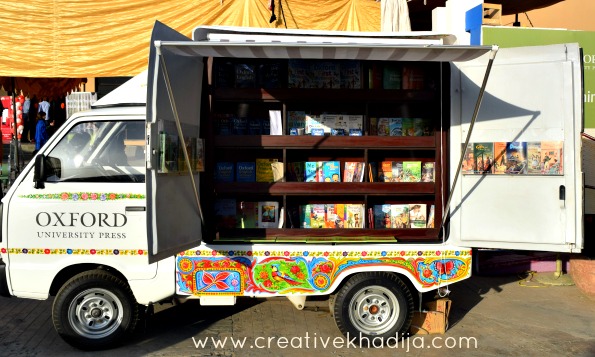 President Azad Kashmir Sardar Mohammad Masood Khan participated in the session "Kashmir: Two Sides to a Question The future of a dispute: Is a solution possible?" along with A.G. Noorani, and Riaz H. Khokhar while the session was moderated by Harris Khalique. Nasim Zehra had a conversation with Sherry Rehman on "Can politicians and media be on the same side".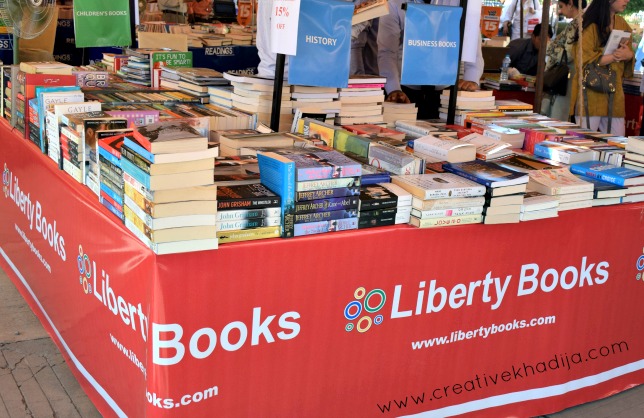 In another session "Murder between the covers: Crime Fiction, two crime writers Omar Shahid Hamid, Sabyn Javeri discussed their creative journey" with moderator Shehryar Fazli. A writer's job is not to provide answers but to ask questions," explained Javeri, whose novel 'Nobody Killed Her' was launched earlier this year. Talking about her book, she said that it was not about one particular personality. Rather, she had crafted her story by piecing together details about women leaders in many different countries of the region. To a question whether being a police officer had benefitted or influenced his work, Hamid said each of his three books was based on themes or stories which he had come across during the course of his professional career.
Harris Khalique's book Crimson Papers: Reflections on Struggle, Suffering, and Creativity in Pakistan was also discussed in a session with Navid Shahzad, Afrasiab Khattak, Harris Khalique, and Rasul Bakhsh Rais.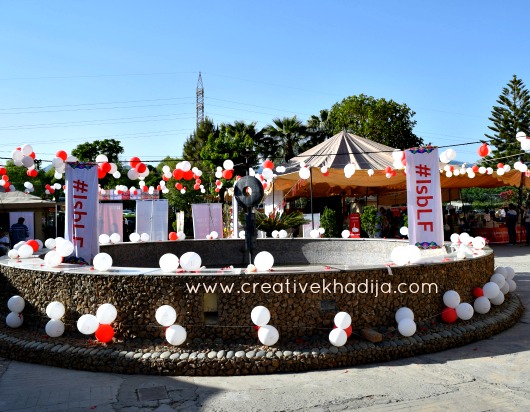 Social Media aspects were also talked about and "New strategies for creativity and change" were discussed between Adnan Khan Kakar, Leena Hashir, Moeed Pirzada, and Slimane Zeghidour while Wajahat Masood moderated the session. The speakers discussed some positive changes and challenge the social media is bringing about in our society, especially with regards to its 'misuse'. They suggested that social media had grown to become a defining voice building an alternative narrative to the controlled conventional media.  Television anchor Moeed Pirzada, while tracing the rise of social media, said that since conventional media was controlled by the ruling elite and presented a limited reflection of the public's view, the easy access to social media had given everyone the opportunity to raise their voice.
On the ever popular Dastangoi based on Ismat Aapa aur Unki Kahanian from Ismat Chughtai's Kaghazi hai Pairahan and her short stories 'Chirri ki Dukki' and 'Amar Bail' had the audience fighting for space. NAPA's Fawad Khan, Syed Meesum Naqvi and Bakhtawar Mazhar had the complete attention of the audience. Ms Mazhar depicted Ismat Chugtai's life with her vividly ingenious monologue, her expressively resounding voice that was layered with subtle innuendos. She offered variety of touching feminist, comic passages, and intensely dramatic questioning of societal customs while staying true to every detail of Ismat Chugtai's life.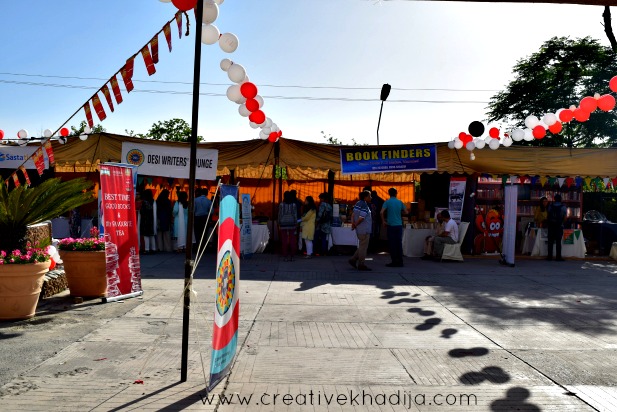 In another session on '70 Years of Pakistan: A Reflection on Pakistan's History' with Sayeed Hasan Khan and Ishrat Husain, moderated by Arfa Sayeda Zehra, Dr Arfa began the session by expanding on the topic: "70 years of Pakistan, meaning 70 years of our unawareness. In one way 70 years of remaining ignorant of our perceptiveness and sense; in another 70 years spent futilely searching for new meanings and explanations for ourselves. I believe that without the past there is no future. History is experience which teaches us to make choices, to compete, and to compare, which are invaluable skills."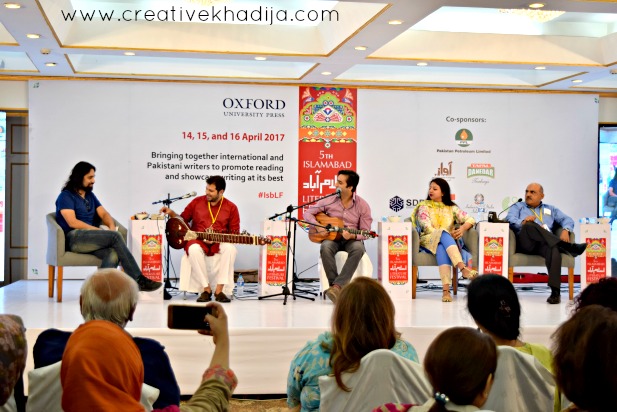 The session 'Will Technology Influence Music?' featured Noori's Ali Noor, Rakae Jamil, Masuma Anwar, Akbar Yezdani and moderator Taimur Rahman. Starting off the session, Laal spokesperson Mr Rahman said technology has always impacted the arts and music. Mr Noor said technology has become paramount for live performances which are complicated, because artists need to be able to hear themselves to play well. "For me, the biggest problem was the people who were providing sound and technology in Pakistan had nothing to do with music. They were people who were doing car rentals and began new businesses renting sound equipment," he said.
Renowned journalists Zarrar Khuhro, Wusatullah Khan and Mubashir Zaidi from the TV program Zara Hut Kay answered the questions and comments from the audience on the last day of ILF as well. Nimra Bucha moderated a session "Small Screen Intimacy and Big Screen Splendour" along with participants Samina Ahmed, Rehan Sheikh, Seema Taher Khan, and Sultana Siddiqui.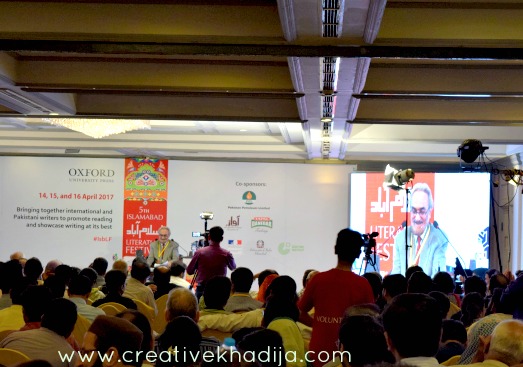 A one-man mushaira conducted by Syed Nusrat Ali, an unassuming management consultant and motivational speaker who stole the show on the final day of ILF. The jam-packed audience was treated to a side-splitting performance by the accomplished mimic, who impersonated the style of more than two dozen of the biggest names in Urdu literature. All that is, except Ahmed Faraz. "I can't do it the way he did it, because it would ruin the beauty of the verses for you," he told his audience when hecklers requested him to recite something by arguably the greatest of the modern Urdu poets.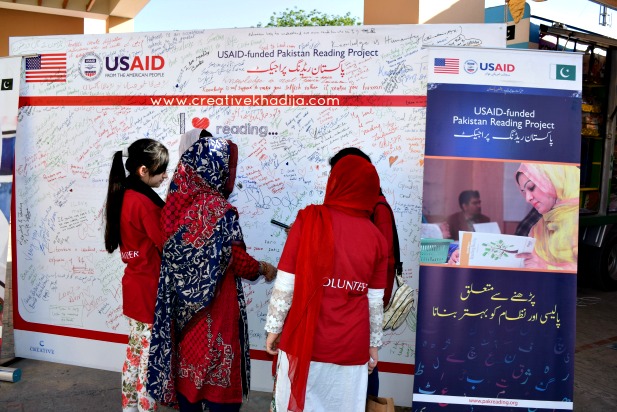 On its last day, ILF also hosted many book launches including Intikhab: Khalida Hussain compiled by Asif Farrukhi, Intikhab: Masood Ashar compiled by Asif Farrukhi, The Aleph Review-Taufiq Rafat: Defining the Pakistani Idiom, Teesra Qadam by Nasira Zuberi and The Corporate Governance Landscape of Pakistan by Sadia Khan, and Kalaam e Aarifaan by Hasan Aziz.
It was pleasure attending literature festival & meeting blogger buddies there. It was a very well organized event indeed. Meeting celebrities in person & taking selfies with them was the best part of it as well. I hope to attend more educational & interesting events in up coming days. Stay tuned to see more about Islamabad events & happenings!
Thank You.