Recipes
15 Iftar Food Ideas To Try This Ramadan 2022
As you fast from dawn till sunset, the act of fasting not only develops patience in you, but also increases the craving for delicious food. In today's article, we will be discussing delicious and different 15 Iftar Food Ideas To Try This Ramadan 2022
Ramadan is a month of blessings, where you can gain as many Ajar as you can by performing good deeds. Food, gatherings, and sharing are also a big part of Ramadan. As you fast from dawn till sunset, the act of fasting not only develops patience in you but also increases the craving for delicious food. If you have a profound love for making scrumptious food and serving it, you are going to love this compilation. In today's article, we will be discussing delicious and different 15 Iftar Food Ideas To Try This Ramadan 2022. 
Iftaar Food Ideas from Around the World
Tired of the same old desi recipes for iftar and want to try some tasty iftaar food from around the world? Here are some delicious recipes you should give a go-to.
Arayes is a middle eastern iftaar dish that is filled with meaty goodness. Mix the meat mince of your choice with chopped onions, tomatoes, parsley, garlic, spices, and olive oil. Fill it in the pita bread and bake it for half an hour. You will have delicious and wholesome iftar food ready in no time.
Ful Medames is an Egyptian and Lebanese dish that is among famous iftar recipes, which is made using fava beans, along with chickpeas. Served with a side of freshly cut vegetables and pita bread, this vegan dish is a must-try.
Maamoul Cookies are an Arabian delicacy that is packed with energy and is an excellent choice for iftar time. These cookies are filled with dates and nuts, featuring a sweet yet wholesome taste.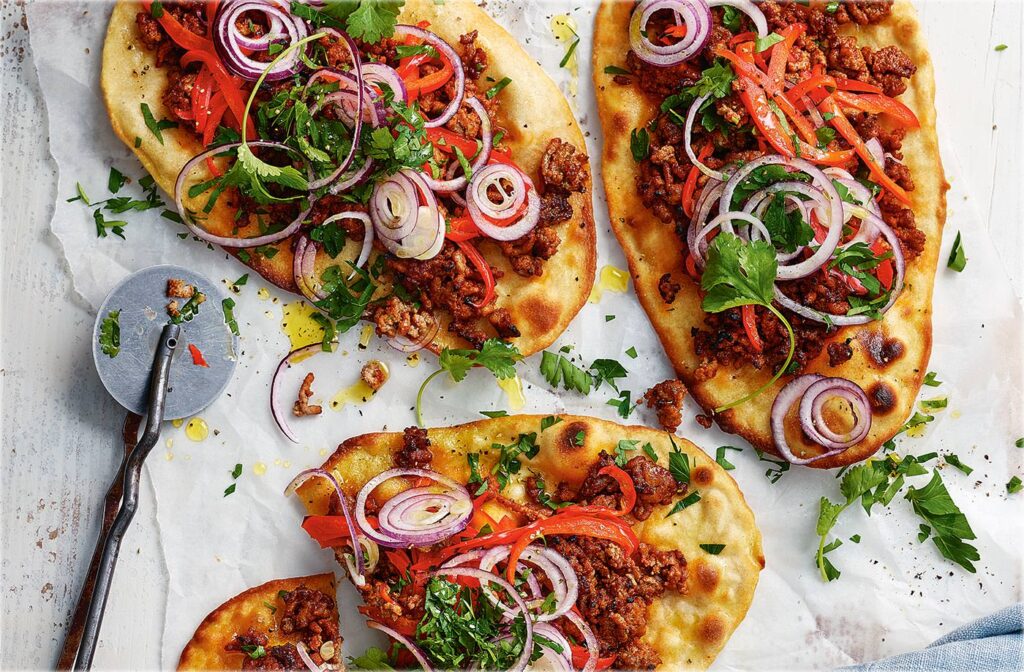 Turkish Pide is among must-try iftar food ideas that are a filling recipe having a pide bread with mouth-watering toppings. The bread is topped with mincemeat, vegetables, spices, and other ingredients of your choice. Baked to perfection and then served warm at iftar time.
Fried Iftar Recipes You Shouldn't Miss
No matter how hard you try to follow a healthy routine during Ramadan, giving in to the temptation of fried foods is compulsory. Here are some drool-worthy fried iftar recipes you shouldn't miss during this Ramadan.
The delicious Half Moon Snacks have a filling of boneless chicken, tandoori masala, garlic, yogurt, and other spices. You can make a big batch of these and freeze them to use when you need them. Before frying, dip them in an egg mix, then dust bread crumbs over them and deep fry till golden brown.
Chicken Cheetos Poppers have a crumb coating of cheese Cheetos, which automatically makes them more flavourful. With a few simple ingredients, you can easily create this delicious Ramadan food recipe.
The Chicken Box Patties are made using samosa patti and you can add filling of your choice from chicken filling to red meat filling. Add cheese or eggs for a richer taste and fry them to perfection to enjoy delicious crunchy patties with your favourite sauce at iftaar time.
Chicken Dynamite is a finger-licking good iftar food recipe that you should definitely give a try. The chicken is marinated and fried using a simple list of ingredients. After that, it is tossed in the dynamite sauce and served hot for iftar.
Want to try something sweet for iftaar? How about these stuffed pancakes Qatayef that are filled with a mixture of nuts. Make small pancakes and fill them with crushed nuts. After that fry the pancakes and then soak them in sugar syrup for the heavenly rich taste.
Salads and Chaat Iftar Food Ideas
Nothing can beat the taste of a tasty salad or chaat recipe for iftar time. If you are a lover of iftaar ideas featuring chaat dishes, here are some recipes for you to try.
Fattoush is a fried bread Lebanese salad that is among great iftar food recipes for the diet conscious. Besides the fried bread it has fresh vegetables like cucumber, radish, tomato, parsley, lettuce, pepper, as well as others. You can also add other ingredients of your choice to make it more indulge-worthy.
What's more tempting than a delicious bowl of Chana Chaat? This recipe is a spin on your classic chaat recipe for iftaar and features ingredients like potatoes, chickpeas, pomegranate seeds, olive oil, cilantro, lemon juice, shallots, as well as others. You can also add other ingredients to it and top it with some fresh paparr for an extra crunch.
The Roasted Apple Salad has the goodness of apples, mixed greens, goat cheese, dates, and a mouth-watering salad dressing. Prepare a fresh batch of this quick-to-make salad and it will be your favourite Ramadan food.
Refreshing Iftar Drinks To Try
These refreshing iftar recipes of drinks are an ideal choice to beat the heat and feel refreshed after breaking your fast. These drinks are rejuvenating and great for the hot weather.
What can be a better iftar food and drink choice than the Mint Lemonade Slush? With the cooling effect of slush and the qualities of a tasty drink, you can make it using lemon juice, mint, sugar, black salt, as well as water.
The very energizing Pineapple Fizz is made with pineapple juice, soda, cilantro, and lemon juice. Mix all the ingredients and put in some ice for a chilled drink during iftar time.
The Blue Coconut Drink is an iftaar food recipe you shouldn't miss. Made with coconut water, cucumber, basil seeds, lemon juice, butterfly pea flower, sugar, and water, it is tasty, as well as refreshing for Ramadan.
Feel free to pin these iftar food ideas & share them with your friends. Don't forget to follow me on Pinterest. You will definitely enjoy my pinboards ideas collection.
I hope you enjoyed today's recipe article on 15 Iftar Food Ideas To Try This Ramadan 2022. Let me know in the comments which of the recipes were your favourite that you would like to try? What is your go-to food dish during Ramadan? Are you a healthy eater during Ramadan or do you give in to temptations like me? I will love to read your comments, so don't forget to drop them. Follow me on Facebook and Instagram to stay up to date on the latest happenings.