Today i am going to share a problematic happening about a kitten..
I have a tiny miny garden in my backyard,there i have some plants of different types,like Roses,Lemon,small,geranium fragrance,oranges,Mint,grapes,lemon grass,brinjal,green chillies,jasmine,different types of palm plants & so many tiny miny more..I like to take care of these plants sometimes..
Well these days there are lots of roses & jasmine buds are shining in my garden, soft branches of grapes are also growing smartly..but a few days back i saw the rose buds were cracking,i feel sad & thought WHY??the other day i check the palm plant branch was cracked from almost its center..oops WHY?
But last day i find out the answer of my all WHYzzz!!
I saw a cat was sitting near the plant & cracking the branches smartly with pleasure & leisure..Ohhh'Hooo
But whyyy…
Now i will like to remind you about one of my previous post about this kitty..
Actually its the same kitty who was showing anger to me a few months back..& she is still in this habit..
would you like to see this problematic kitty now!!
have a look..but carefully,she will roar at you otherwise :)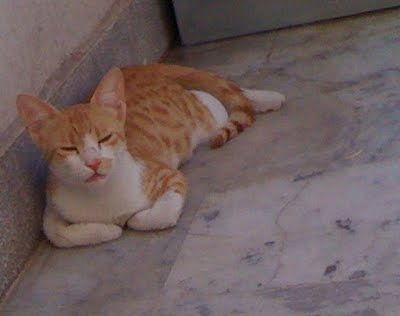 (Hey Girl dont take my pics i m Still having angry ,aggressive mood..!!)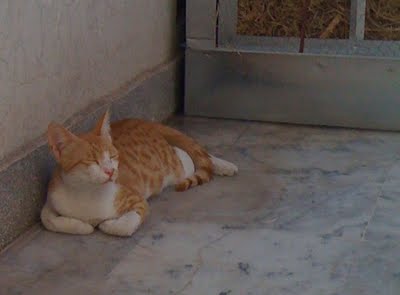 (No way..No No..i will not act any pose)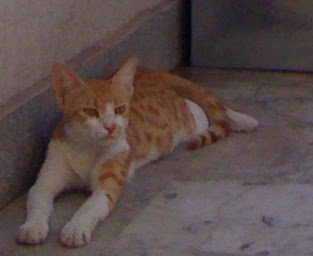 (But what i can do,You Are Stubborn Like Me..!!)
A few months back i saw this kitty when she was a few days old,& now shez smart aggressive kitty :)
But problem is still here..what i can do for stopping her bad habit,otherwise she will crush my all plants..how poor!!!
Now its your turn,if you have any idea or solution & if you know pet psychology,do share with me..how i can save my plants from this stubborn kitty..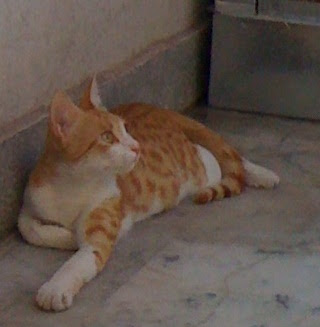 Ok,What about this pose..!!
finally i set her mood a little!!
How to Stop her..?
Punish her?  No I cant..m softhearted
Threat her? Useless..She is stubborn
Adopt her? No,Never,shez kinda Wild,m not brave type girly
Then Whatttt???
Well being a Psychology Graduate i know just one thing..She is angry type aggressive from her adolescence it has converted into her habit now
Habit change into nature & nature can never be changed..hmmm, thats it..shez habitual aggressive & now showing her aggression towards my plants..oops..
Well i will try any tip if you will suggest..so dont be late friends