In Pakistan, I enjoy up to 5 seasons every year,Spring is going on these days with lots of colors & shine..Love It..my goodness,I am living here..a most pleasant place of the world..
I have done this hand Painted Decoupaged plate with Spring Theme.I hope you will enjoy my effort!although I have leaked its first glimpse in my previous post but I am sure you were waiting for its Tutorial..Right..?So lets see Whats Up Today:)
Spring Plate Decoupage
Decoupaged & hand painted plate
I add some Magic here..so the 3D/embossed look of bird & branch is feeling Nice!
Paper tape or Brown paper pieces
Mod Podge gloss & DM
Paints & Brush
Black Pointer pen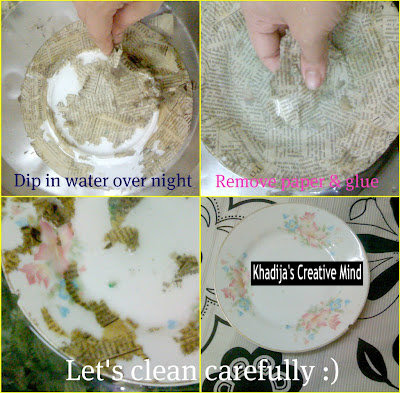 I am reusing my previous plate which was decoupaged with newspaper pieces, So I remove these by dropping this plate in water for many hours,when the glue will be soft,you can easily remove all paper pieces,& your plate will be ready for another experiment :)
My plate was cracked from a side,so I am working carefully..
~~ PROCESS ~~
Let's Torn some pieces of any paper tape or brown paper bag, then start pasting this on your plate!When the front side of the plate will get dry, then turn it back & start pasting on the other side of plate..
after completing back side of plate decoupage,again leave it until dry totally..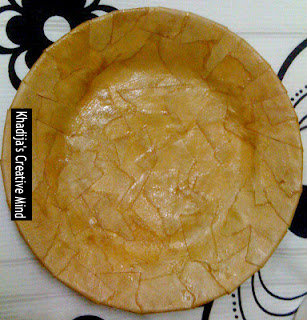 Its Done..Now you can try any of your idea at this brown paper decoupaged plate,I am going to add some colors in it now:)
I Draw a bird with black pointer pen,I was thinking about not to color this because the bird was feeling so innocent without colors..haha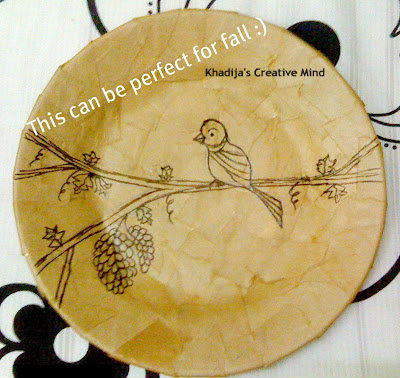 well I color it & again mod Podge it
I try this Fun Idea about adding some Dimensional Magic on colored spaces, & it turned out so nice, feels like bird is Alive..Thanks Amy for sending me this Magic..you are shoo shweet :)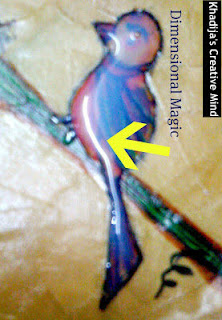 Now a sneak peek at my upcoming creativity. These bottles are Mountain Dew soft drink bottles.its colored tutorial is coming soon..So don't go anywhere & enjoy your Spring at Khadija's Creative Mind, I am working on so many colorful things :) I hope You will enjoy!
Have a colorful Day!
Have a look at my other Fall/Spring Craft Ideas and also some Decoupage Crafts Tutorials. I hope you will like my archive tutorial posts too.
Have a great day!
Khadija ~