Making handmade cards is just Fun! I love experimenting with different kind of paper things for paper crafts & handmade cards, & every time my experiments give me new dimension of craftyness..whenever I am trying these card making ideas, every time the end result is different as I were thinking before its making. I gather things for making a card but sometimes I skip few things from those, & there is mostly addition of some other things in it. Today I will be sharing a 3D card which I have made for a friend of mine who is a kid. yeah, believe me I have some Kids friends around me.. lucky me.. well its basically a greeting card. I was trying to make this card more colorful as you know kids likes colors & bling stuff.. So I did it with some sharp colors.
3D Card Making with Thermocol
This 3 dimension card is perfect for kids.. sharp & bright colors attract kids mostly.. lets have a look how I have made this.. I work with this fun material & I already have done work with this before.. you may remember my posts from last year.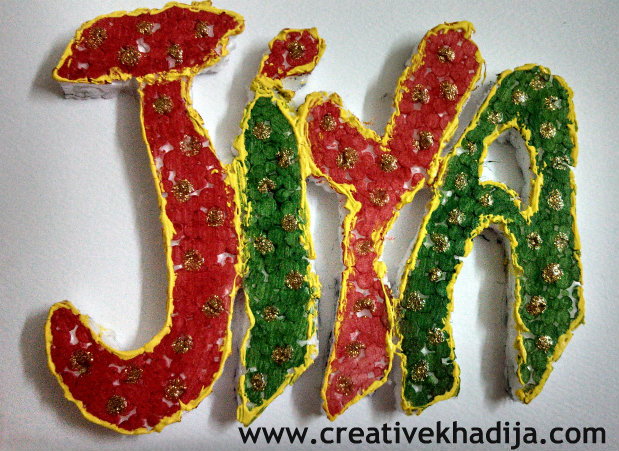 The material I have used for the making of this card's 3D look, I use thermocol sheet. if you will remember once I shared a few of my presentation work which I made with these models, here is the archives, so you can see what I have done with these thermocol pieces before.. I had great time making these models during my studies..
For making this card, you will need to have a thermocol sheet of half inches, poster paints, glitter glue, knife, paint brushes, foam brush, card sheet & any transparent glue..
First I draw the name of my friend at thermocol & then with the help of a sharp knife I cut the sheet.. for some small areas I use hot soldering iron too. then I color the name in two colors.. and make an outline with yellow color. when It was done, so I make some glitter glue dots over it..
For making the glitter glue dots over a hard/paper stuff.. I dip the paint brush's back side in the glue bottle & apply wherever I was going to point those.. so easy & with better result for making some glitter dots..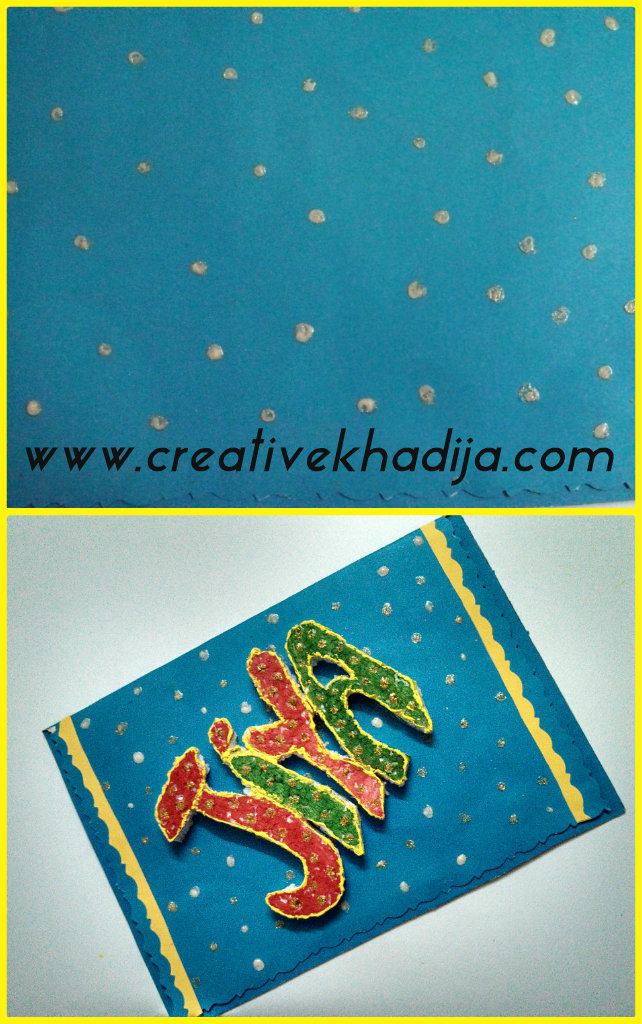 Then I cut the paper sheet for placing the 3D design. I also apply the glitter dots on sheet too..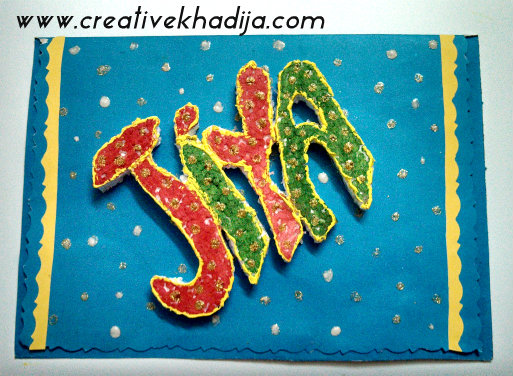 Thats DONE.. isn't it alright.. looking so colorful & the 3D look is fun.. kids love seeing this kind of things!
While working with kids on any kids crafts, you must be careful about the minor things which can be dangerous sometimes.. like sharp knifes/ hot iron/ messy garbage (can be harmful while inhaling breath) so if you are working together you must keep these things in your mind. so the crafty projects can be more fun. if you are a craft teacher, I will suggest you to do special care while creating! kids likes to paint & draw, so do a project with thermocol sheet.. its fun! You can see some Styrofoam crafts from my previous posts HERE.
I hope you all are having a great day!
Thanks