I love working on my freehand Drawings, Paintings, Sketching ..Its fun to make drawings & doodling with color markers, playing with vibrant & bright colors on a sketchbook sheet is simply nice! I enjoy making truck art inspired drawings also, In past years I were making loads of paintings, working with brushes & water based paints is a different kind of my Art Love..but these days I am more in love with color markers drawings..
I made some Truck Art inspired drawings for one of my bestie, Amy.. She was going to decorate her new craft studio & I feel good when she said that she would like to have something for her new craft studio from Pakistan, which will remind her about her Pakistani friend Creative Khadija.. So it would be a pleasure for me to be a part of  her studio this way!!
My Freehand Colorful Drawings
I made these freehand drawings inspired by Pakistani Truck Art. colorful, vibrant & filled with loads of designing!
I design freehand paisleys & added some sharp colors, oh so really fun to made these!!
And here it is my dear Amy! we both are Aquarius & friends from years.. so I hope as I like this customized drawing of her name, she will also be loving it too..( and she did.. she received the package )
How To Draw Freehand
For the making of these wall arts, I draw & design on a thick sheet of my sketch book, I started working with pointer pen, the used the markers for giving the colors to a black & white designed surface..follow the steps above and learn how to draw freehand..
Here it is.. some floral looks, and some leaves plus buds.. lots of strokes with brush markers..
And here I have done all three wall arts.. the sketchbook hard paper is perfect as it is, but it would be great to give it some framing of any black border..
You can also put some washi tape borders.. and if you dont wanna frame, you can paste with washi tape pieces on wall, so simple & quick, I saw that washi tape border idea at pintrest.. so fun!
Handmade For Sale By Creative Khadija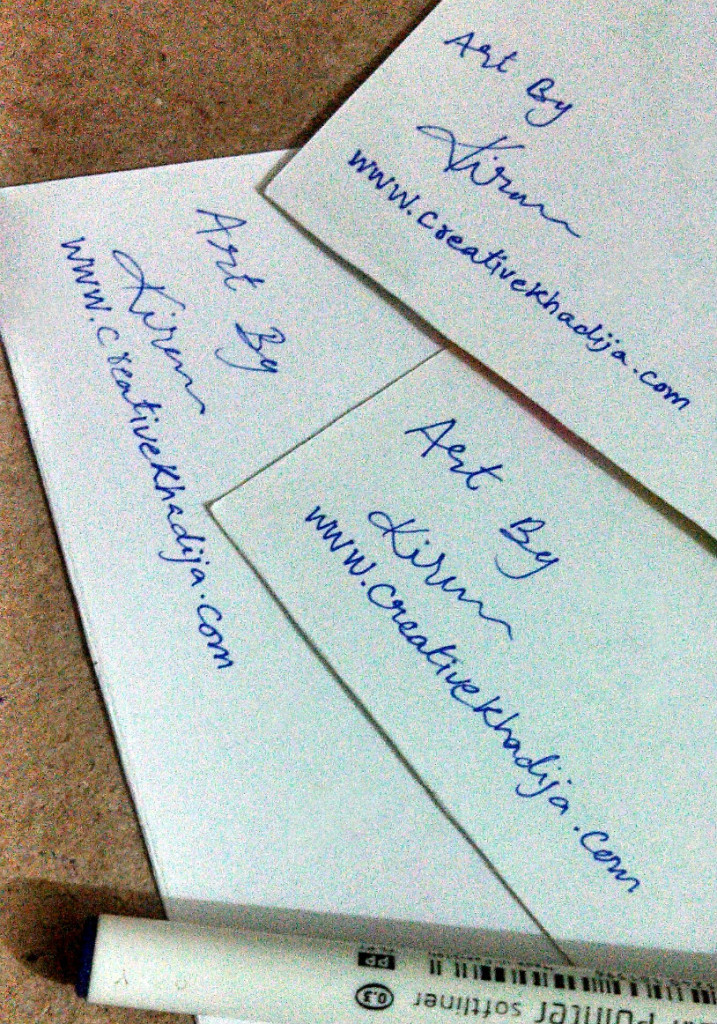 And one of the most interesting thing is always making a signature at your art.. isn't it a pleasure that your signature is visible behind your work & its your identity..? how nice!! I always feel good while putting these signatures at my work.
I am also selling my handmade designs & drawings, I sold so many as customized wish cards, Eid cards,  as wall arts & also designed this kinda stuff on fabric & shirts.. but there I use fabric markers instead of these normal markers for paper stuff..
If you want to buy any designed card/customized or drawing wall arts made by Me.. feel free to contact me at creativekhadija @ gmail.com I ship these worldwide & FREE..
Have a great day friends!
Khadija ~