Fall is on its way wonderfully! seeing some dry crispy leaves in the backyard makes me happy, you will may be remembering my iPhone photography clicks and other smart gadgets photography captures. I just love taking random clicks of nature objects & these days Leafs and flowers are on my hit list..haha..lets see how I capture some nature randomness! would you like to see some? let's see..
That was a calm evening, there were some clouds coming here to say Hi to us.. When I visit outside in the yard, there I saw this yellow pale leave..so Clicked it
Sky was getting Pink & the clouds were looking like pink cotton candy! Clicked..
There we go..Rain starts & everything was looking neat, clean & green.. no more pinkish or yellowish anymore.. So I clicked another one from my window..
Here are some fall leaves! I shared on Instagram, my followers were asking me which tree leave is this? oh friends its not a tree leaf, its our winery of grapes which is over the wall and leaves are usually falling after the wind or rain..
These above leave photography is appreciated by many people, an international printing company contact me & ask me for the feature & about publishing its Polaroid prints! I will be sharing details with you later.
And this one seems so perfect as a fall click, Love it..so clicked it too! I have shared this in a previous post HERE!
Here are a few of my random clicks & I enjoy playing with some editing fun as well..
My little niece was in my lap when I thought to take a click of her cute baby booties..isn't it lovely?
My elder niece was holding a flower & I tried to take a pic of her hand but her hand was moving fast, I hardly get this click..but its cute. Right?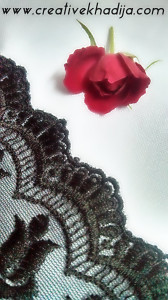 And the last click is so random, I capture it on my work table while this lace was available around.
I hope you will like my random post about ordinary Fall Photography Clicks/ nature objects. Have a blessed fall season!
You can have a look at all of my previous iPhone photography clicks HERE
Enjoy ~
Khadija Kiran