Jewelry making is one of my favorite type of crafting, but as I don't like wearing lots of accessories & jewelry mostly, So I tried making less for myself..Otherwise I make accessories for customers or for gifting my friends & cousins. Today I am going to share an Instagram Logo pendant with polymer clay, It was NOT easy to make but it was interesting to see as a pendant. I gifted this pendant to one of my sweet blog reader, She told me she is wearing this pendant everyday! oh seriously? I feel great when people value my handmade gifts a lot.
I won some polymer clay from a facebook contest & I were excited to make something! I made some accessories with the clay & Today you will see those in the article :) Have a look below!
Instagram Logo Pendant Making with Polymer Clay
About four years back I started instagram from my iPhone. No doubt it's a very interesting app. I got many customers from instagram. I learn a lot related photography & social media stuff via many creative Instagramers.
For starting instagram, All you need to do is:
1- A proper profile bio with the link back to your blog/social media.
2- Take fine pictures and filter them if you want.
3- Add some nice captions.
4- Be sure to write proper hashtags So you can get exposure in search results.
5- You can tag other people or accounts on your picture.
6- Share it!
7- You can also share any post via Direct Message to a single person or with a group of 20 people.
Voila ~
I made this polymer clay pendant badge of one inches size. Then turned it into a pendant by fixing a metal base with it.
Colors of the clay which I got were not according to instagram logo colors.. So I started mixing different shades until it turned into required shades.
First I make light skin color square & then started putting one tiny circle in the middle..then small strips of 4 colors. then fix a tiny black square in the corner. That's it.
I put this logo in the microwave oven for one minute, so it turned into a hard clay charm. then seal it with Mod Podge Dimensional Magic.
Here is the metal back, I fix it with hot glue. Add a jump ring & put it together with a chain.
Isn't it good? So you can make a pendant with other social media logos! Do you want to buy one? Feel free to contact me :)
I made a happy face emoji..! and then fixed it over a ring. Because I am Happy :) I love wearing this ring as well.. You may notice this ring at my Instagram update during the days when I were celebrating my blog's 5th birthday.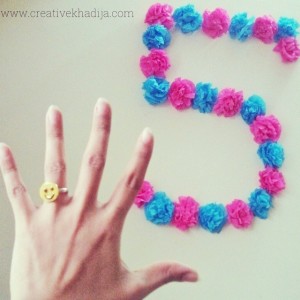 OMG my big hand..haha. actually I were so happy while working on my 5th Blogversary. So this was one random share!
I hope you enjoyed this article, Let me know if you want to buy any of social media logo accessory! pendant or ring etc :) Feel free to visit my Instagram & follow me for a follow back!
Feel free to use the SHARE button for spreading my tutorials & ideas with your crafty friends. Have a wonderful day!
Khadija ~