I enjoy making freehand designs & doodles on my sketchbook, drawing & doodling is just fun, and the best way to pass some time when you are boring! I made this colorful design a few weeks back & then I share on my Instagram page, people appreciate it a lot & I thought to share this at my website now! So have a look at my freehand drawing with markers,
Can you read any name in above drawing??actually its not just a drawing, my name is also visible if you will notice again..
Ok,,lets see how I start this FUN..
First I make freehand designs with black brush marker.
Then I fill the design with different colors..
So what do you think now?
Lets see some of my work orders..I made these for a few people & web pages.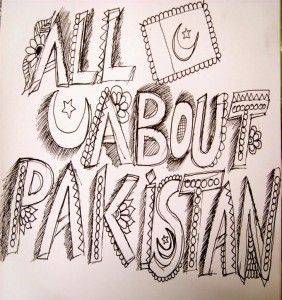 I am now working on these orders for the people who want to have these drawings with their names. lets see what I have made for others..
Sana is the girl who bought my design, she liked her name in this way so much..
And this one I made for a girl Nazish..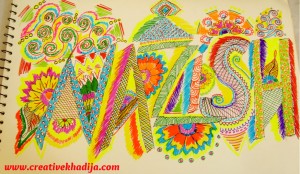 I am glad my customers are satisfied with my work!
And if you want to have these colorful drawings of your name, designed by me..feel free to contact me for placing a work order. at creativekhadija @ gmail.com
Have a great weekend..!
Khadija ~