Alhamdulillah its Friday. In the other words "Thank God It's Friday" #TGIF Yeah!! Juma Mubarak to my Muslim readers worldwide. I hope everyone is having a good & blessed time. What are your plans for the weekend? Ready to work on any craft project or going to try any unique recipe for the family? You know what, I recently tried a unique recipe & I am planning to share that on the blog! Would you like to see a recipe post on the blog this weekend? I recently finished the editing of that recipe post & that's interesting. I hope you will enjoy that Pakistani Recipe on the blog.
Today I am going to share Hadees Nabvi SAWW with my dear readers. I will also be sharing Holy verses of Quran al Kareem at Fridays InshaAllah, For spreading good words & knowledge to keep remember in daily life. I hope you will like to read some good vibes & useful words of wisdom.
If you are curious about what is this word Hadees or Hadith, here is the meaning:
The hadees or Hadith literature is based on spoken reports that were in circulation in society after the death of Prophet Muhammad Peace Be Upon Him. (Source: Wikipedia)
Hadees Nabvi SAWW of the day-Happy Friday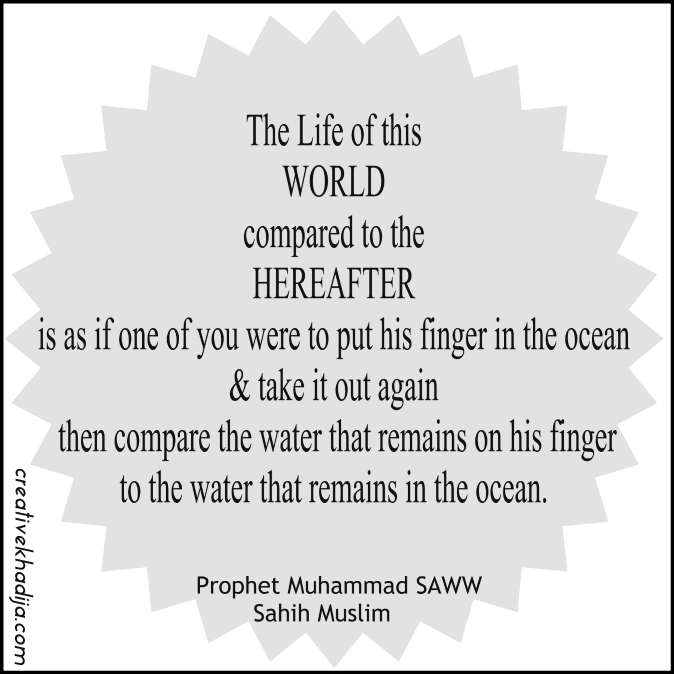 According to Sahih Muslim, the above Hadees is quoted. Life of this world is temporary. The real life is hereafter. So be sure to do good & in this life as its really a short time period. This example shows how short is this life. If you will be doing good deeds now, Rest part of your life hereafter will be satisfied & blessed. InshaAllah
Be sure to thank Allah Almighty for everything you have. He will bless you even more. May Allah accept our good deeds and bless us with more goodness in this life & hereafter! aamin.
Wish you all a very good Friday!
Thank You.
Khadija ~