Hello my creative fellows, How is the summers season going? Temperature here in Pakistan crossed 40c these days! Woot Woot, It's hot. I am not feeling so crafty right now, How you deal with this situation when you are not feeling so crafty? I would like to know your opinions! Well today I am sharing a random article with some fun facts? I mostly talk about creativity on my blog, by the way Don't you feel boring sometimes when reading the same creative thingies? But I do Seriously.. I am extremely busy with my projects & ignoring blog these past few weeks. But as the Ramadan 2016 is coming soon, So I am winding up my projects before its start. I will share further updates with you later!
See my childhood treasure box & what I found here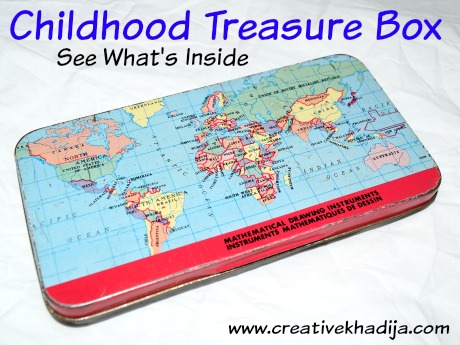 Today I have an interesting random blog post about my childhood. I hope my readers will enjoy today's post. See my childhood treasure box & what I found here
We had a basement in our house which is kind of store room. During spring cleaning, I found a pretty cute memory from my childhood there. In a box, There was a bag in which I found some of my childhood toys & school stationary. They were not in good condition as its been ages when I were in school. Hahahaha. I found my school geometry box filled with some creative junk stuff. I were in grade 4 or 5 when I had this geometry & I wasn't familiar whats inside until I opened it.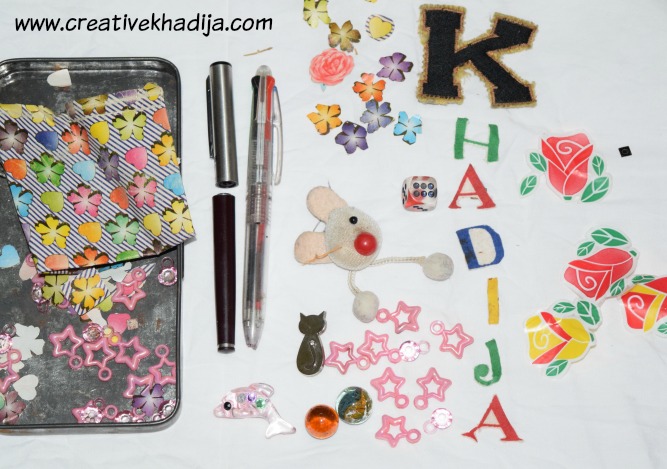 My geometry box is made of steel metal & a world map is printed on it. Inside the geometry box, There I found :
A wrapping paper & it's cut outs
A broken ink pen & a multi colored ballpoint
My name alphabets fabric cut outs
A stuffed toy kinda bunny head & a metal kitty badge.
Rosepetal tissue box flowers cut outs
Glass marbles, plastic beads, dice & a fish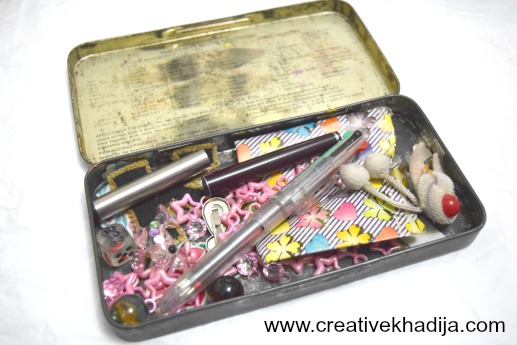 I remember my teacher gave these alphabet stickers to me. I had 2 sticker cards filled with alphabets. There were just few scattered in the geometry box.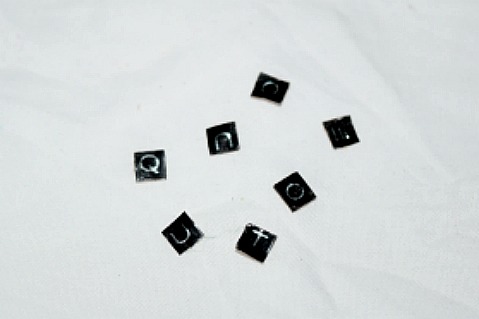 I know there is nothing special here but you know what make us feel surprising about this childhood memory? That's Art & Craft Love. Not just me, my siblings were also surprised & were saying "See, You are still the same but advanced level". Haha. I totally agree.
– Advance level in a sense, In my childhood I were cutting flowers from rosepetal tissue box & today I am advertising & working with the team behind Rosepetal tissue brand. You might check my previous sponsored post in which I spotlight the brand. :) We can not guess right whats the future of a kid.
– This geometry box & all the countries names I can see here, I am not just familiar with these I am proudly featured, published & spotlighted in most of the countries visible here. Alhamdulillah. And the best part about it, I have friends, readers, followers & fans from all of these countries! I consider myself a super lucky person for so many reason. I am always blessed with the best things in life by the grace of Almighty Allah.
– Cut outs of paper & the beads are still part of my life. This is what I used to do the most. These pens here are depicting my love for writing. Oh God I am still the same as I were years back in my childhood. Now I understand why it's said "Habits changed into nature & Nature can never be changed". So this art crafty life is not just a habit/hobby for me because its my nature now. Which I can not change. hehe!
Who don't like their childhood & finding stuff from their childhood era, I love it too but surprised because this school geometry box shows my love for creativity. I were in love with arts when I were hardly 10 years old & I am still loving everything art. I will remain the same art lover in coming years too.
To summarize the memory lane

, I would say every chapter of our life is having a message for us which we don't usually receive timely. We don't know what is the hidden message for us in the situation but with time we realize why we pass through this situation once. Life is all about learning & enjoying. Don't think our past was a mess, Our past is a treasure which will reveal in future. This is what we understand with time. I spent a wonderful time in my childhood & teenage. Now a days I have the best part of my life Alhamdulillah But I am expecting more fun & blessings in upcoming life. Let's enjoy the moment we are living. Who knows what's next? Hope for the best & celebrate this time! Always have faith & be optimistic about future, Nothing lasts forever!

I hope you will not get bored enough :) Enjoy your day & life.

Stay blessed!

Khadija ~