Blogging
A Story Every Blogger Should Read & Learn
Hey Friends, How are you doing, I hope all is going great at yours end. Today I am going to share another random article with something inspirational & useful in it. I remember when I started blogging, There were many bloggers & friends who motivate me a lot. Disney from Ruffles & Stuff, Kari from Ucreate, Sachiko from Tea Rose Home, Rachel of OPT, Amy from Mod podge rocks, ArtMind & many many others were some dear people who admire my work. I take their compliments seriously & started blog from scratch. I never look back then, I might stop blogging if they don't appreciate that day years back. So I always try to help my blogger buddies. I like appreciating & supporting them as much as I can. Because our very small word can motivate any new comer a lot.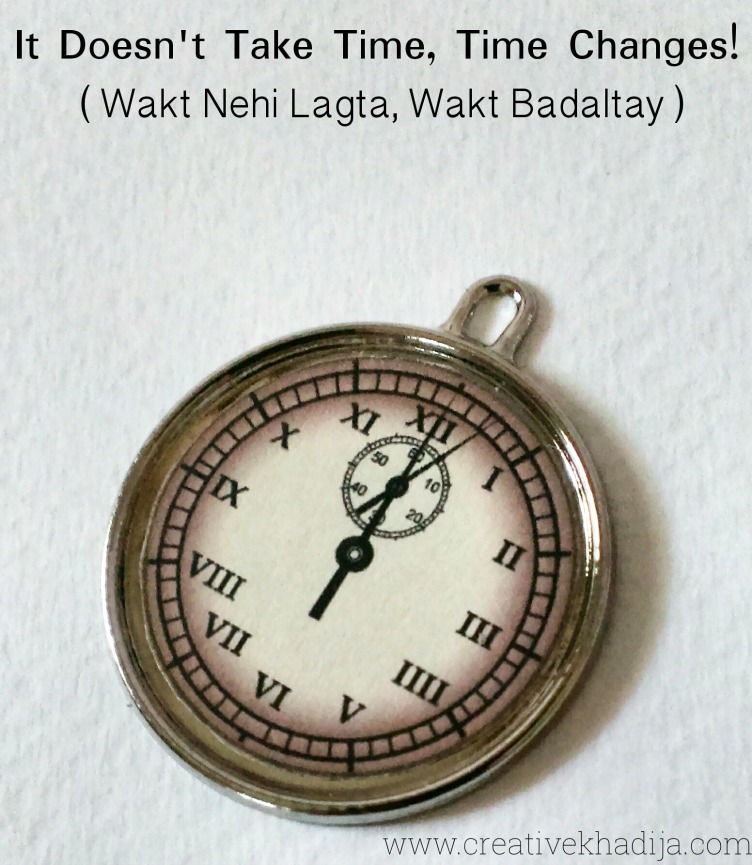 I made this pendant for one of my dear friend who is badly into collecting wrist watches. I am glad She liked it. I were searching any image for this article & I found this pendant picture a bit relevant. Isn't it?
A Story Every Blogger Should Read & Learn
My today's post is a confidential story but I take permission from the girl about not mentioning her name or her blog name in my article. I just want to let others know about this important issue which we usually don't care. We all are in the same boat so we should keep this in mind. I met one of my very dear blogger friend recently, She stopped blogging because of some financial issues & started working for another famous blog as a content writer.
About 6 years back She was a super successful blogger, In fact I was also inspired by her wonderful articles. She was a bit moody but sometimes she help me too when I ask her something about blogging. Afterall she had a huge blog, So being proud was her nature that time.
As "nothing lasts forever" So her blog life met a down time. She hardly post on the blog. And then after an year she stopped blogging & disappear for a few years from the blogland.
Luckily I saw her at facebook couple months back & I was surprised to see her back online but when I started discussing old stuff & bloggers, She suggest me to not ignore helping others. and always be nice to the new comers in the field. I pinch her by reminding the moments when she didn't help me in blogging & today I am master in those issues which she wasn't even telling me. We had a big laugh at this compliment of me. But she became serious suddenly.
These days she is working for a blogger only and not writing on her own blog. When I asked her about the blog she is writing for, She surprised me by disclosing that. (I promised her I will not mention that blog name too in my post). So here is the story..
She admit she was very rude & proud blogger specially with the new comers & Pakistani bloggers. There was a girl who used to comment her regularly but just because of arrogance and pride she ignore replying her. She don't even comment back on her blog. She also said that new blogger wrote her emails twice in which she admire her blog and told how big fan is she about her writings. But sad.. She ignored because may be the new comer blogger ask for any favor in return of admiring her.
Time flies, She stuck with her studies and then financial issues just crashed her and she stopped blogging. Years gone quickly & time flies. One day She got an email from the same blogger fan after years, She asked her to write for her blog if she can make time because that new comer blogger was one big blogger now a days and was hiring people to write for her super successful blog. As a cream to the cake She mentioned in the email that she was still a fan of her so she requested her to write for her blog. (This is how God can turn any situation)
She was so nervous when she was telling me all this. She said "Her email was a Big slap on my arrogant face & the pain is increasing for as long as I am working with her. I can not describe that shame"
Long story short, She replied her email & they started working together for years & now they are even friends too but she always feel sorry for what she have done in past. She wanted to let this story know to everyone but she isn't brave enough. When I asked her to share this with others via my blog post confidentially, She agree but with a promise to keep the info confidential.
It Doesn't Take Time, Time Changes.
I gave her courage to speak her mind. I am glad to know when she said she is feeling better and the pain of that Slap from herself just started healing. I am sure after this article and with your feedback, She will feel even more better and relax.
Moral : Try to keep yourself away from arrogance and pride. Nothing lasts forever my girls..Things you are proud of today, Who knows you will have tomorrow? God can turn around any situation! There are so many examples I can share who did something bad with someone and the other day they face the music. It Doesn't Take Time, Time Changes. Sometimes in months or years but it does. Always try to keep yourself away from the Slaps which you get from inner self. These slaps are more painful than the one we get from others. Because these slaps can kill you inside & you are not able to heal till your last breath. So always try to be a kind person. Keep your slaps count lesser day by day instead of increasing. Sometimes these inside slaps can make you feel dead inside.
As a blogger/online geek I don't remember if I have any inside slap by hurting anyone or not helping someone. But if you remember I misbehave or hurt you or didn't replied yet etc, please drop me a line. I always try to improve myself even if there is any criticism, I appreciate. So always try to be a good person. Its not bad admitting if you have any slap inside. Go ahead and excuse the one you hurt in past. You have time till your last breathe. And who knows when it is last?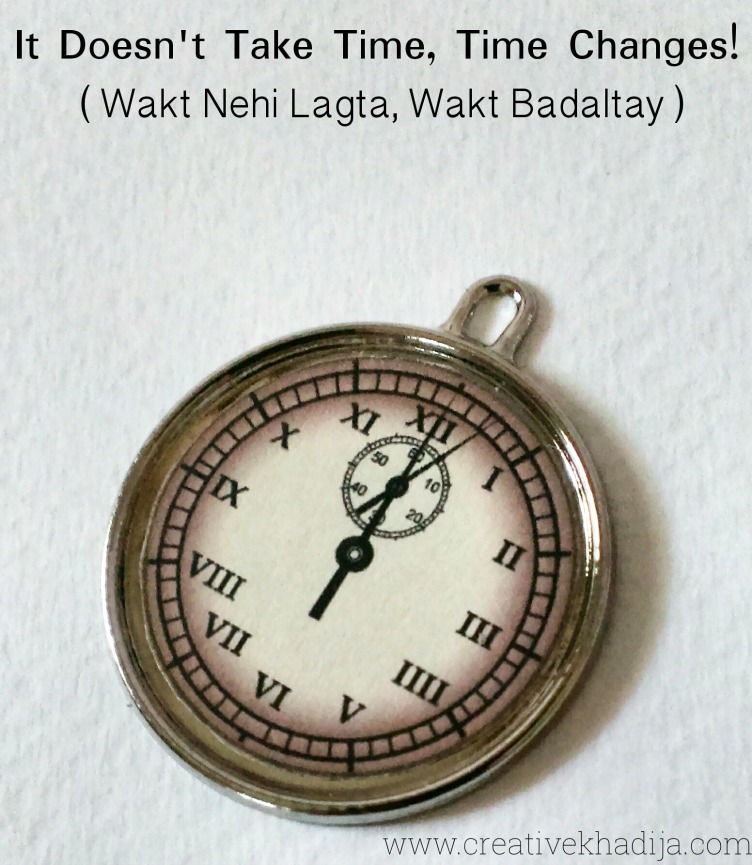 Wakt Nehi Lagta, Wakt Badaltay..
Thank you my dear ones for reading this LONG article, I composed this but were confused about sharing. I hope you will find it useful. Let's talk to yourself someday!
Have a nice day friends!
Khadija ~