DIY
Easy Way To Design a Small Glass Jar with Painting
Hello crafty girls. Weekend is here finally. Do you have some plans today for crafting something? Let me share what arty crafty thing I've designed recently. A few days back I painted this small glass jar as it was clear glass jar. I will let you know below from where I've got this pretty glass jar. May be some of you already remember this jar. Actually it's a reuse kind of craft DIY. Isn't it a good idea to decorate stuff & use again? Let's see my today's tutorial on how to design a small glass jar with glass painting. It's super simple & easy idea. I hope you will like it.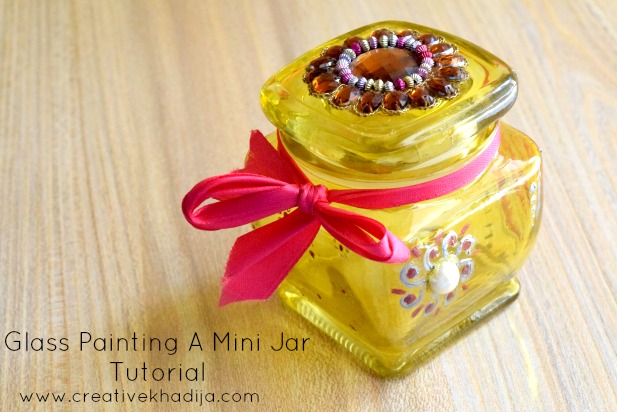 Isn't it looking nice? But wait, First it would be better if you see an image of it's before look. Let's see :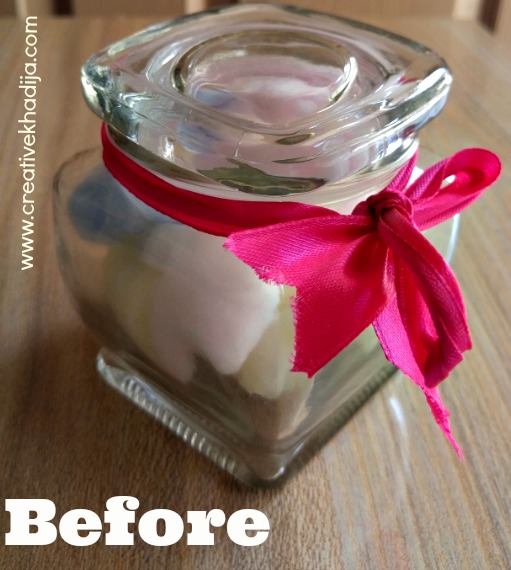 Super simple & a pretty glass jar. Actually it was sent by cosmetics brand Garnier along with an invitation card. There were Garnier skin cleansing micellar water & a jar with make up removing cotton buds. They invited me a couple of months back for L'Oreal IT Looks event which I visited & enjoyed a lot. If you are following me on Instagram & Facebook, You might remember already. Anyways, So when the buds were all used & jar was empty, So I thought to reuse the jar in a pretty way now!
Let's See How To Design a Small Glass Jar with Painting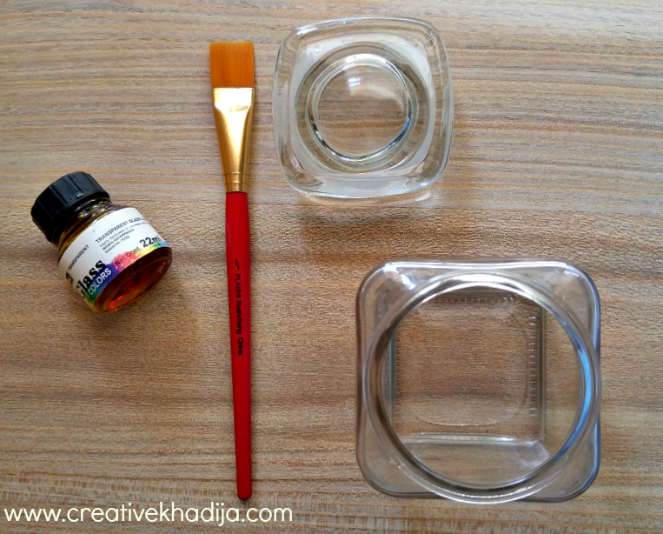 You will need a glass jar,
Glass paints,
Paint brush,
Some embellishments.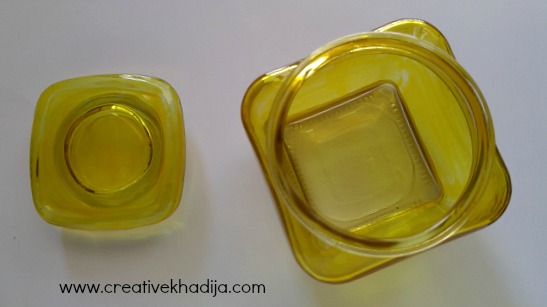 I use a flat brush for painting on the outer side of the glass jar. Within 15 minutes it was dry for further decoration work. I choose honey yellow color of glass paint.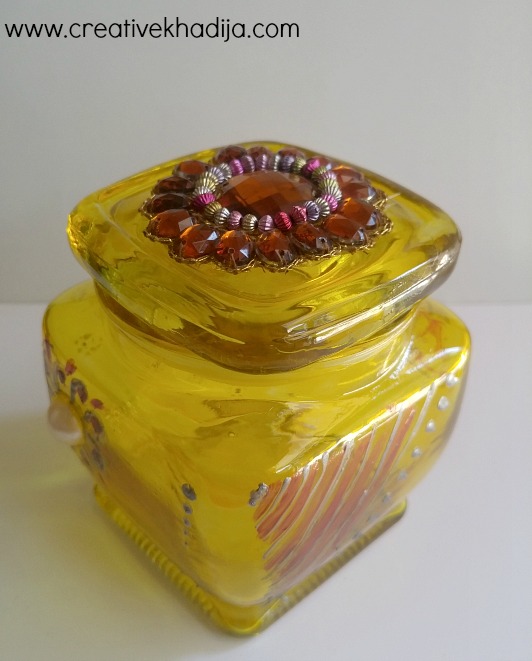 When the jar was dry totally, I design it with some random freehand dots & lines. Also I have pasted a decorative motif on the jar lid with hot glue gun.
Isn't it one super simple & easy DIY idea about How To Design a Small Glass Jar with Painting?
As it's an air tight jar & opens with a little effort, That's why I haven't applied any decorative stuff on the jar much. I also put the pink ribbon back on the jar because the bow is so cute & I don't want to waste it. it looks well with yellow color as well.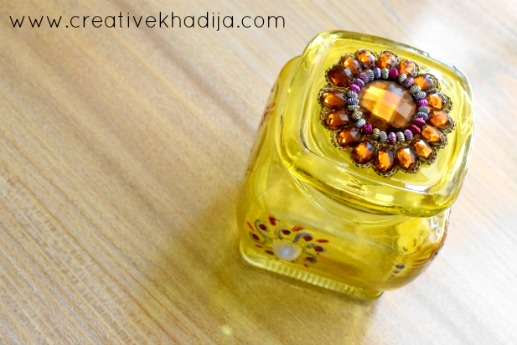 I hope you liked my easy peasy idea on how to design a small glass jar with simple glass painting. Now this jar is ready for putting any dry fruits or food inside. May be any accessories you want to keep inside? Btw I am planning to put some cookies inside. What do you think?
Do you remember few years back once I painted a similar glass food jar? Check it's tutorial again.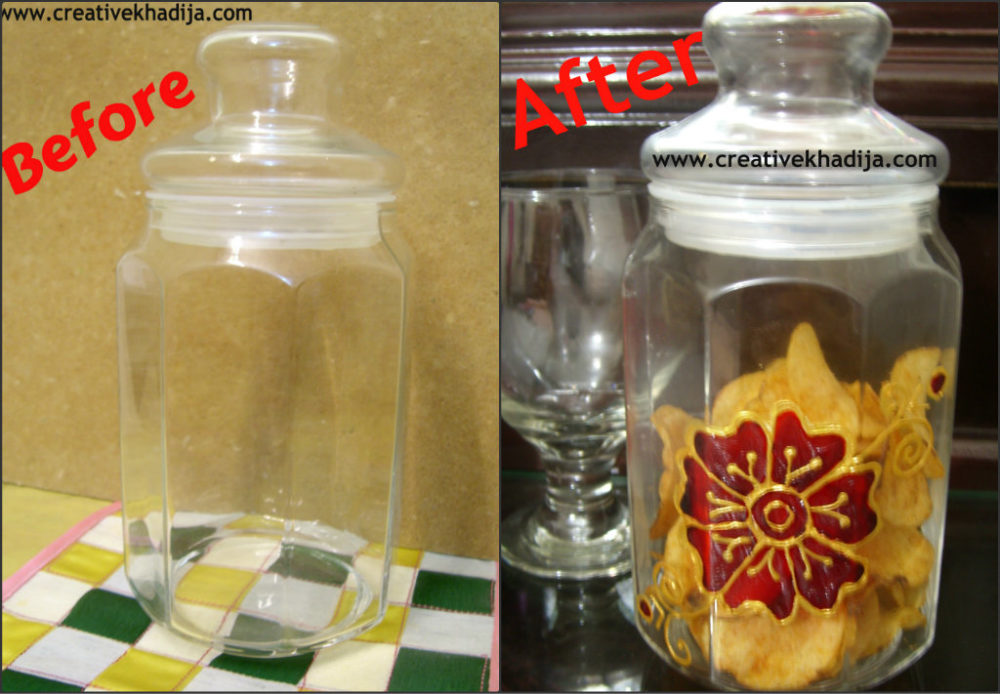 Glass Painted Food Jar Tutorial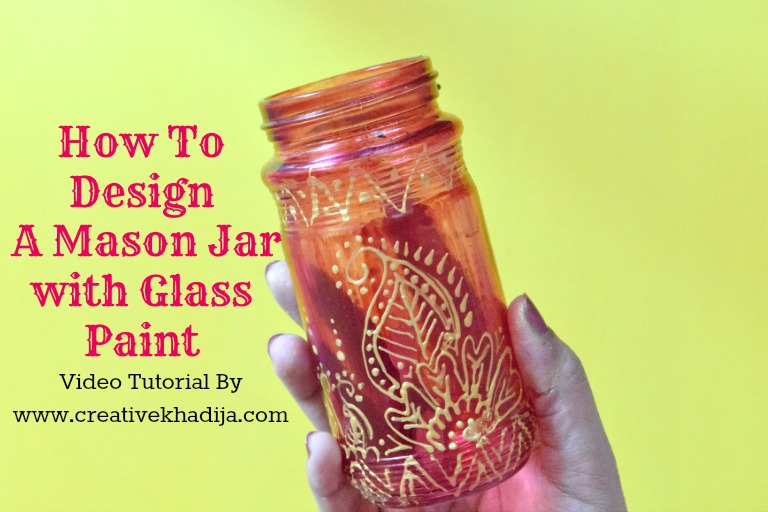 I love glass painting mason jars. They are so cute upcycled gifts seriously! Check my recent video tutorial of decorating this glass jar.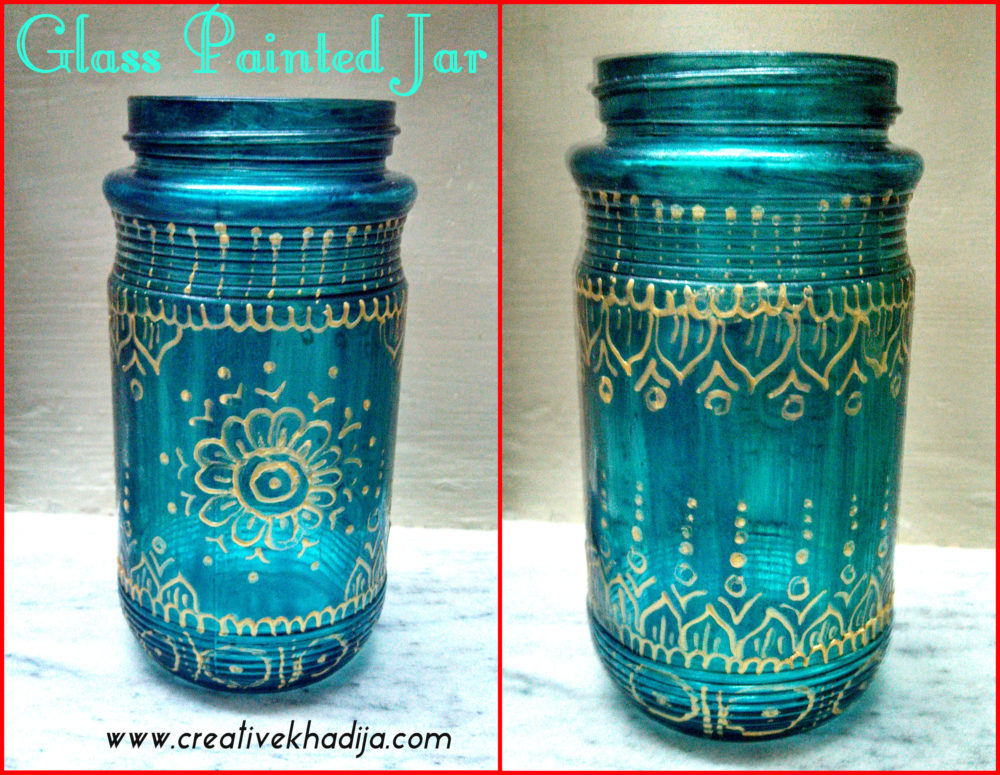 Jar Organizer Glass Paint Tutorial
I hope you enjoyed today's blog post & having a look at some of my previous tutorials articles. It's been a long creative journey now! Alhamdu'lillah for everything. Thanks for enjoying my craft work throughout. Because of your continuous support I have shared 600+ useful blog posts along with 450+ tutorials & DIYs
By the way, Recently I have changed my blog's theme & design. What do you think about new look now? Is it fast at yours end & working well in your devices? Do you want some changes or improvements? Any suggestions are welcome! Looking forward to it.
Have a great weekend everyone!
Thanks
Khadija ~