DIY
Pakistani Flag Theme Based Green Pouches Designing
Happy August Everyone! It's the month of Pakistan's Independence Day. Pakistan is turning 70 years old this 14th August of 2017. Masha'Allah. Like every year, This time again I've tried some patriotic themed easy crafts for kids. August month is also known as back to school month, So sharing any craft for kids sounds okay. Right? I am going to share an easiest idea to decorate pencils pouch with Pakistani flag. This will be an interesting back to school goodie in your school bag as well. Let's see more details now!
Pakistani Flag Theme Based Green Pouches Designing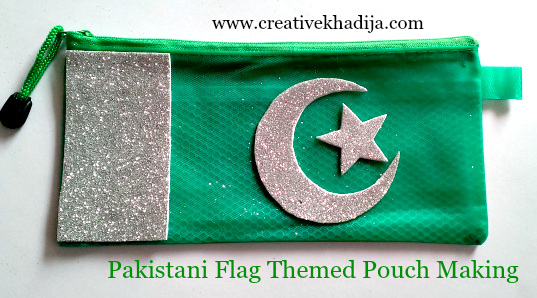 Last year I have shared a similar pouch. It was appreciated a lot by my dear readers & customers as well. Recently a school teacher contacted me and asked for the same pencil case/ pouches for her students. So I made a bunch of these Pakistani Flag themed pencils pouch again. You can see the complete tutorial from last year's blog post as well. Here is the glimpse of it's making. I hope you will like it.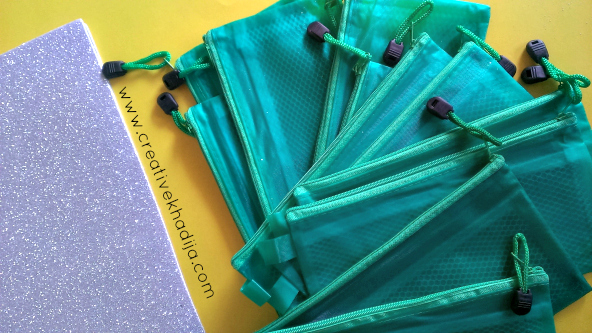 For designing Pakistani Flag Themed pouches, You will need :
Green colored polyester pouches, (If you have sewing skills, you can also sew this simple pouch)
Glitter foamic sheet
Scissors or cutter.
Hot glue gun (It would be great if you can use its safety accessories)
Template card of Moon & Star.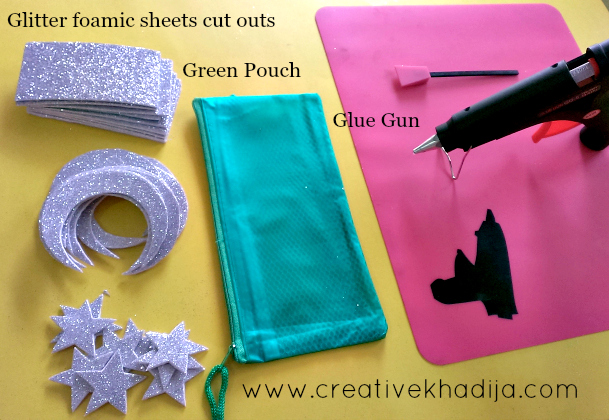 First you will cut the shapes of moon & star just like Pakistani flag.
Then paste these on the pouch with hot glue gun. If you don't want glitter stuff, you can also apply white leather or felt fabric. But I like this shimmer, So I prefer glitter foamic sheet for crafting on the pouches.
That's it :)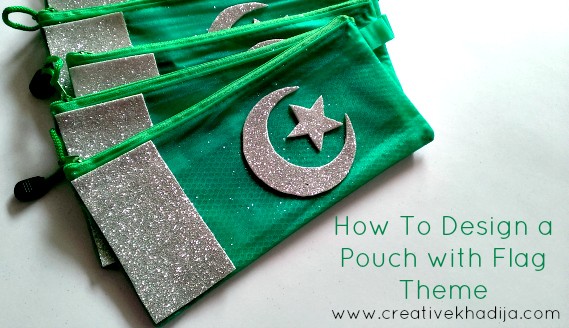 Super dooper easy & quick craft. You can make these by involving your kids into crafting. Make a bunch of pouches & fill these with school stationary goodies. This is one perfect gift idea for back to school kids for gifting their friends. Oh yes, You can check my other Pakistan's independence day craft ideas as well.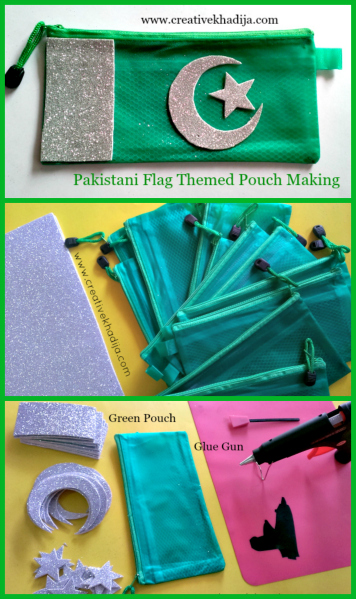 Feel free to share this idea with your friends. I hope the above instructions will help you in designing a flag design pouch. If you still want some detailed instructions, You can check my last year's similar post of Flag Pouch Designing.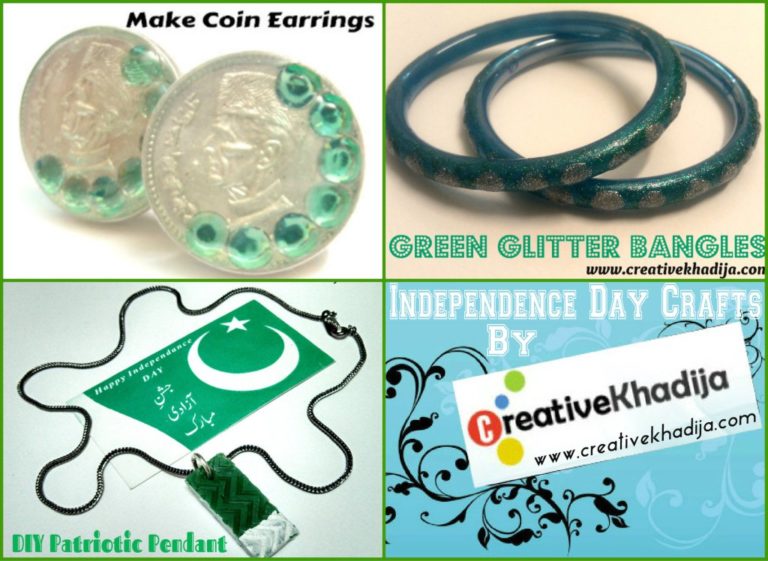 I hope you will enjoy my today's blog post. Wish you all a happy weekend with peace & prosperity. Enjoy your day! Don't forget to show me if you craft something similar for your country's Independence Day celebrations. I would love to see your version as well.
P.S – I am running a giveaway on my facebook. tomorrow is the last day for entering the giveaway. If you want to enter, Check it on Creative Khadija Facebook Page.
Have a great day!