DIY
Pakistan Flag Design Pouch-Azadi Crafts Series
~
Happy Independence Day Pakistan
~
Today is Pakistan's 69th Independence Day Alhamdu'lillah. May you live long my beautiful Pakistan.
Today I am going to share Pakistan Flag Design Pouch in my Azadi Crafts Series. This is another creative back to school idea for keeping the pencils, markers & other stationary thingies. I design a pouch with Pakistani Flag colors. The pouch is not made by me. I just decorate it with glitter foamic sheet. Have a look at this super simply yet easy idea for kids crafting. Let's make this pouch with a simple few steps.
Pakistan Flag Design Pouch-Azadi Crafts Series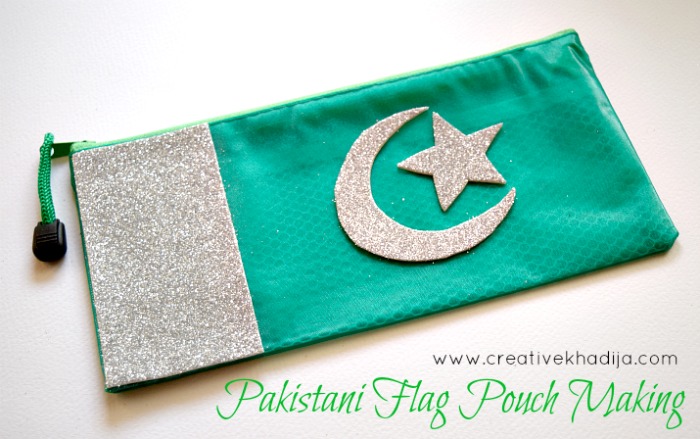 Cute enough? Green & white combination is too cute. I got a green pouch & design it with some foamic sheet sticker with silver glitter.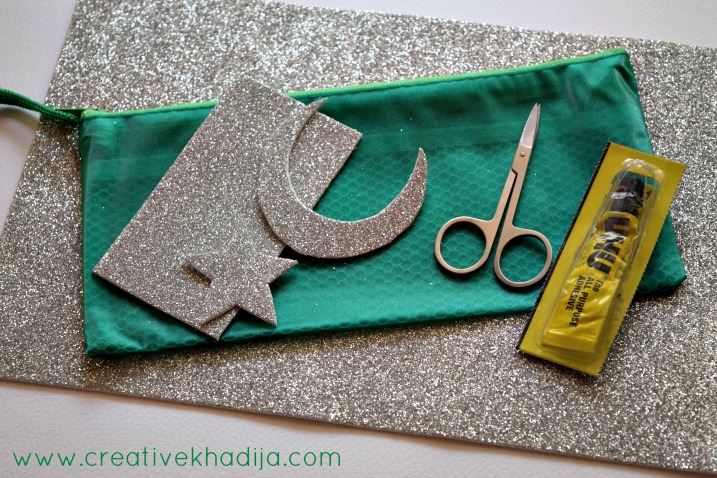 Supplies :
Green Pouch
Star & Crescent Template
Glitter Sticker Foamic Sheets
Pencil
Scissors
Glue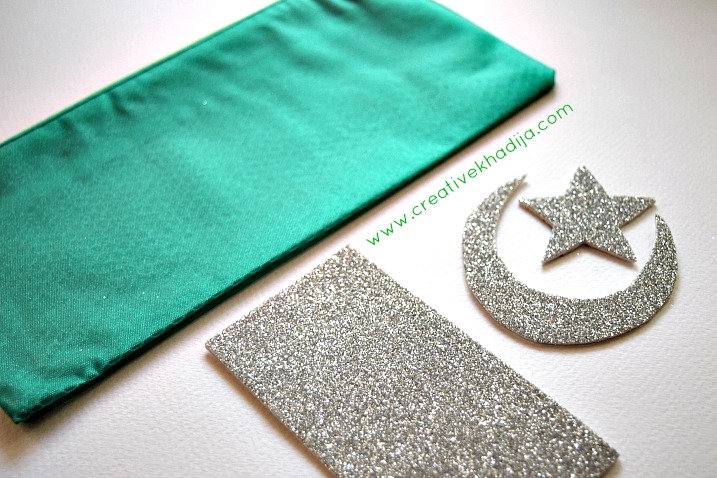 How To Make :
First of all, Draw the star & crescent template on the back side of glitter foamic sheet.
Sheet back side is sticky & covered with paper sheet. Cut the star & crescent shape with sharp scissors.
You will also cut a strip for the flag side portion.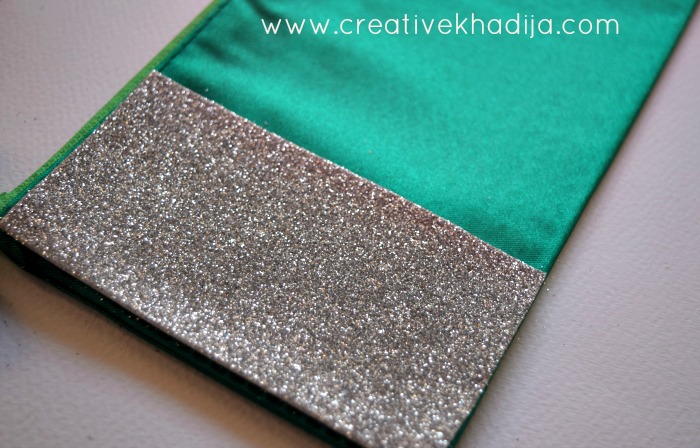 Paste these three pieces on the pouch & if you see the edges are not properly fixed, Then use transparent glue to fix it right.
Put the pouch under a book weight for perfect fixing. Flag pouch is ready!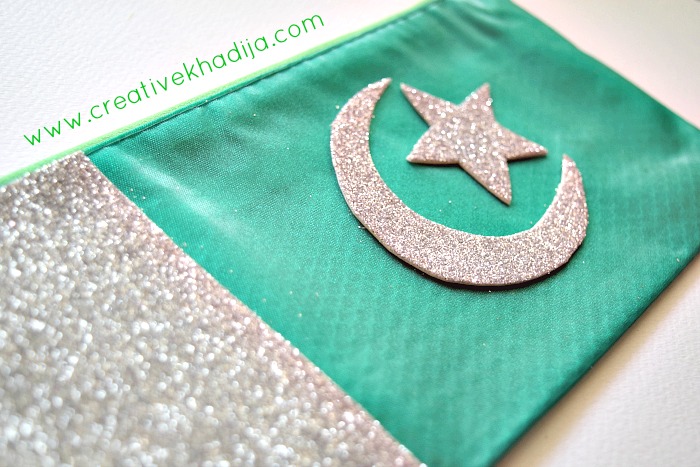 Keep pencil, markers or any crafty goodies inside. May be some Makeup goodies? let's see.
I am glad to share my crafts related independence day this year. I share 6 Azadi crafts this month! It's great to see wonderful response of my respectable readers & followers/friends. Many teachers & students contact me just to say Thanks. I got clients for all of these products I design for independence day of Pakistan. This really means a lot. I am happy my readers are enjoying what I am sharing on the blog & my social media networks. Thanks everyone!
Let's have a look what I have shared in Azadi Crafts Series for Independence Day month.
Here it is some of my archives!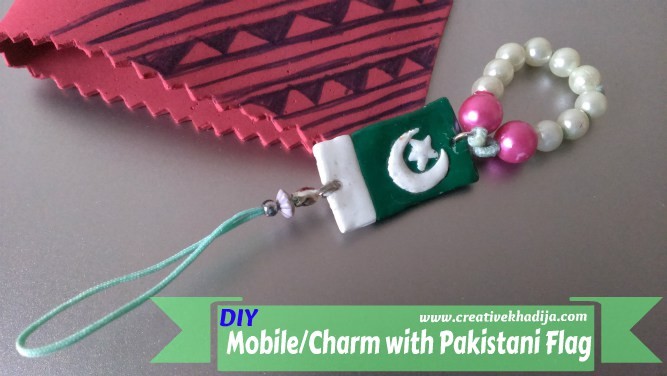 You can have a look at all these Independence Day Crafts Tutorials by me.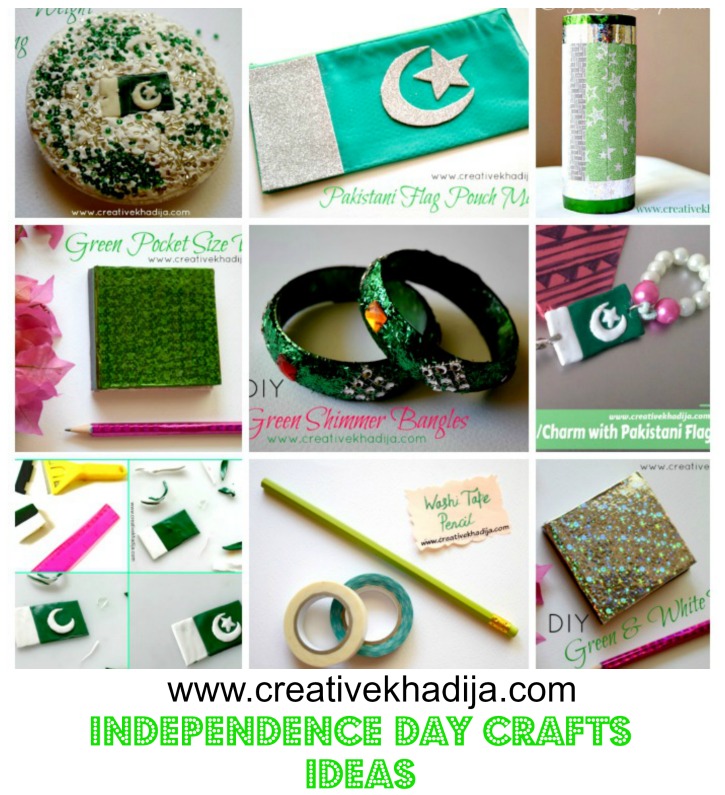 I hope you liked my independence day crafts & tutorials. If you want to buy anything, Feel free to contact me via Email or use the contact form above. If you have done any crafts or ideas related i independence day, Be sure to send me your work link & I would love to publish your work.
Thank You Quaid-e-Azam for your limitless efforts for giving us Independence. Leaders matter a lot for any nation's success & prosperity. isn't it? Well.. Lots of well wishes & prayers for Pakistan! Live Long & stay blessed. Pakistan Zindabaad.
Thank You.
Khadija ~