Food Review
Pizza Hut introduces affordable WoW deals nationwide
Pizza Hut Introduces Affordable WoW Deals Nationwide. Pizza Hut continues to grow as Pakistan's largest international restaurant chain, most recently opening doors to its new outlet in Clifton Block 2, Karachi. Now, Pizza Hut takes its value offerings to a whole new level by introducing the 'WoW! Deals. 3 new and affordable nationwide deals guaranteed not to put a dent in your pocket.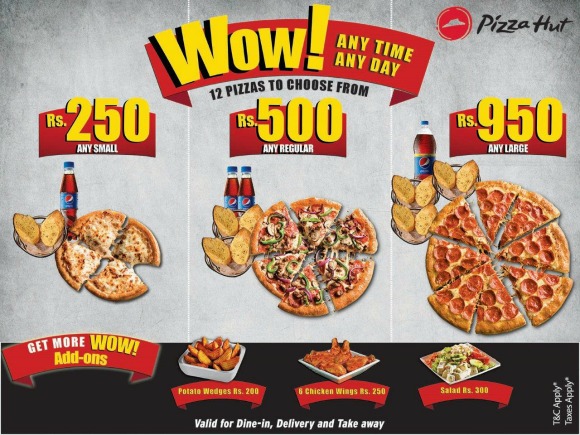 The first deal has one Personal Pan Pizza, 2 pieces of Garlic Bread and 345ml soft drink, a perfect meal for one. For a party of two, the deal has one Regular Pizza, four pieces of Garlic Bread and two 345 ml soft drink bottles. For a larger gathering, the third WoW deal includes one Large Pizza, six pieces of Garlic Bread and a 1.75 liter soft drink.
All of the deals can be customized to one's preferences with the following toppings: Cheeky Chicken, Classic Pepperoni, Chicken Supreme, Fajita Sicilian, Chicken Fajita, Hot Stuff, Chicken Tikka, Very Veggie, Margherita, Tropical Hawaiian, Chicken Behari and Afghani Tikka.
And if that's not enough, the deals also include options to upgrade your meals with the following discounted add-ons: Potato Wedges, 6 pcs of Chicken Wings, and Salad.
"We continuously strive to stay a step ahead of the industry by giving our consumers new and relevant experiences built around food. With the new WOW! Deals, Pizza Hut brings to its customers signature pizzas and some of the most loved sides at highly affordable prices! The deals are so attractive that we guarantee consumers will be stacking up pizza boxes in no time." expressed Marya Khan, Chief Marketing and Innovation Officer (CMIO) MCR PVT LTD.
All of the deals are so economical you cannot help but keep on buying more and more and stacking 'em up!
About Pizza Hut:
Pizza Hut is proud to be known as the first International franchise to introduce standards for casual dining restaurants and oven hot, quick delivery in Pakistan. It also has the privilege of enjoying tremendous brand loyalty from its customers over a span of 25 years.
P.S- What you've read above was the guest post/press release submitted by Pizza Hut.  I received this wowdeal to taste & review. It was delicious. This deal is not just pocket friendly but also you will get garlic bread slices & two drinks of your choice with it. Isn't it WOW offer?