Cleaning & Organizing Tips
House Cleaning Checklist for Spring-Summer 2020
Wear your gloves, pick up your cleaning gears and prepare your house cleaning checklist because it's time to prepare your home for Spring/Summer 2020.
Wear your gloves, pick up your cleaning gears and prepare your house cleaning checklist because it's time to prepare your home for Spring/Summer 2020.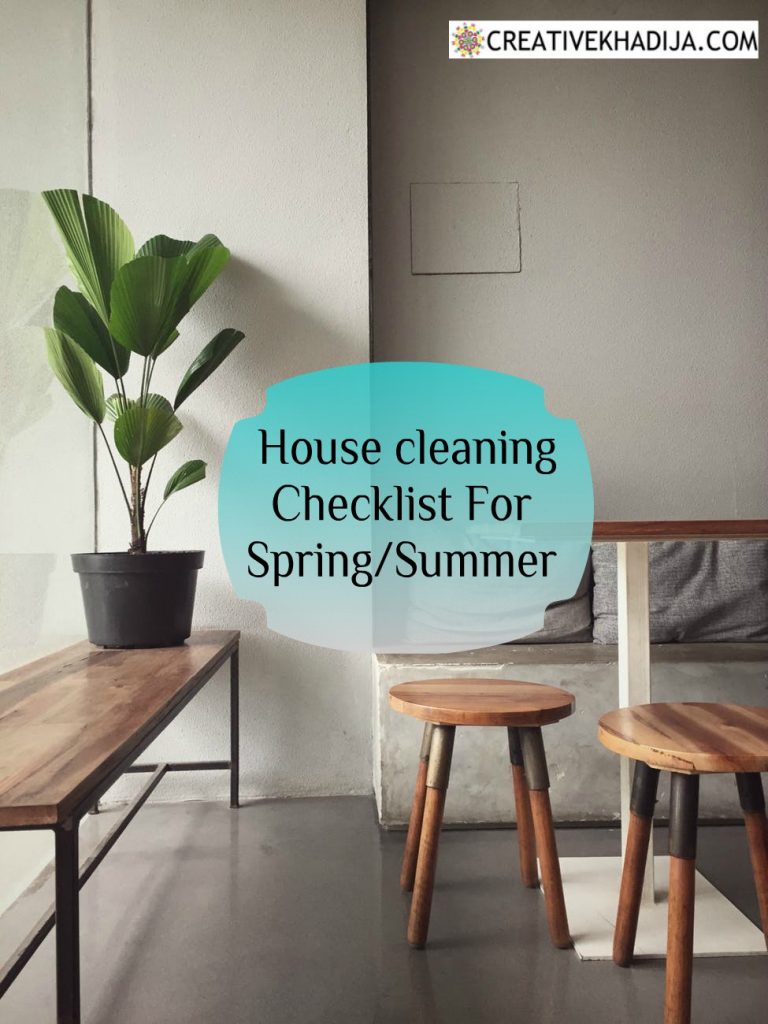 It's that time of the year again where people are excited for Spring/Summer 2020. As they say, spring means the arrival of warm and fresh weather. This change of season gives people an excuse to deep clean their house and prepare for the new season. To which they usually prepare a list containing all the work, hence it's called House Cleaning Checklist.
Now, I accept cleaning can be overwhelming for some people. This is why I am here with a well-designed house cleaning checklist. This list will help you shape a routine for your spring/summer 2020 cleaning.
What is meant by Spring/Summer 2020 cleaning?
This is not a vague term to understand. It simply means you are putting away all the extra stuff which is not needed in spring. While, stashing away the stuff, we deep clean all the corners of the house. Usually, this deep house cleaning takes place after winter, as the season changes will give you an opportunity to change your wardrobe from warm clothes to summer clothes and open your windows to let the fresh breeze in.
House Cleaning Tips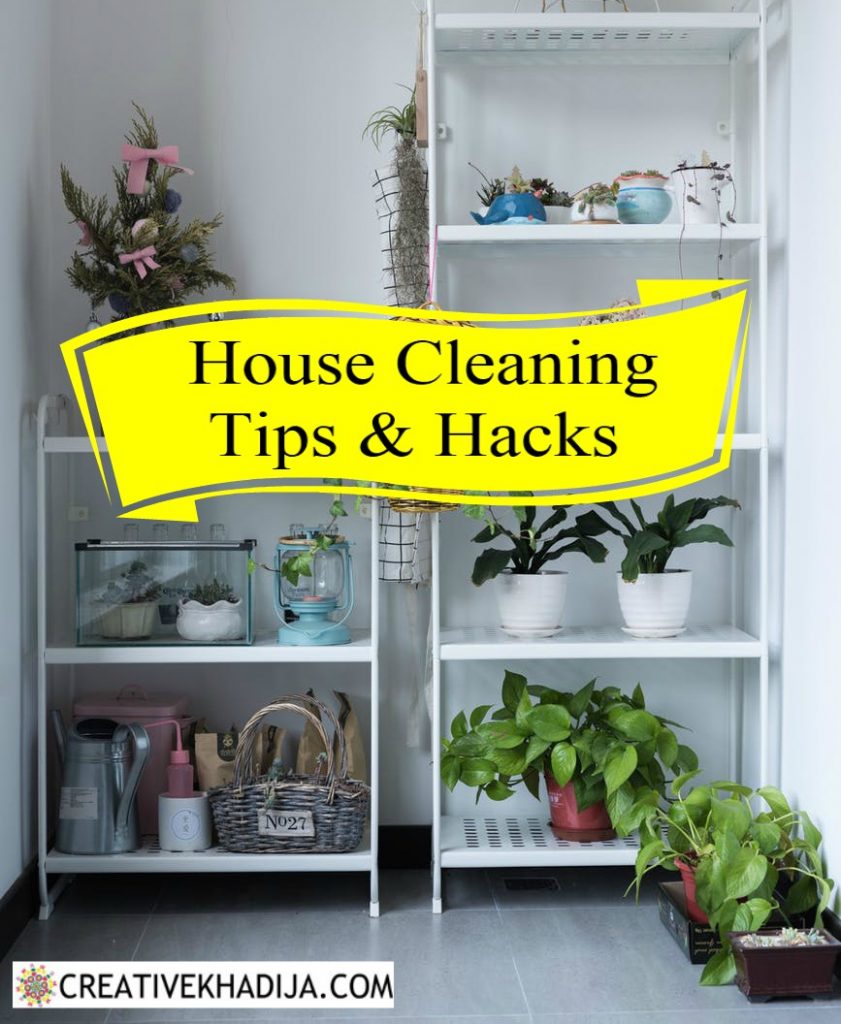 These house cleaning tips will help you clean your house thoroughly.
Make a checklist
It is very compulsory to write out everything which you are supposed to do in terms of cleaning. Divide each of your tasks into a separate group like for Kitchen, Bedroom, Living Room, Porch area. These checklists will make you complete your work without any hassle.
Have your Supplies sorted
Before starting the Spring/Summer 2020 cleaning, you need to gather all your cleaning supplies a day before. I usually use multi-purpose cleaners to save my budget. They will help in cleaning various surfaces and a variety of house cleaning tasks.
Focus on one task
Keep that thing in mind, now that you have a house cleaning checklist so you must go according to that and focus on one part of the house at one time. Don't spread your workaround as it will not only mess your checklist but makes your house look like a muddle.
Start from the bedroom
I always prefer to start my work from the bedroom area and since we are cleaning our house for Spring/Summer 2020 so we must start putting away our stash of winter clothes first. Trust me, bedroom cleaning will take most of your time as you are going to pack clothes, bedding, and other winter stuff.
Use homemade cleaning products
While cleaning the house we need to think about a healthy environment too. Homemade cleaning products avoid chemical reactions, allergies and sinusitis issues majorly. Here's a little cleaning hack for you, Lemon or Vinegar and baking soda are not only clean surfaces but also deodorizes the area as well and they are very natural anti-dirt agents.
How do we make a house cleaning checklist?
Raise your hands if you find your house cleaning intimidating. You have no idea from where to start and how to start then worry not because of our idea of House Cleaning Checklist to the rescue.
This is not some rocket science; in fact, it's the very basic task and requires your few minutes. You need to analyze your house deeply and categorize each corner of your house. The list should go from the priority order, which part needs immediate or which work needs more attention and go to the least. Isn't that simple?
House Cleaning Checklist for Spring-Summer 2020
The cleaning process can be overwhelming and time-consuming as well. I mean I wouldn't lie if I say house chores do intimidate me but trust me, having a house cleaning checklist makes my work 100 times better and easy. These checklists will help you have a clear idea about what work you need to do and how to do it.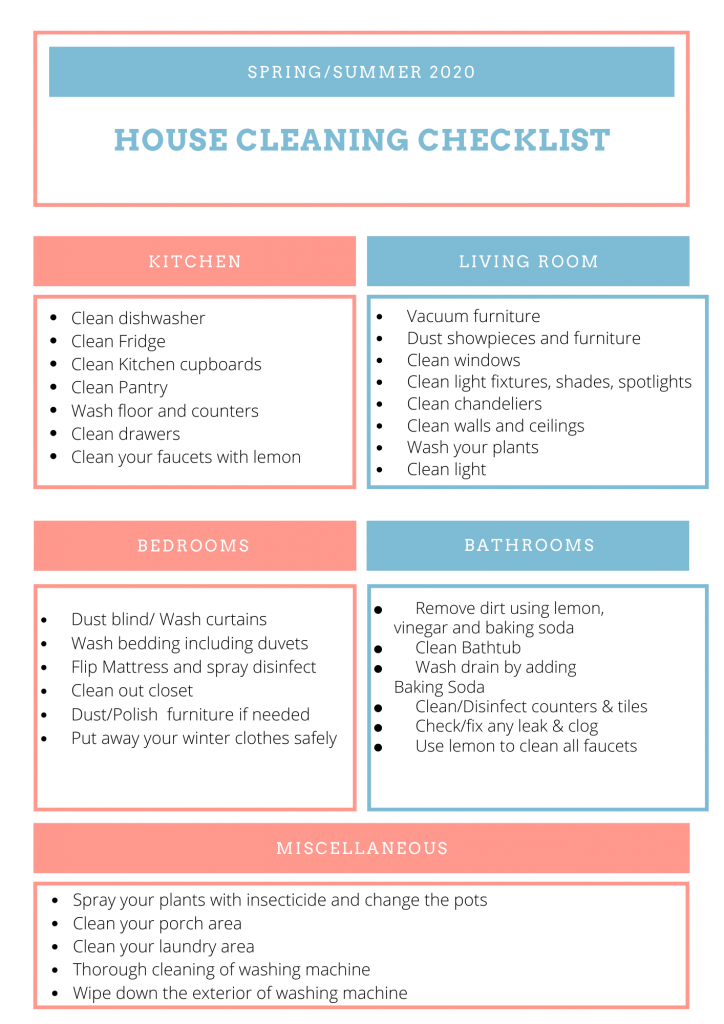 I hope this article will help you clean your house easily and you may have the right idea about how you can make these house cleaning checklists easily. For more ease of work, here's a printable checklist for you.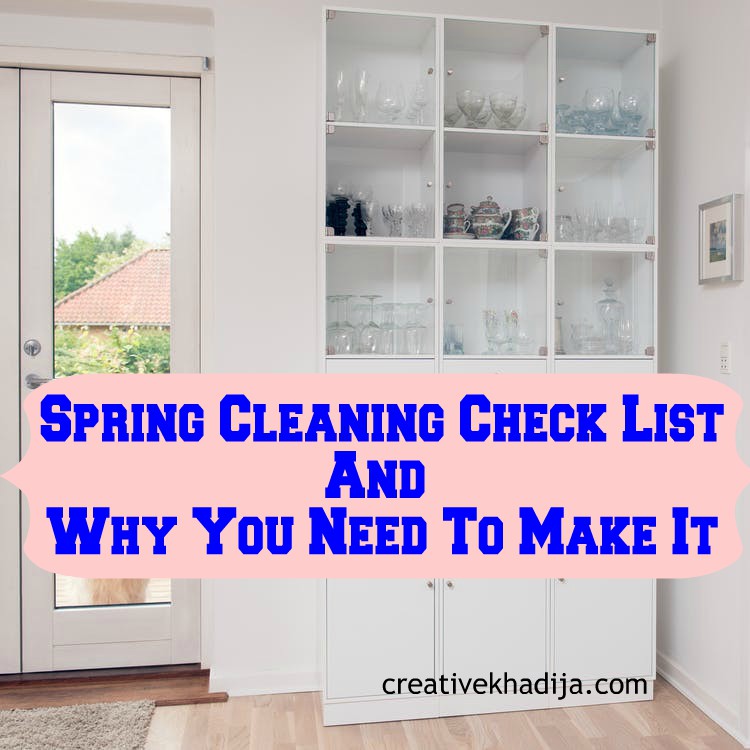 Spring Cleaning List and Why You Need to Make It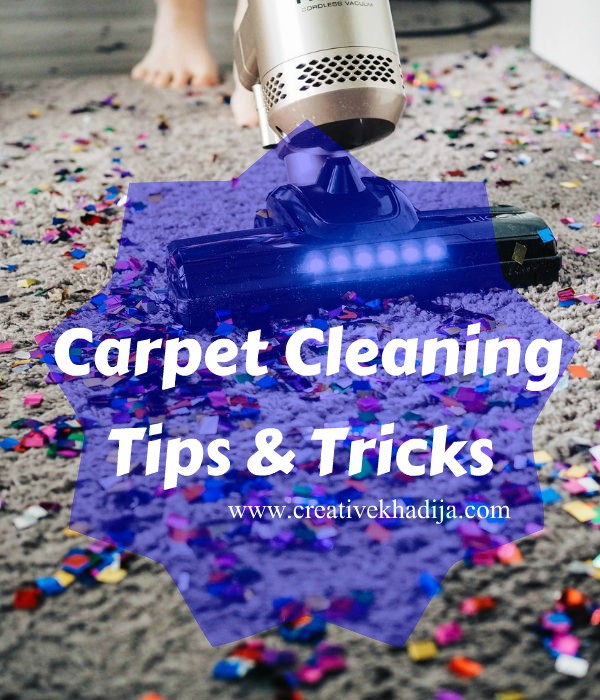 Carpet Cleaning Tips and Tricks You Should Know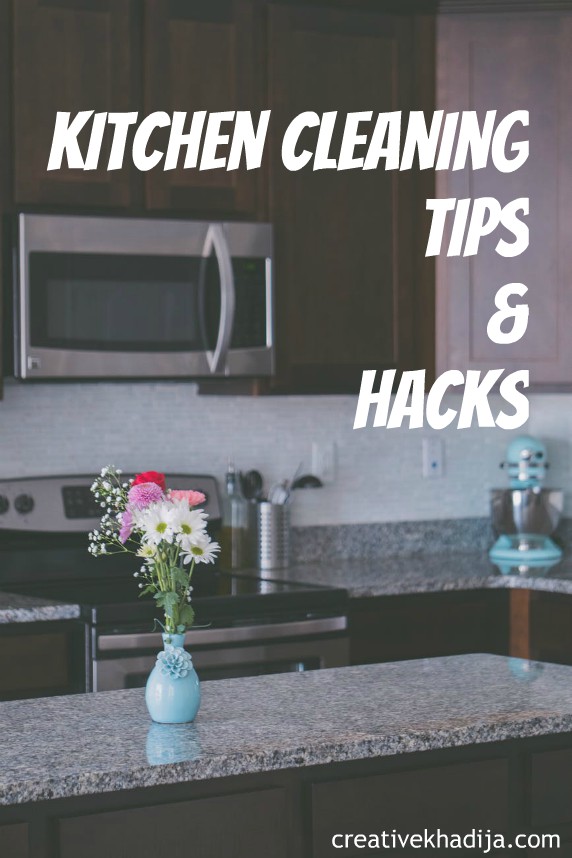 Kitchen Cleaning Tips and Hacks You Should Work before Ramadan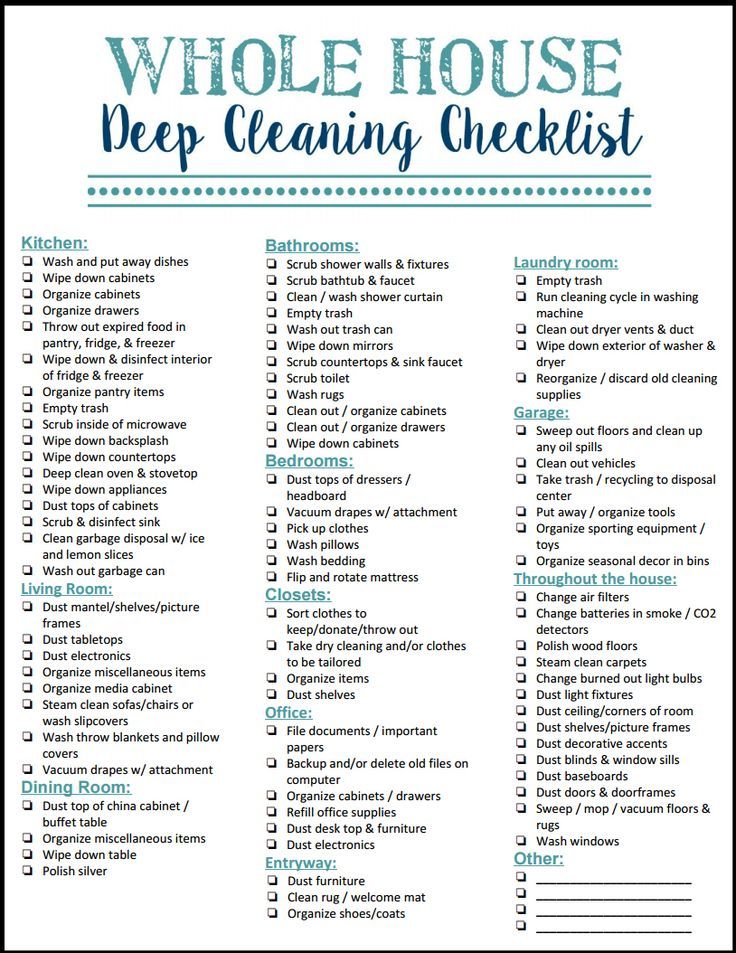 You can also find useful information about house deep cleaning, and Spring cleaning checklist in my archive blog posts. I hope you will find the content useful. You can see more on my Pinterest as well.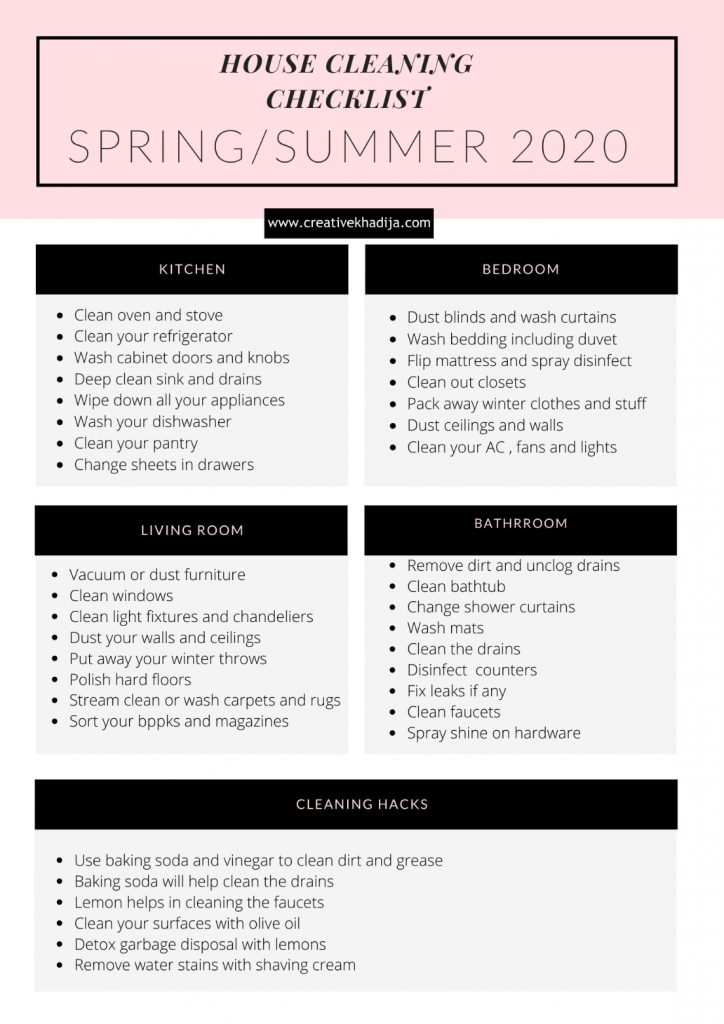 We wish you happy house cleaning for Spring/Summer 2020 and enjoy the fruit of your labor aka glass clean house in the end.
Have a great day!
Khadija