Recipes
10 Healthy Pumpkin Bread Recipes You Should Try
10 Healthy Pumpkin Bread Recipes You Should Try. These bread recipes are not only healthy but are super delicious
How wonderful is the slice of a freshly baked healthy pumpkin bread that you can enjoy with your morning coffee? One thing is for sure, bread is an important part of our breakfasts. During the fall season, all the nifty ladies enjoy baking delicious goodies for their families. I don't know about you, but I love baking. Also, I love pumpkin recipes. The spirit of the fall just makes me want to add pumpkin in everything I am cooking and baking. This is why I have come up with 10 Healthy Pumpkin Bread Recipes You Should Try. These bread recipes are not only healthy but are super delicious. Continue reading for the amazing recipes.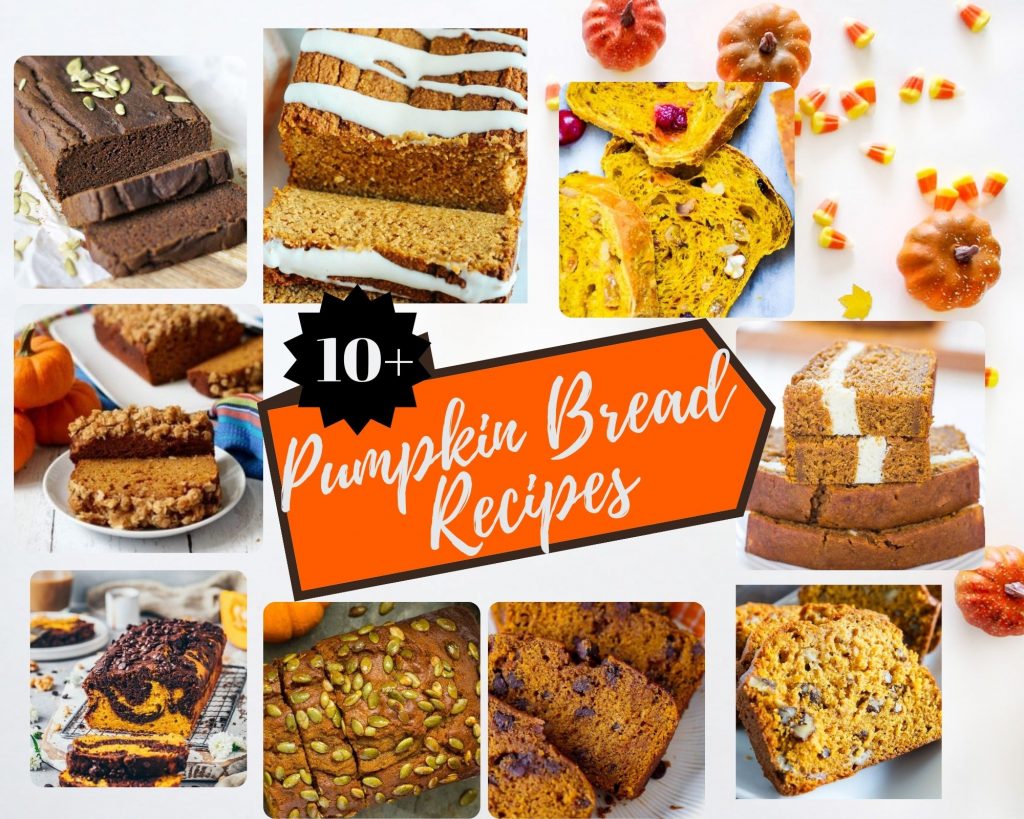 10 Healthy Pumpkin Bread Recipe with A Twist
If you have been baking large batches of pumpkin bread during the fall season, chances are you might get bored with the same flavors. However, you can spice up your favorite bread recipe by adding in different ingredients that will enhance its taste. These healthy pumpkin bread recipes will yield mouthwatering bread loaves that you can enjoy in your breakfast, as a snack, serve it to guests and pack it for your kid's lunches.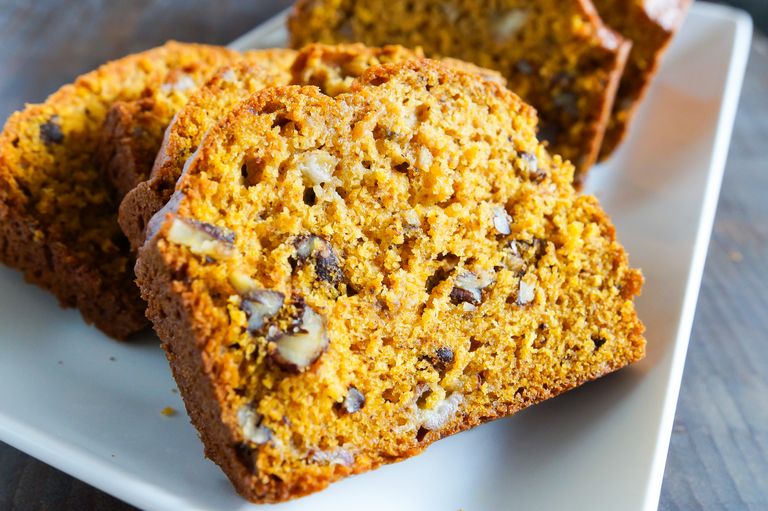 Banana bread is a favorite for a lot of people. What if I told you that you can add banana to your classic pumpkin bread recipe to make it extra flavorful? Try out this Pumpkin Banana Bread that is created with the goodness of banana, pumpkin puree, pecans, and spices to provide you with the best breakfast bread you can have.
Have a sweet spot for the food items made with coffee?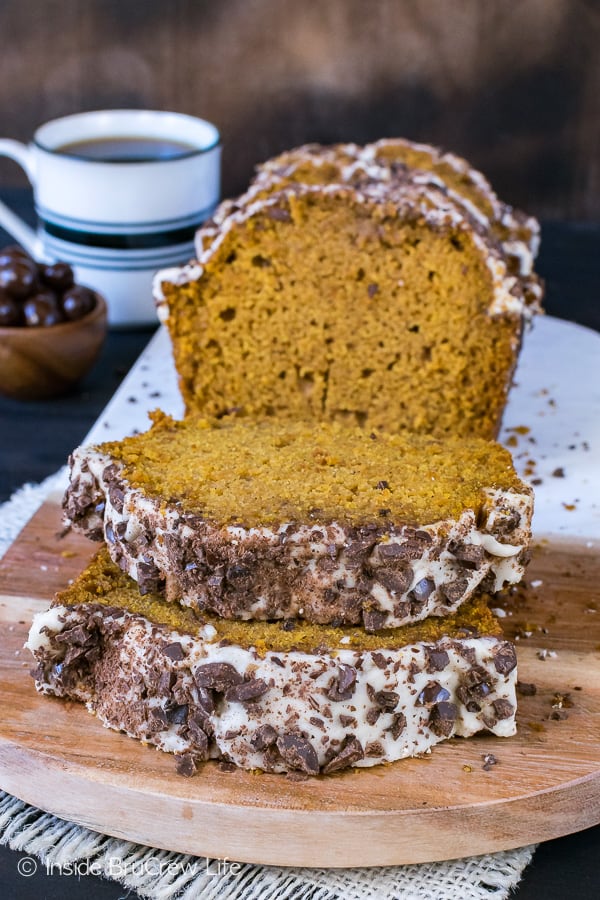 Then you are going to love this Pumpkin Spice Latte Bread. It has special ingredients of pumpkin pie spice and coffee granules. The coffee glaze on top of the bread gives it the burst of coffee flavor that you are going to enjoy.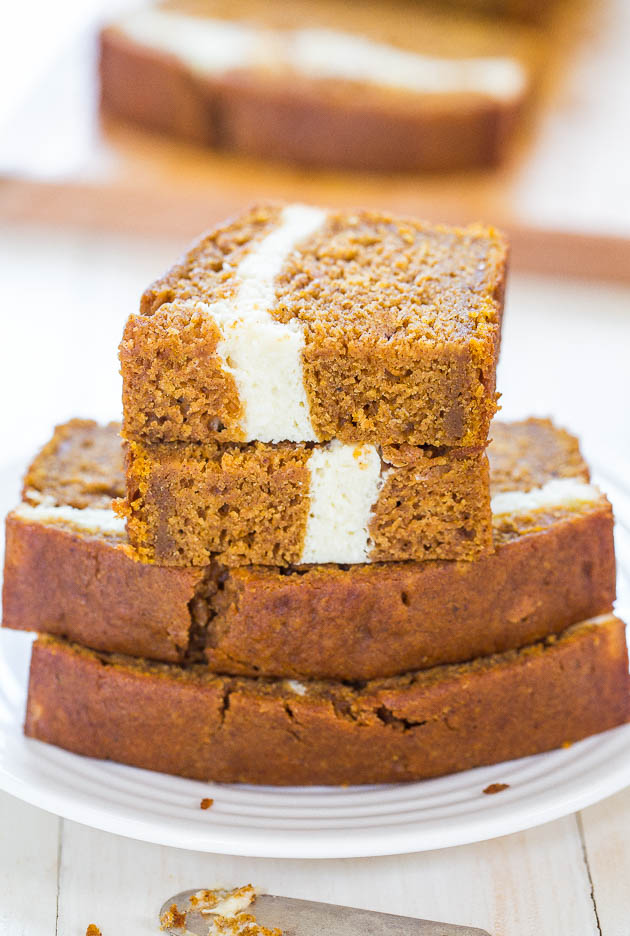 Want to serve something different to your guests for tea time? Check out this Cream Cheese Filled Pumpkin Bread. This has a cream cheese filling that really complements the pumpkin spice flavor of the bread. Super light and moist, this bread is a winner.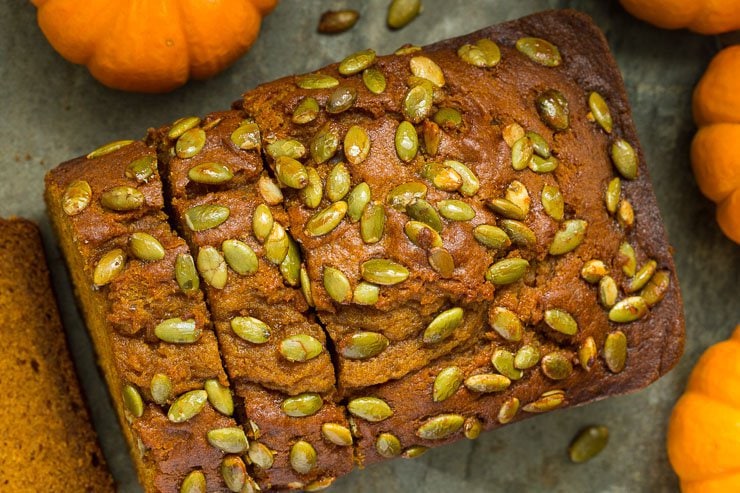 Are you hooked on the Starbucks pumpkin loaf and want to create something similar? Try this recipe for Better Than Starbucks Pumpkin Bread that has a topping of pumpkin seeds, honey, and sunflower oil to refine its flavor. With a bread such moist and yummy, you are surely going to get addicted.
Easy Pumpkin Bread Recipes that Even the Kids will Like
Kids are some of the pickiest eaters in any household. Making something that they will enjoy eating is a hard task. Especially, with new recipes, it is always a hit and miss. If you love making, as well as eating pumpkin bread, and want to try a recipe that will be equally enjoyed by your kids. I have come up with a list of drool-worthy easy pumpkin bread recipes that will be loved by your kids. Be ready for the special requests that will be coming to bake these loaves of bread again and again.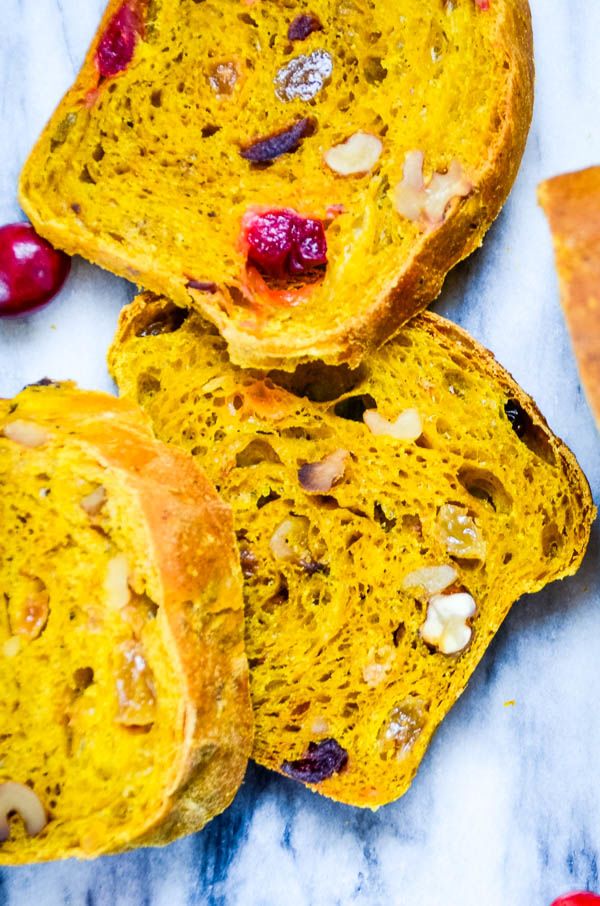 This Pumpkin Walnut and Cranberry Bread not only looks good but tastes finger-licking good as well. Made with ingredients like walnuts, golden raisins, fresh cranberries, and dried cranberries mixed with the classic pumpkin bread ingredients. Your kids are surely going to relish slices of this bread.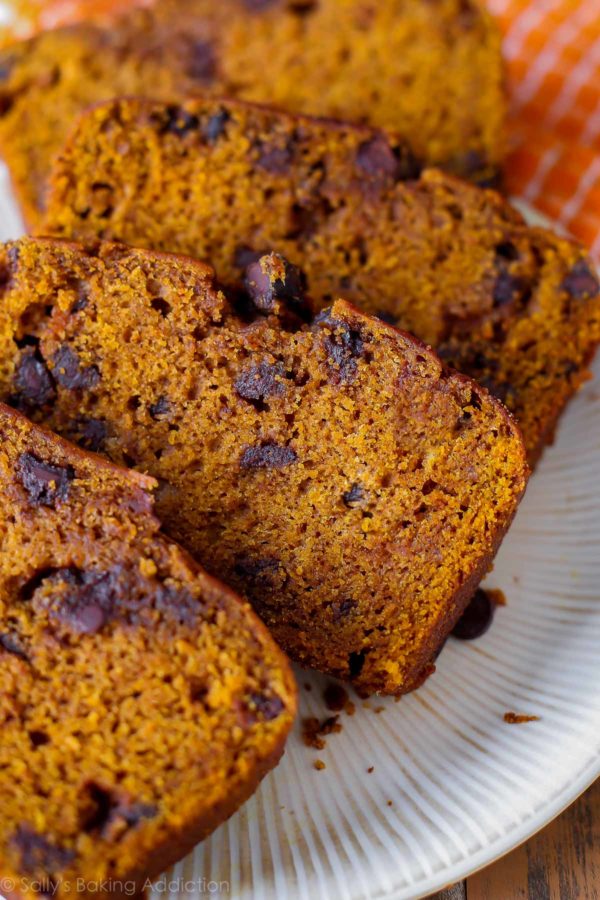 Made with the goodness of orange juice and the kid's favorite chocolate chips. The Pumpkin Chocolate Chip Bread can be enjoyed in breakfast or you can pack it in your kid's lunchboxes.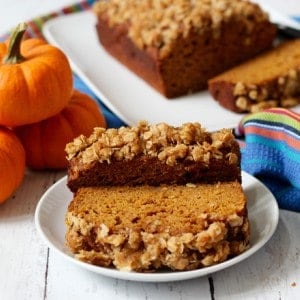 Can't get enough of applesauce and want to try a recipe with applesauce as an ingredient? Check out this healthy pumpkin bread recipe of Whole Wheat Pumpkin Applesauce Bread. It is made with unsweetened applesauce and honey. Also, features a topping of oats, sugar, and butter.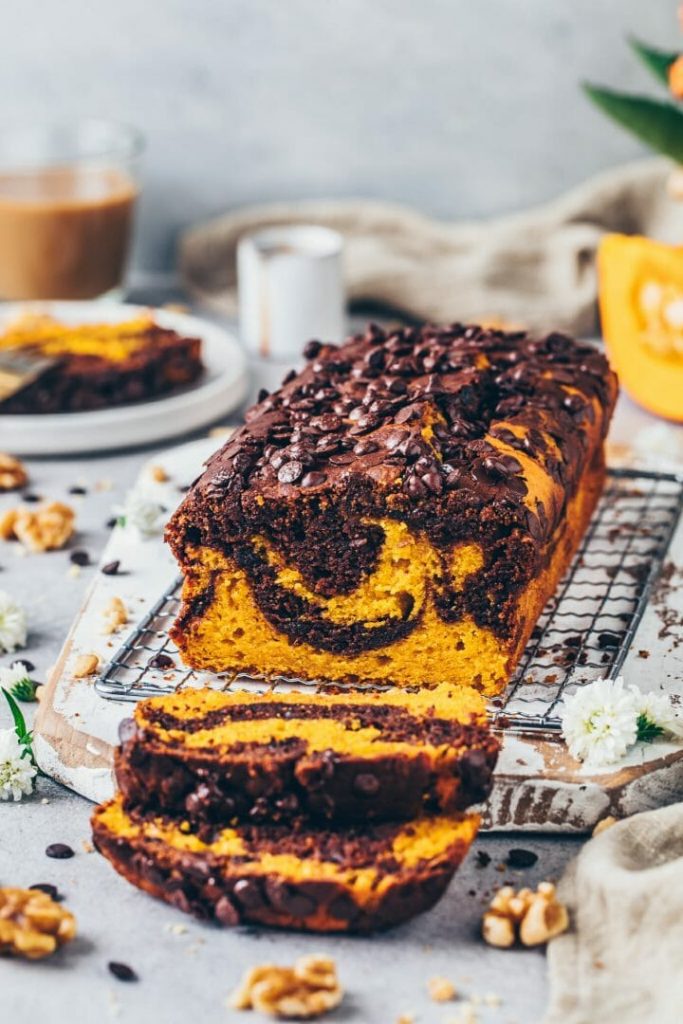 Marble cakes attract you a lot? Then try this Chocolate Pumpkin Bread to create marbled pumpkin bread. With ingredients alternative options available to make this bread vegan, you can bake it perfectly according to your taste.
Gluten-Free Pumpkin Bread Recipe Collection
There are hundreds of different pumpkin bread recipe for you to try that you can easily find on the internet. However, finding the recipes that exactly cater to your diet restrictions might be somewhat hard. If you are on a keto diet or have gluten allergies, finding the best alternative bread recipes is somewhat difficult. For this very reason, I have collected 2 special gluten-free pumpkin bread recipe for you to try. If you decide to bake pumpkin bread using these, let me know how it turned out.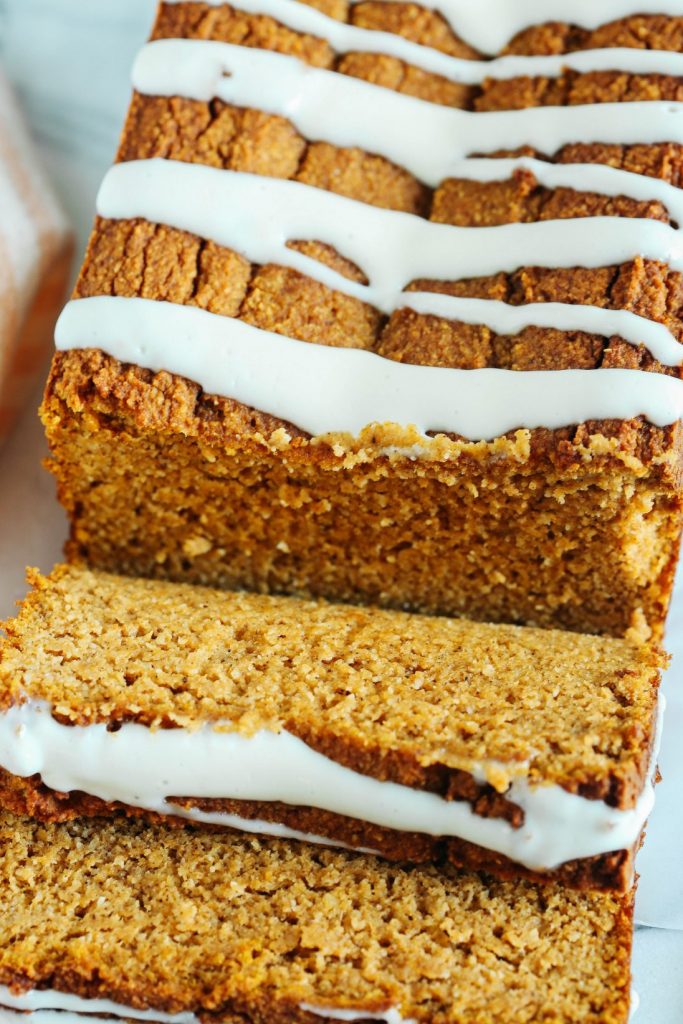 A keto-friendly, Best Almond Flour Pumpkin Bread. You can bake this bread using all the simple ingredients you can find in your pantry. It has maple syrup as sweetener, as well as is made with pumpkin pie spice and pumpkin puree. For an extra touch of goodness, this healthy pumpkin bread has a cream cheese glaze.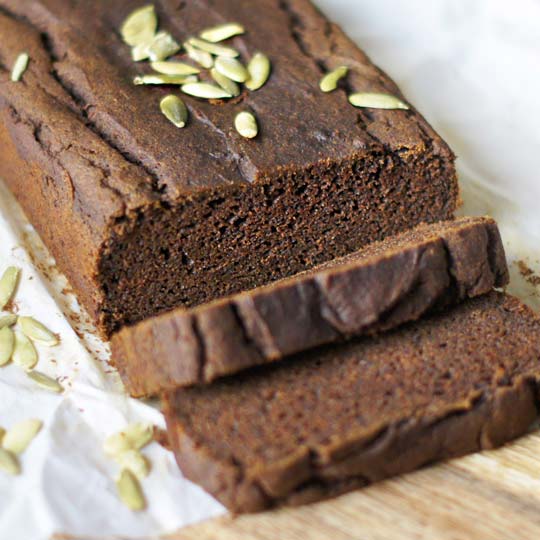 With this unique Vegan Healthy Pumpkin Bread, you can make your favorite bread with buckwheat flour. With an egg-free mixture, this recipe has coconut oil and apple cider vinegar as secret ingredients.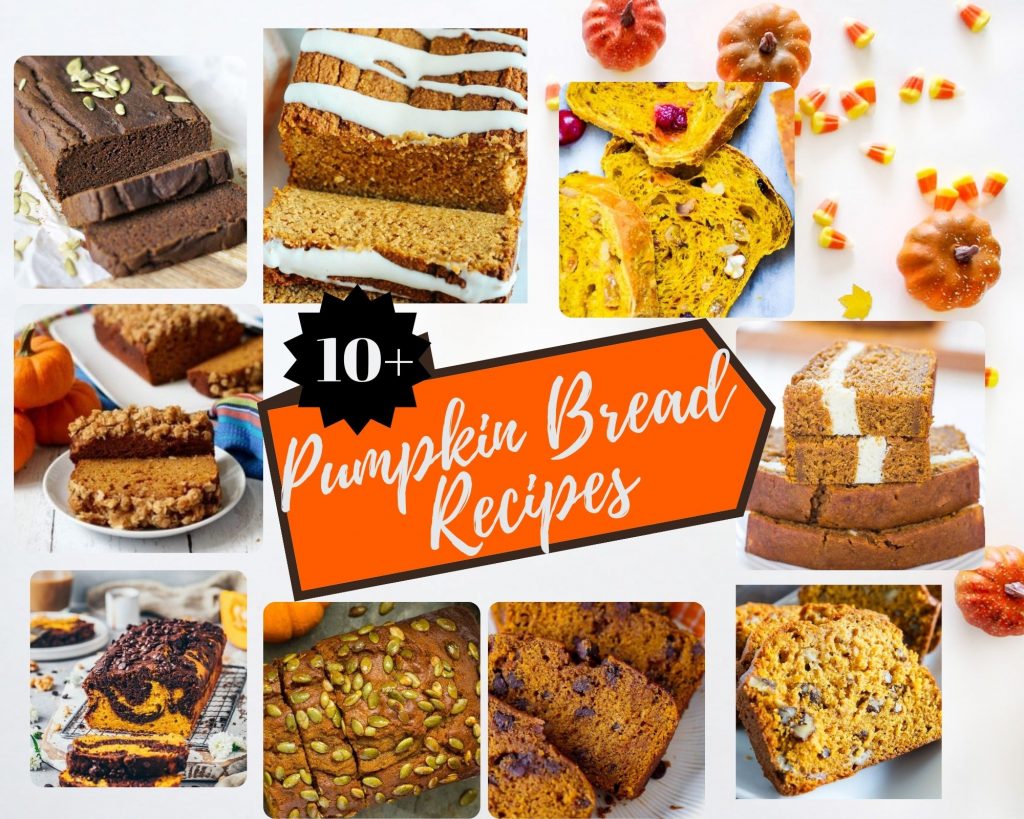 How was today's article on 10 Healthy Pumpkin Bread Recipes You Should Try? Let me know in the comments whether you are a bigger fan of pumpkin bread or the banana bread. If you decide to try any of these recipes, I will love to know how it turned out.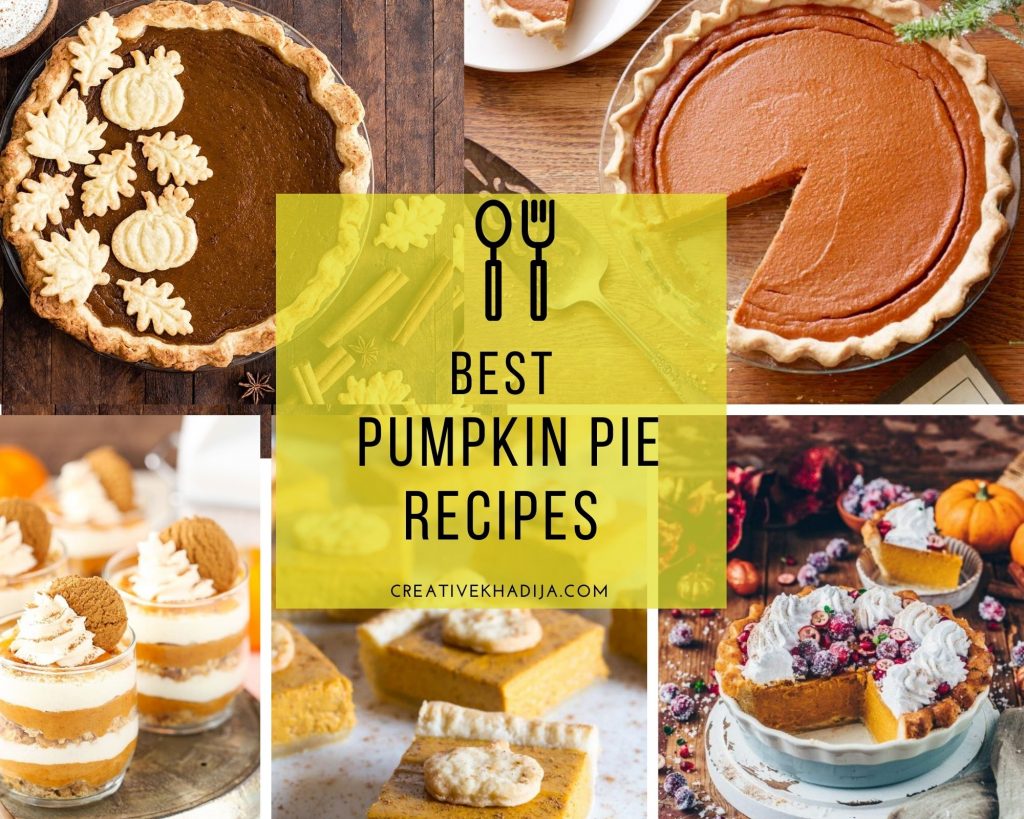 For more pumpkin recipes, check my article on 13+ Best Pumpkin Pie Recipes Collection for Fall Season.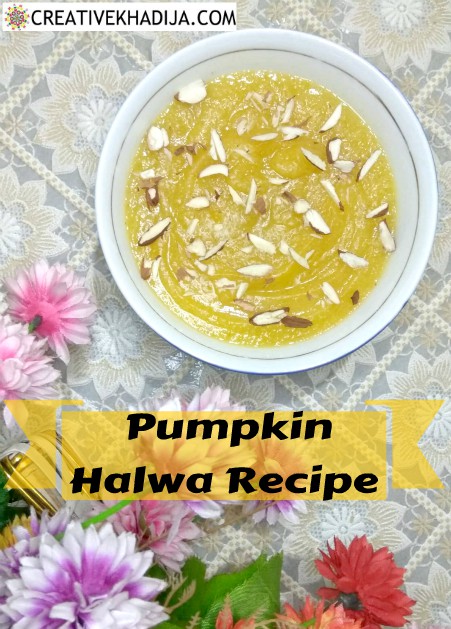 You will love this Pumpkin Halwa Recipe by my mother as well :)
To see more recipes and crafts related fall season, keep visiting Creative Khadija Blog! I will be coming up with more creative ideas next!
Thank you!
Khadija