Recipes
Healthy Pumpkin Dessert Halwa Making With Pumpkin Puree
Today I am sharing a recipe of fresh pumpkins which is very easy and delicious. Have a look at the recipe details of Healthy Pumpkin Dessert Halwa Making With Pumpkin Puree.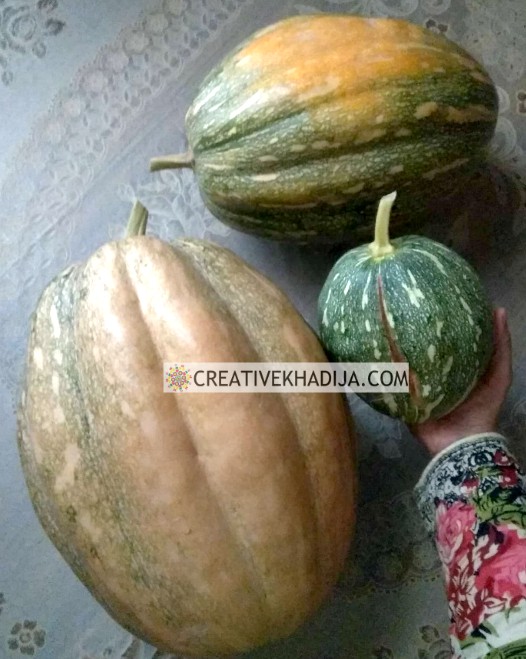 Hey dear ladies, are you seeing signs of fall season in your city/country yet? In Pakistan, though leafs are turning yellow but no proper fall season really. It is still humid & hot weather around. Well, we associate pumpkins with fall season usually. Today I am sharing a recipe of fresh pumpkins which is very easy and delicious. I hope you will like it and will try this healthy pumpkin dessert. Have a look at the recipe details of Healthy Pumpkin Dessert Halwa Making With Pumpkin Puree.

These are our farm fresh pumpkins actually. I asked my brother if there is some yellow pumpkin, bring it home because I want to do some experiments with the pumpkin as I used to do before. You may remember one of my previous blog post where I did henna design on pumpkin. But first I am going to share the recipe of the green fresh pumpkin you are seeing here. Not the little one I am holding in my hand.
Healthy Pumpkin Dessert Halwa Making With Pumpkin Puree
As I didn't get a chance to take step by step pictures while making this healthy pumpkin dessert which is called as Halwa and made with Pumpkin puree. Check the recipe written detail,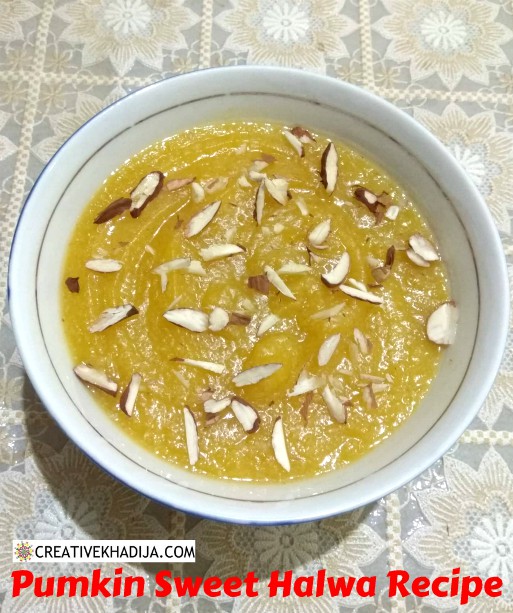 For making this pumpkin halwa, you will need:
Pumpkin 2kg
Sugar 2 cup
Ghee/butter (unsalted & melted) half cup
Cardamom 5 & Dry fruits one cup
Semolina one cup
RuKewra essence if available
Making of Pumpkin Halwa
Wash the pumpkin and dry its surface before cutting it. Make its slices after peeling off thick skin of the pumpkin. Then grate the slices of pumpkin pieces. Do not mash it completely, if you don't want to use a grater, cut it into small chunks of around an inches.
In one kg of water, add the grated pumpkin chunks into it and boil. Put it into the boil for half an hour almost. Add 2 cup of sugar in it and leave it to boil for a few more minutes to dissolve the sugar and reduce the water consistency in it. Then add the dry fruits pistachio, crushed coconut and almonds in it. Cook for more 5 minutes and turn the flame off.
Now in another pan, fry one cup semolina as known as suji too in half cup melted butter/ghee. Add 5 cardamom and stir fry until it turns light golden brown. Add this fried suji into the already prepared pumpkin puree paste & cook it well together until the butter/ghee in it separates the sides of the pan.
Keep stirring it well with a wooden spatula. When it leaves the oil, it is ready then. Pour into the plate and Garnish it with crushed dry fruits.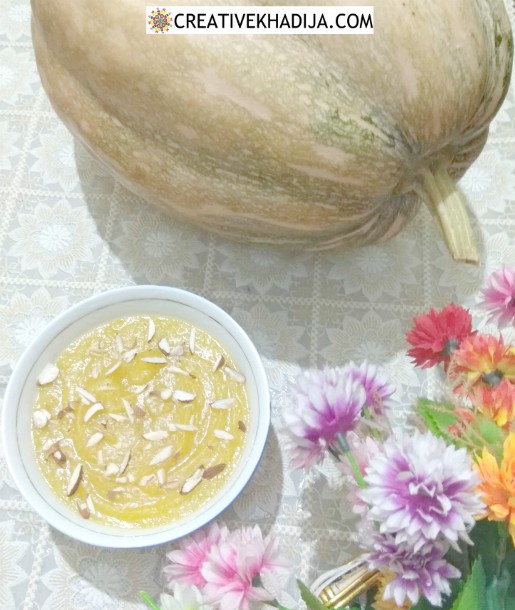 Sweet pumpkin halwa is ready! It's not heavy like other halwa or sweets which we usually make with ghee and sugar. It s healthy because of the nutrition values of the dry fruits and fresh pumpkin.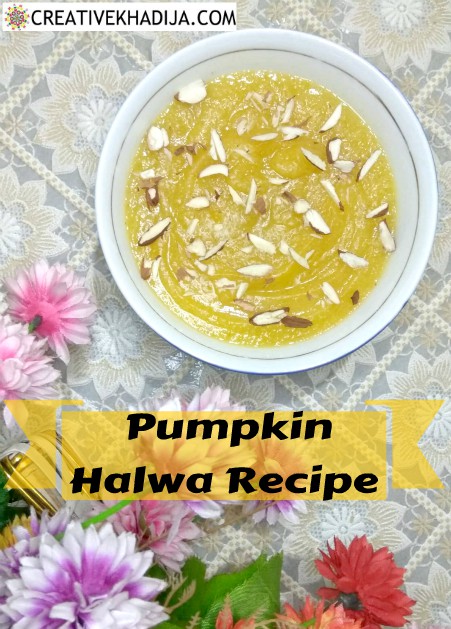 Healthy pumpkin dessert halwa is ready. Isn't it easy as compared to other halwa recipes? You can also make it for the day of Ashura khatam on 9th & 10th of Muharram. I hope you and your family will like it if you will try this recipe. Some people I know also add boiled egg pieces in the pumpkin halwa in the end as garnish too. But as I don't like the egg flavor in this dessert so I will not recommend it.

I hope you will like my today's post which is a recipe. I don't share recipes much as making their step by step clicks is not easy while cooking it. But if you want to see more recipes by me, I can manage somehow for my dear readers :)
Share the recipe with others and let me know if you liked it or not. I will be sharing more details about these pumpkins in my upcoming posts. I will decorate one of the pumpkin and also be sharing the pumpkin seeds recipe and a savory meal recipe in coming days InshaAllah.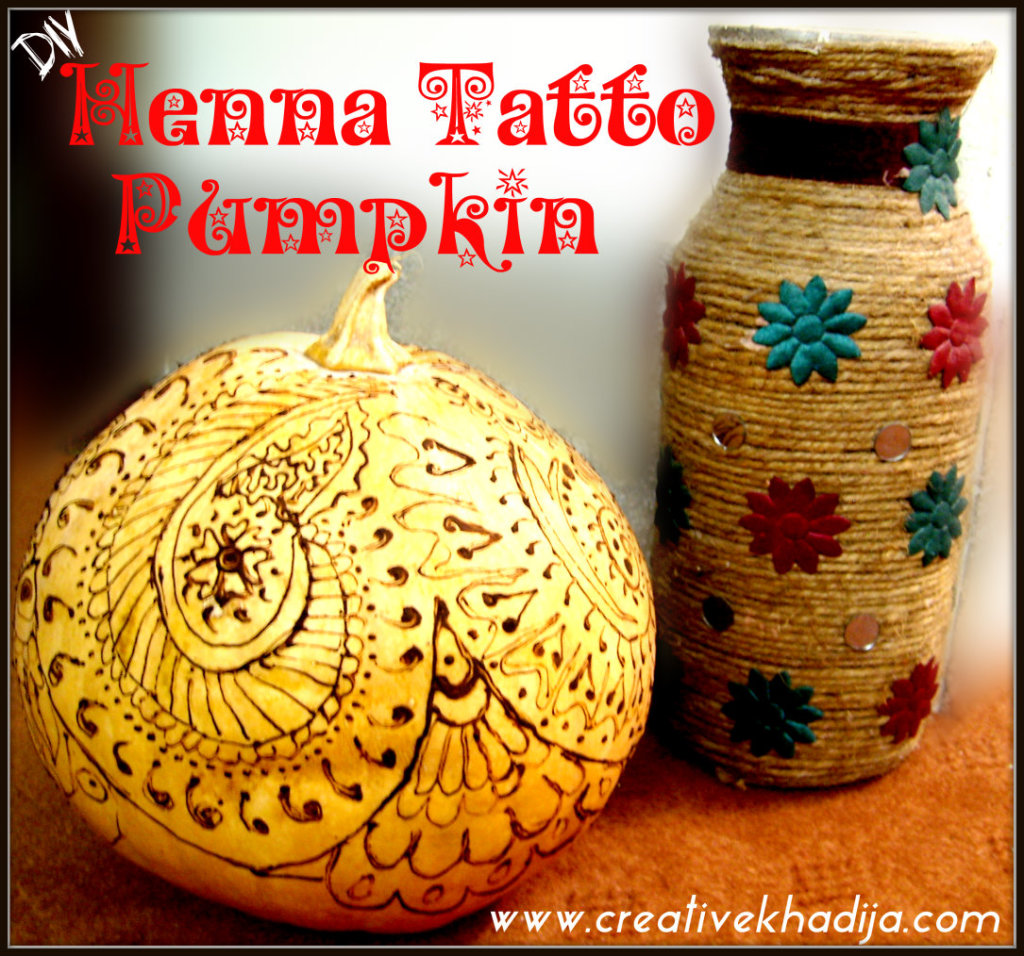 You may remember my henna designed pumpkin which I painted few years back. It was the first time I designed any pumpkin for my blog. As fall crafting & Halloween decor is not a tradition here in Pakistan so everyone was laughing at what I am doing. In fact I was also experimenting as a joke but it went well with one on my viral post with thousands repins on my Pinterest.
Do not stop making, don't be shy crafting something you want. Art is all about experimenting to be honest. You will keep creating & your art will get polished well day by day! Happy crafting, experimenting & cooking too :) Keep visiting Creative Khadija for more interesting ideas & articles!
Have a blessed day!
Khadija