Its hectic being a university student..handling Heavy books, facing Presentations, making assignments..oops..I am a lazy person actually, I have paper strips in my books as a bookmark while studying!! I am in a habit of saving shopping/gift tags..a few days back I tried something colorful with these & now these used tags are in a good use..Yes..You know How..?
Would you believe these are a few tags which we usually throw after removing packing of our shopping stuff..
Make Colorful Bookmarks
Making of these colorful Bookmarks is easy & Fun.simply start working on lines,dots,circles etc..
Now Get Set Ready For another easy peasy Tutorial :)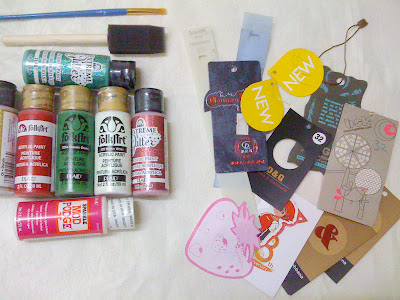 You will Need..
Some card tags
Paints & paint brushes
Modpodge
(Lots of Stamina which I usually lose while crafting)
First of all pick some acrylic colors & make contrasts in your mind.
Then start working with one color on all tags,(so you will be safe from washing your paintbrushes on & off)I am using three or four brushes of different tip sizes..
When you will complete your base color of tags,then start making designs,lines,dots & doodles on it..I am working on all these free hand..you can pick any pattern too..
I love My Pakistan's flag bookmark..How Lovely..Its the Best idea ever for a patriot student..
well After designing all these, leave it until dry totally .

Done it..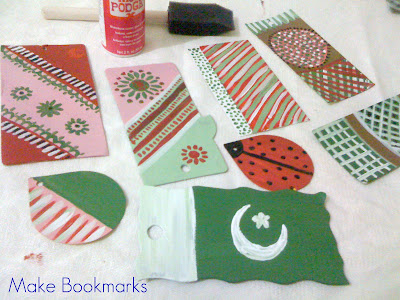 Now a fun thing to do..yep..Modpodge these tags & when they will get dry you can use zero sand paper if you think its getting sticky..
Lets shine..hmmm
These bookmarks can be used as gift tags,I know many of my readers are not students but You can try this as gift tags..
Oh Yes One more thing…
I was having these foaming stickers in my craft stash so I use here just to add some fun..
My books are also happy with these bookmarks,, I am studying about e-textbook development & writing..interesting topic..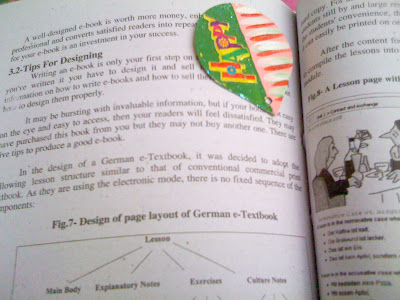 Have you noticed the joke of the year in this post..?the above bookmark have a sticker showing"HAPPY" How can a student feel happy during tough studies..??haha
A sad fact,,,Its my Last semester going on,my student life is Ending soon..this feeling makes me so sad sometimes..But I will not feel boring at home,after all I am having a blog with almost 2000 so special friends..
Thank you.
Khadija