DIY
NEON Cuff With Pistachios
I am not too much into kids crafts but I like working on simple things which can be easily tried by kids as well as elders. a few days back I craft with pistachio shells & it was fun,its a fun craft for the little girls because Neon is these days popular in different fashion things. This easy Cuff creation will be cool for the little smart girls. or it can be a useful activity in kids art class, So lets see what I have done!
NEON Cuff With Pistachios
Its a paper tube/TP roll :)
For its making, you will need to have;
Paper tube, Pistachio shells, Paint & brush, scissor
Modpodge gloss or any transparent glue
The process is very easy,
First you have to cut the tube from its center and then make its sides round.see more instructions here
Paint it & let it dry for a few minutes!
Then paste the pistachio shells & make any design of your choice!
When the glue will be dry & will be disappear, then start painting the shells.
It will take up to an hour until dry..so relax..hehe
I left some brush strokes on it before modpodging..
When it will be dry, seal it with mod podge gloss,I use sparkle on pistachios .
You can enjoy some of my other paper tube roll fun creations;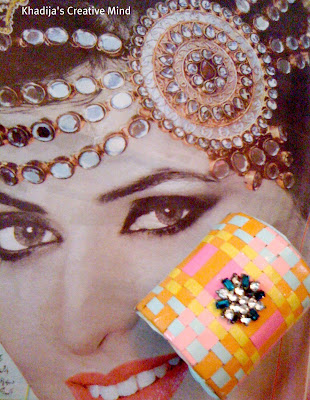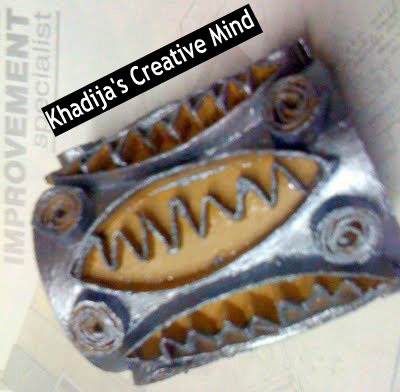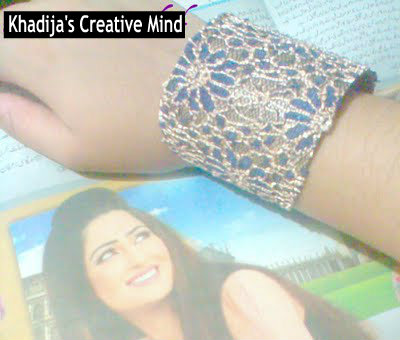 I hope you enjoyed my today's tutorial & seeing some of my archives too..
Have a Nice Day!
Khadija ~